At a glance
Expert's Rating
Pros
Rock-solid build quality
Includes USB-C with DisplayPort
Outrageously bright, vivid image
Excellent HDR performance
Cons
Stand is too large 
Finicky on-screen menu controls
Doesn't perform its best at default settings
Mediocre motion despite 200Hz advertised refresh rate
Our Verdict
Viewsonic's Elite XG341C-2K has plenty of potential and delivers in HDR, but strange decisions in the on-screen menu and default settings plague the monitor's controls and motion performance.
Best Prices Today: Viewsonic Elite XG341C-2K
$1,499.00
Ultrawide fans are well-served by monitors like the Alienware AW3423DWF, which boasts a gorgeous OLED panel. But it is lacking in one area: brightness. Enter the Viewsonic Elite XG341C-2K. It bursts onto the scene with a VA display panel and Mini-LED backlight that achieves the coveted VESA DisplayHDR 1400 certification. It's a gorgeous display that can deliver on the promise of eye-searing HDR, though a few odd decisions knock it down a peg.
Note: See our roundup of the best ultrawide monitors to learn about competing products, what to look for in an ultrawide display, and buying recommendations.
Viewsonic Elite XG341C-2K: The specs
The basic specifications of the Viewsonic Elite XG341C-2K are similar to most 34-inch ultrawide monitors. It has a maximum resolution of 3440×1440, a 21:9 aspect ratio, and supports a maximum refresh rate of 200Hz when overclocked (and 165Hz otherwise). It has a VA panel which, although less common than an IPS panel, is still rather standard.
Display size: 34-inch ultrawide
Native resolution: 3,440 x 1,440
Panel type: IPS Mini-LED
Refresh rate: 165Hz (200Hz overclocked)
Adaptive-sync: FreeSync Premium Pro
HDR: VESA DisplayHDR 1400 certified
Ports: 2x HDMI 2.1, 1x DisplayPort, 1x USB-C with DisplayPort Alternate Mode and 90 watts Power Delivery, 3x USB-A downstream, 1x USB-B upstream, 1x 3.5mm audio out
Stand adjustment: Height, swivel, pivot
VESA mount: 100x100mm
Speakers: 2x 5-watt speakers
Price: $1,499 MSRP
Mini-LED is what makes this monitor stand out. It delivers an impressive 1,152 dimming zones, the highest you'll find on the current generation of Mini-LED displays. Viewsonic also throws in a USB-C with DisplayPort Alternate Mode, a feature that's still rare among gaming displays.
Viewsonic Elite XG341C-2K: Design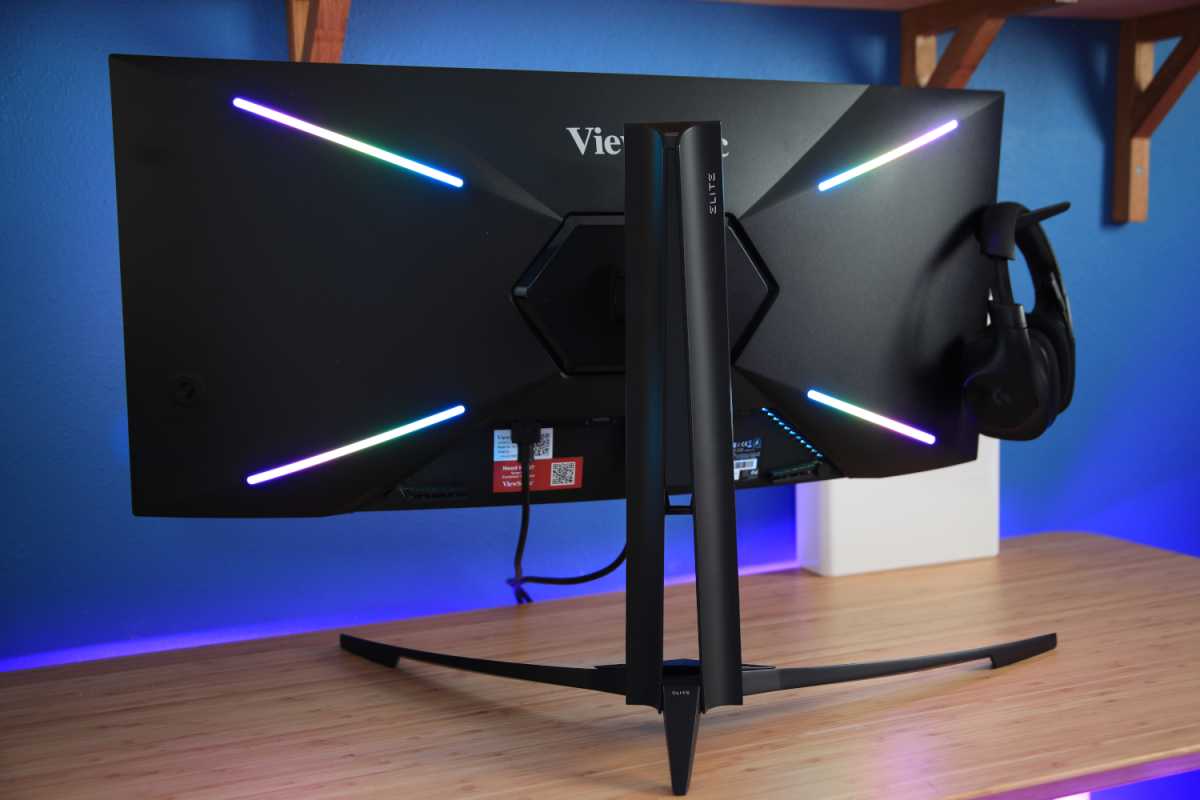 Matt Smith
The Viewsonic Elite XG341C-2K is a looker. The monitor's matte-black plastics seem simple at first glance, but varying textures and angles add interest and allure to the monitor's profile. Viewsonic leans into the theme set by the monitor's curved display panel by adding slight curves to other surfaces including the stand neck and base. 
It feels solid, too, with serious heft in the stand and stiff plastics along most of the panel. I do think Alienware has Viewsonic beat in this area, as the Alienware AW3423DW and AW3423DWF both look and feel as premium as high-end televisions. They also benefit from the thinner profile an OLED panel can provide. Still, the Elite XG341C-2K feels more luxurious than less expensive brands, such as Acer's Nitro series and AOC. 
The monitor throws in some RGB lighting elements in a cross pattern on the monitor's rear. They're controlled by the on-screen menu and add a nice bit of flair when the monitor is used in a dark room. There's also a flip-out headphone hanger on the left side. 
However, the Viewsonic Elite XG341C-2K runs afoul of a personal pet peeve: The stand is much larger than it needs to be. Its hefty neck and massive legs take up gobs of desk space and push the monitor too close to the user on narrower desks (such as those often sold at IKEA). You'll need a big, deep desk to make this monitor feel at home. The monitor has a 100x100mm VESA mount, so third-party monitor stands and arms are an option you may want to exercise.
Viewsonic scores points with its video input options. These include two HDMI 2.1 inputs, DisplayPort, and USB-C with DisplayPort Alternate Mode. The USB-C input also supports up to 90 watts of power delivery for charging a connected device. This remains a rare feature among monitors not sold for office or professional use, so its inclusion in the Elite XG341C-2K is appreciated. 
However, it's a merely decent USB hub monitor. Its downstream connections are limited to three USB-A ports and one 3.5mm audio port. There's no DisplayPort out or additional USB-C out. The monitor can function as a KVM switch when the USB-C and USB-B upstream ports are used to connect two PCs.
A single joystick controls the monitor's menus. This is common, but the way Viewsonic implements it is uniquely frustrating. Giving a joystick a tap will open a quick menu, or the main menu, on most monitors. On the Elite XG341C-2K, this turns the monitor off. The main menu is opened by moving the joystick up. This is counter-intuitive, as tapping the joystick is otherwise used to confirm settings and enter menus once a menu is open. I accidentally turned off the monitor more than a dozen times.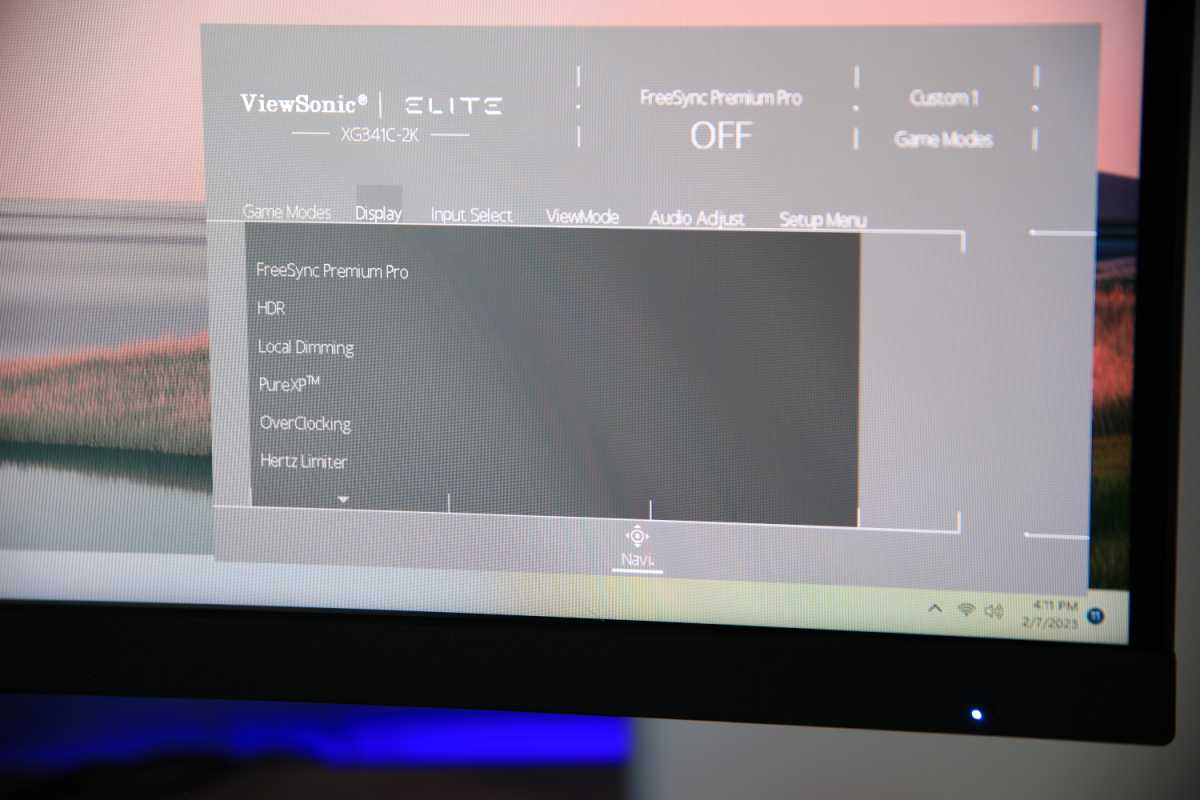 Matt Smith
Viewsonic's menu options are extensive, but navigating the menus remains a chore due to how the menu trees are laid out. Once I got acquainted, I found the monitor has numerous color temperature, saturation, and gamma features, as well as a total of five backlight modes and five response times modes. The monitor includes an sRGB mode, though it didn't seem to accurately restrain colors, and it doesn't include modes for other color gamuts such as DCI-P3 or AdobeRGB. This will disappoint some content creators.
The monitor also has gaming-centric features such as a black equalizer (which boosts brightness to see detail in dark areas of a game) and a crosshair. A pair of 5-watt speakers are included. They're reasonably loud and sound clear when handling simple content, such as podcasts. However, the lack of bass is a big problem with music, games, and movies. BenQ's premium monitors, which pair speakers with a built-in subwoofer, remain the king of monitor audio.
Viewsonic Elite XG341C-2K: SDR image quality
The Viewsonic Elite XG341C-2K's Mini-LED backlight has the potential for excellent HDR, but SDR performance remains more important, as most content viewed on a PC will be viewed in SDR.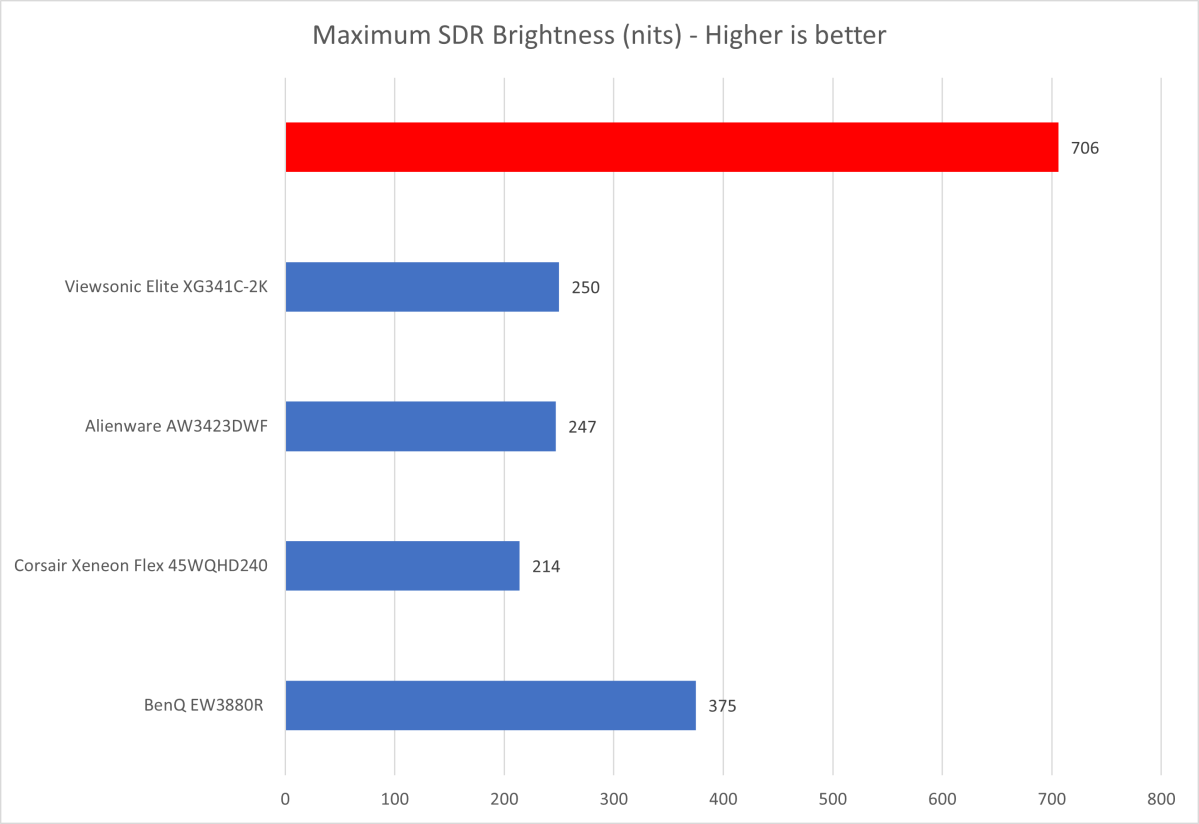 Matt Smith
Viewsonic leaps to an early lead, as the Elite XG341C-2K delivers a gob-smacking maximum SDR brightness of 706 nits. This obviously outpaces competitive monitors and leaves OLED alternatives in the dust. 
Indeed, it's reasonable to ask if this level of brightness is meaningful. The Elite XG341C-2K can be uncomfortable to use at its maximum brightness. Still, brightness has its perks, and I prefer that a monitor capable of this level of brightness gives users the option to use it. If you need a bright monitor because your desk sits next to eastward-facing floor-to-ceiling windows, the Elite XG341C-2K might be for you. 
Matt Smith
The monitor also delivers in contrast, with a maximum contrast ratio of 14290:1. This is an excellent result for any monitor and defeated only by OLED monitors which, due to their ability to completely turn off individual pixels, have a nearly perfect contrast ratio. 
There are some quirks to contrast. Mini-LED monitors have a downside called blooming, which causes bright halos or spots to appear around small, bright objects. This happens because the Mini-LED dimming zones are around a half-inch wide, so they're unable to perfectly align with what's shown on-screen. 
But it's not all bad news. Mini-LED monitors don't often suffer the dynamic brightness limitations of most OLED monitors, which reduce brightness when displaying bright images full-screen. Because of this, the Elite XG341C-2K's brightness is extremely stable, without noticeable dips or changes in brightness as varying content is displayed. 
Strangely, the Elite XG341C-2K I received didn't have local dimming turned on by default, which means the Mini-LED backlight was not working to its full potential. A factory reset confirmed this was the default. I'm technically bending my own rules in this graph, as I normally report only the out-of-box contrast ratio: The out-of-box contrast ratio was only 4430:1. Be sure to switch local dimming on in the monitor's settings.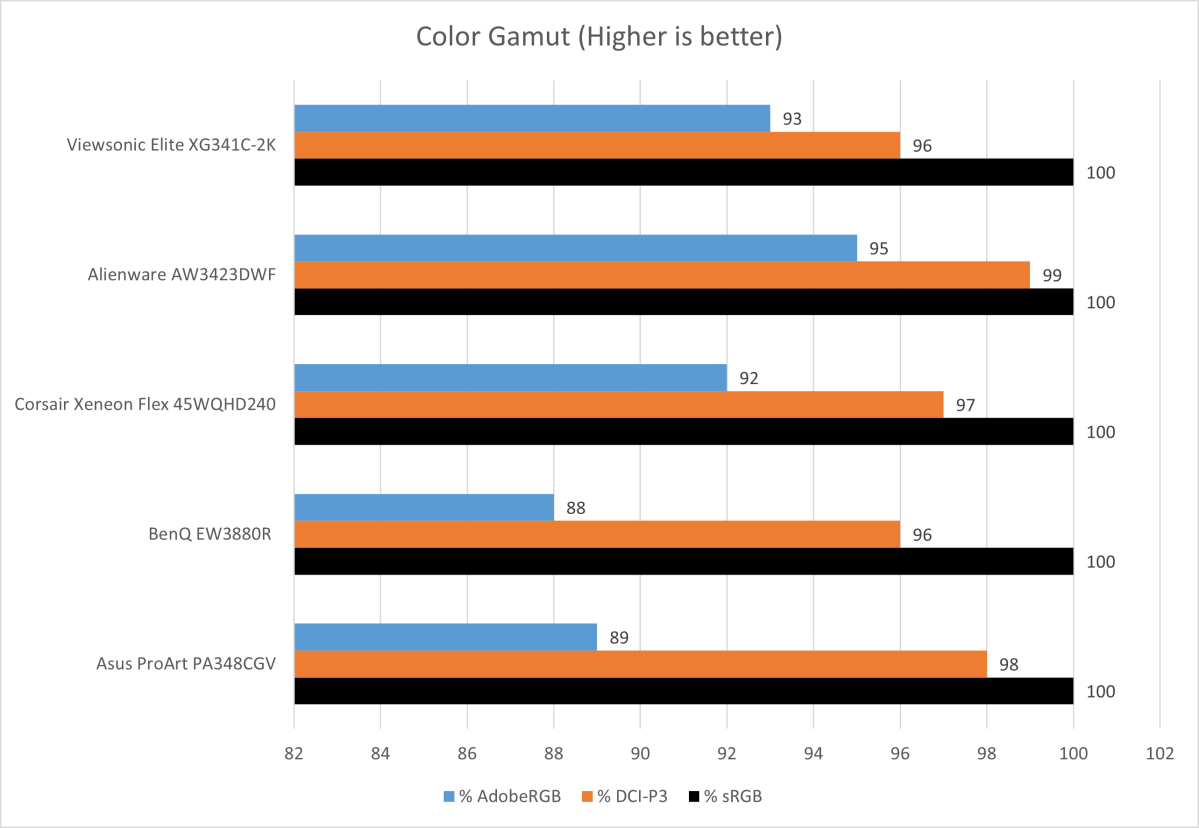 Matt Smith
The Viewsonic Elite XG341C-2K can comfortably be called a wide gamut monitor, as it spans 100 percent of sRGB, 96 percent of DCI-P3, and 93 percent of AdobeRGB. These figures fall a bit short of OLED monitors like the Alienware AW3423DWF and top-notch IPS displays like the Asus ProArt PA348CGV. 
Still, the Elite XG341C-2K's color gamut is more than adequate for everyday use and most content creation. It also provides the vivid, super-saturated look that is common today, and which many people seem to prefer. 
Matt Smith
Color accuracy remains quite good. In truth, all of the monitors listed in this graph have a level of color accuracy sufficient for any use outside of a professional studio environment, and some are probably adequate even for that. And, as mentioned, the Viewsoinc Elite XG341C-2K offers a healthy range of image-quality adjustments for further calibration. 
The monitor's default color temperature was 6600K, which is very close to the target of 6500K. I found that the image's color temperature fit my preferences well, with a realistic look that wasn't too warm or too cool. 
Gamma was a different story. I immediately noticed that the monitor seemed too dark, and my results confirmed that with a default gamma curve of 2.7, which is way off the target of 2.2. This made some content so dark that it could be difficult to see details. I was able to fix this by changing the gamma setting to Gamma 2.0, which resulted in a measured gamma curve of 2.2. Content looked right at this setting, but it's disappointing to see a monitor require user intervention.
Sharpness was good thanks to the monitor's resolution of 3440×1440. This is roughly the same as a 27-inch widescreen monitor with 2560×1440 resolution. Games and movies look impressive and detailed, and small fonts are displayed with no noticeable pixelation at a typical viewing distance of two and a half feet. You will notice a reduction in sharpness compared side-by-side to a 4K monitor, though. 
The Viewsonic Elite XG341C-2K's overall performance is a bit tough to summarize. It can perform extremely well, but also falls short on a few issues. Local dimming is off by default, the gamma curve is wonky at default settings, and the color gamut falls slightly short of some competitors. Tweaks quickly resolve the first two issues and, once that's done, the monitor looks absolutely superb. The monitor is a fantastic choice for gaming, as its excellent contrast ratio, high brightness, and good color gamut combine for a vivid, dazzling image.
Viewsonic Elite XG341C-2K: HDR Image Quality
The Viewsonic Elite XG341C-2K proudly carries DisplayHDR 1400 certification, which means it can exceed a peak brightness of 1400 nits when displaying small, bright objects on an otherwise dark screen. It can also achieve 710 nits sustained across the entire display, which is the highest sustained HDR brightness I've recorded from any monitor. 
As mentioned previously, the monitor has excellent brightness stability. You won't notice wild swings in brightness as the monitor switches between displaying small, bright objects and large, bright scenes.
All of this adds up to excellent real-world HDR performance that at least meets the bar set by previous top-notch HDR displays like the Asus ROG Swift PG32UQX and Samsung Odyssey Neo G9. Indeed, the Elite XG341C-2K achieves a better sustained brightness than either, so it objectively performs a tad better when it comes to brightness. Bright details, like the headlights of a car driving down a dark alley, and broad landscapes, like a snowy mountain, have eye-searing brilliance and ultra-punchy presentation. It's a real visual treat, and one that approaches the best HDR televisions I've seen. 
However, the monitor's HDR excellence is limited to HDR content, and it's important to be selective when enabling HDR. The monitor doesn't handle SDR content well when HDR is turned on, causing a very washed-out appearance. It's important to turn the HDR mode off when it's not needed.
Viewsonic Elite XG341C-2K: Motion Performance
Matt Smith
The Viewsonic Elite XG341C-2K's specifications suggest excellent motion performance. It has a maximum overclocked refresh rate of 200Hz, or up to 165Hz without, and supports AMD FreeSync Premium Pro. That sounds great, but falls apart on closer inspection.
Viewsonic's overclocking mode is effectively useless. Turning it on disables both AMD FreeSync Premium Pro and local dimming, removing two of the monitor's critical features. It doesn't make sense to spend $1,499 for a fancy Mini-LED monitor and then disable the perks of the Mini-LED backlight. The 200Hz Overclock is a gimmick I'd actively encourage owners to avoid. 
The standard refresh rate of 165Hz isn't much better. This monitor uses VA panel technology which, in general, can't match the pixel response times of IPS panels. VA panels are also known for "black smear," a problem caused by low response when transitioning through darker colors. This problem is not a deal-breaker for me, personally, but it does hold back the monitor's overall motion clarity.
Perhaps to compensate, Viewsonic offers five increasingly aggressive response time modes. The default mode, "Fast," introduces some moderate overshoot visible in the form of trails around high-contrast objects and a shimmer in detailed textures. This problem becomes comically obvious in the more aggressive modes. "Fastest," the most aggressive, introduces huge color shifts around moving objects and bright borders and halos in high-contrast areas. It looks as if the moving image is passed through a bad Photoshop filter.
The "Standard" response-time mode, which is the least aggressive, was my preference. Motion clarity is okay in this mode but noticeably soft compared to an IPS or OLED monitor at a similar 144Hz or 165Hz refresh rate. Test images from League of Legends showed that character outlines and health bars were distinct, but names and character details were obscured. Motion was smooth, at least, when AMD FreeSync Premium Pro was enabled.
The monitor has a black frame insertion feature called PureXP. This strobes the backlight which, thanks to our eyes' inability to keep up, improves motion clarity. It's effective, and the bright Mini-LED backlight helps. Because backlight strobing quickly turns the backlight on and off, it has the side effect of decreasing brightness. But, with a maximum brightness of over 700 nits, you're still getting over 300 nits with PureXP turned on. Despite these advantages, PureXP once again disables AMD FreeSync Premium Pro and the local dimming feature. So, that's another no from me.
Finally, in one final pinch of salt into this monitor's wounds, turning on AMD FreeSync Premium Pro disables the monitor's brightness setting, which is odd. Turning on the Local Dimming feature does the same. Adjusting contrast sorta works around this, but the minimum level of brightness that can be achieved might still be too bright for SDR gaming in a dark room.
Together, these issues seriously limit the Elite XG341C-2K's potential. In theory, it should be a fantastic gaming monitor. In practice, I found myself banging my head against the monitor's many restrictions and underwhelmed by its clarity.
Should you buy the Viewsonic Elite XG341C-2K?
The Viewsonic Elite XG341C-2K is an excellent monitor held back by numerous minor issues. It benefits from the incredible contrast and brightness a Mini-LED backlight can provide and really struts its stuff in HDR content, which looks stunning. Unfortunately, Viewsonic makes a few bad calls in the monitor's on-screen menu controls and default settings, and the monitor's motion performance falls short of expectations. Even so, the Elite XG341C-2K can still make sense if great HDR is your number-one priority, as it puts the brightness of OLED competitors to shame.