What does Lenovo have to do with Aston Martin? On Thursday, the PC manufacturer better known for its ThinkPad laptops debuted the ThinkStation PX workstation—and it tapped the British luxury automaker to help with its chassis design. 
This isn't a gimmick. With the ThinkStation PX, Lenovo is taking its content-creation workstations to an even higher level of performance: dual Intel Xeons, and up to four Nvidia RTX A5000s. "Before the PX, we have never been able to support this many cores and this many GPUs," said Jennifer Ramsay, Lenovo's senior worldwide product manager for workstations.
However, as any PC builder knows, with great power comes great heat. That's where Aston Martin's expertise in cooling down sports cars comes in.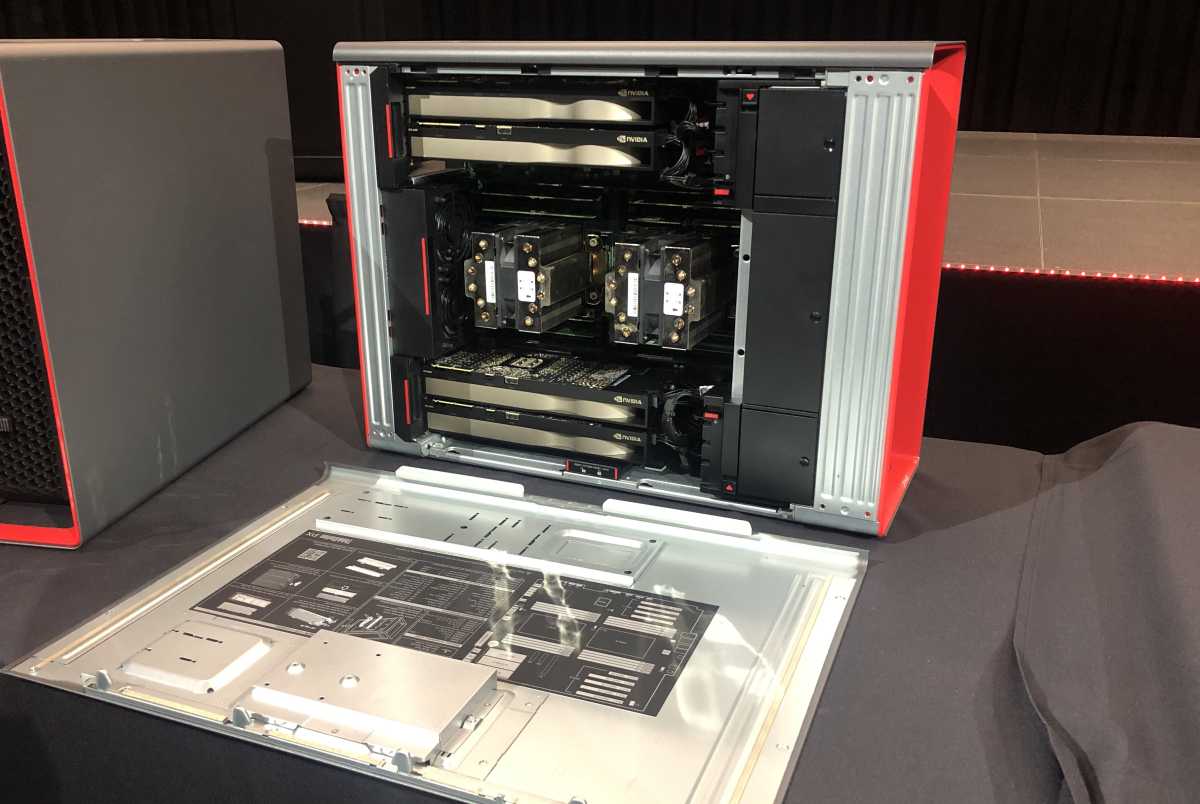 Melissa Riofrio/Foundry
Sorry, you can't build this PC at home
While it is possible to build a very powerful desktop PC, the ThinkStation PX is not something you could replicate using off-the-shelf hardware. And even if you could afford all the components, the PX's motherboard is a Lenovo in-house design. As with any legit workstation, the level of testing and validation that goes into a machine like this far exceeds what most home builders would ever do.
Beyond the hardware, you also can't touch the ThinkStation PX's chassis design. There are lots of nice cases out there, but this one exercises a century of Aston Martin sports-car wisdom to cool the system's high-end parts.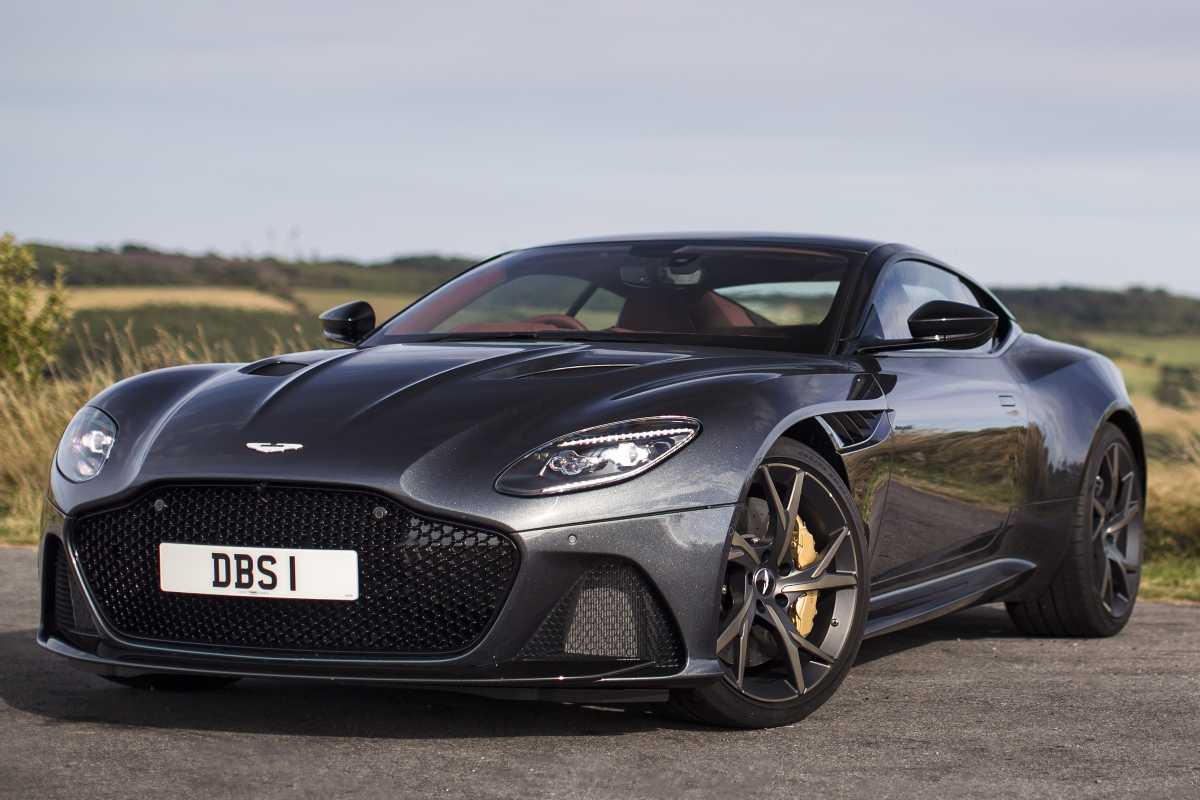 Aston Martin
The hexagonal front grille on the ThinkStation PX riffs off the aggressive look of the Aston Martin DBS. That car, which has a starting price north of $333,000, is exotic in every possible way, including its front ventilation, which is designed to maximize airflow to the 715-horsepower, V12 engine. 
"We've spent the last 110 years controlling heat in cars," said Cathal Loughnane, Director of Partnerships at Aston Martin. While Aston Martin proposed a number of designs, the DBS's hexagons won out. 
Melissa Riofrio / Foundry
Note the prominent array of bladelike ridges in the pattern. As with the DBS, this effect is functional. "The extension blades further stabilize the airflow to maximize cooling potential," Loughnane said. "The deeper the grille, the better the airflow." 
As air enters the system, Lenovo's patented tri-channel cooling baffle (which has been around since 2014) routes separate airflows over the CPU, GPU, and memory. No single part has to share air warmed by another component. This is luxury, PC-style.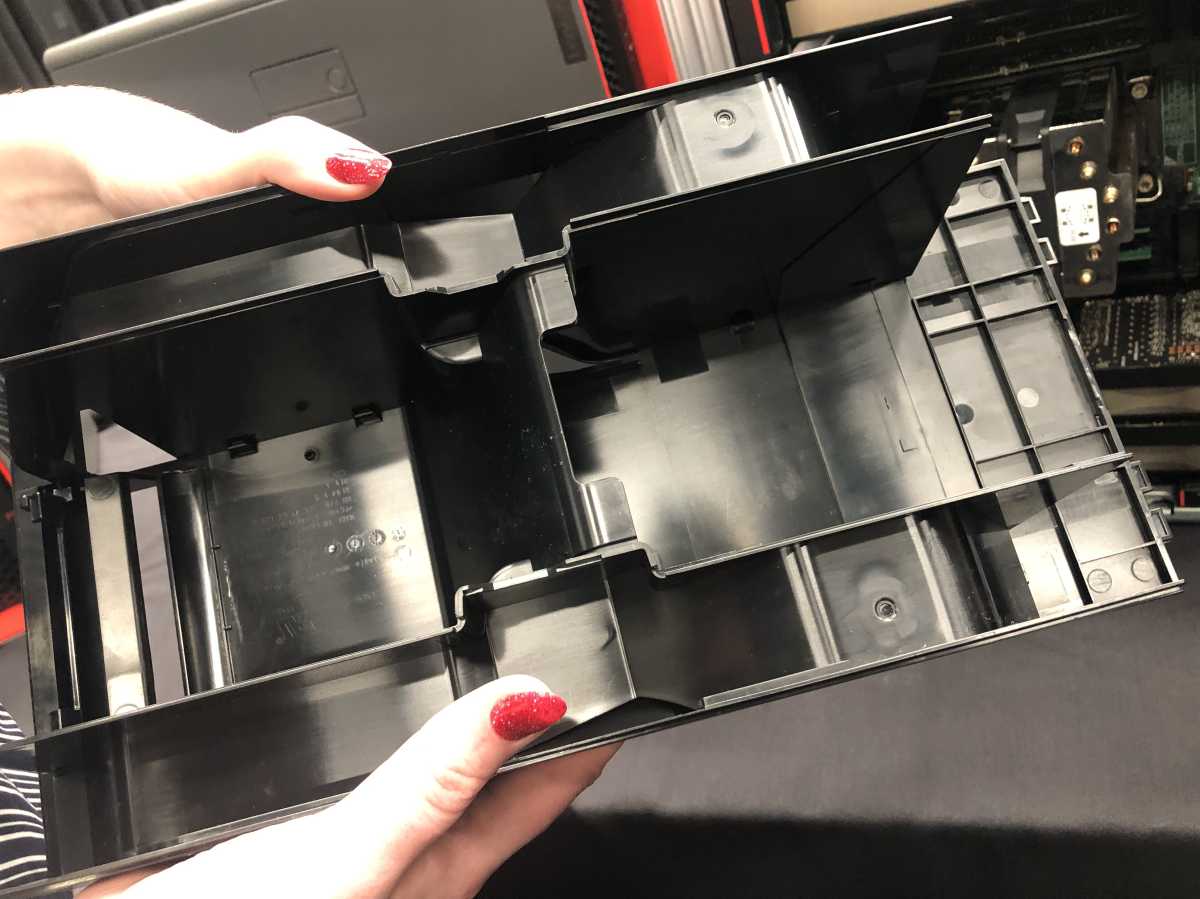 Melissa Riofrio / Foundry
Future-proofing is another workstation hallmark. Lenovo's Ramsay said the ThinkStation PX will accommodate the recently announced Nvidia RTX A6000 cards when they become available. Sixteen DIMM slots can accommodate up to 128GB of RAM. We also noted the useful mix of both PCIe Gen 4 and Gen 5 slots; both 1-Gigabit and 10-Gigabit ethernet; and both USB-A and USB-C ports (11 in total).
No surprise, this thing weighs more than 70 pounds. So here's another thing you won't find on every PC case: four handles, one on each corner, for easier hefting.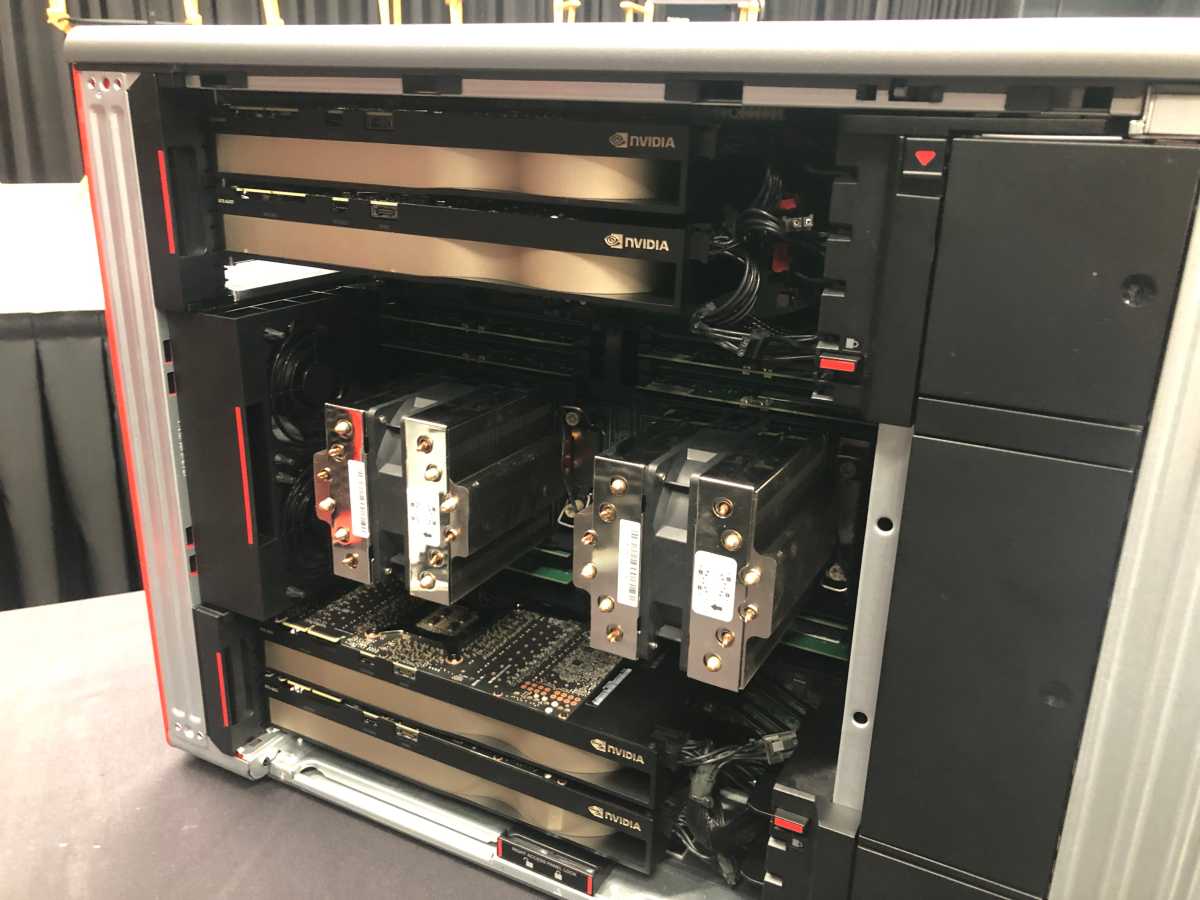 Melissa Riofrio / Foundry
The more I looked at the ThinkStation PX, the more I coveted all its tool-free details, also hard to find in other cases. The three front drive bays have release levers. There's a push-button release on the side panel. User-touchable pieces inside the case are marked in Lenovo red. The 1850W power supply has a release lever and a handle. What are the rest of us doing with our damn screwdrivers?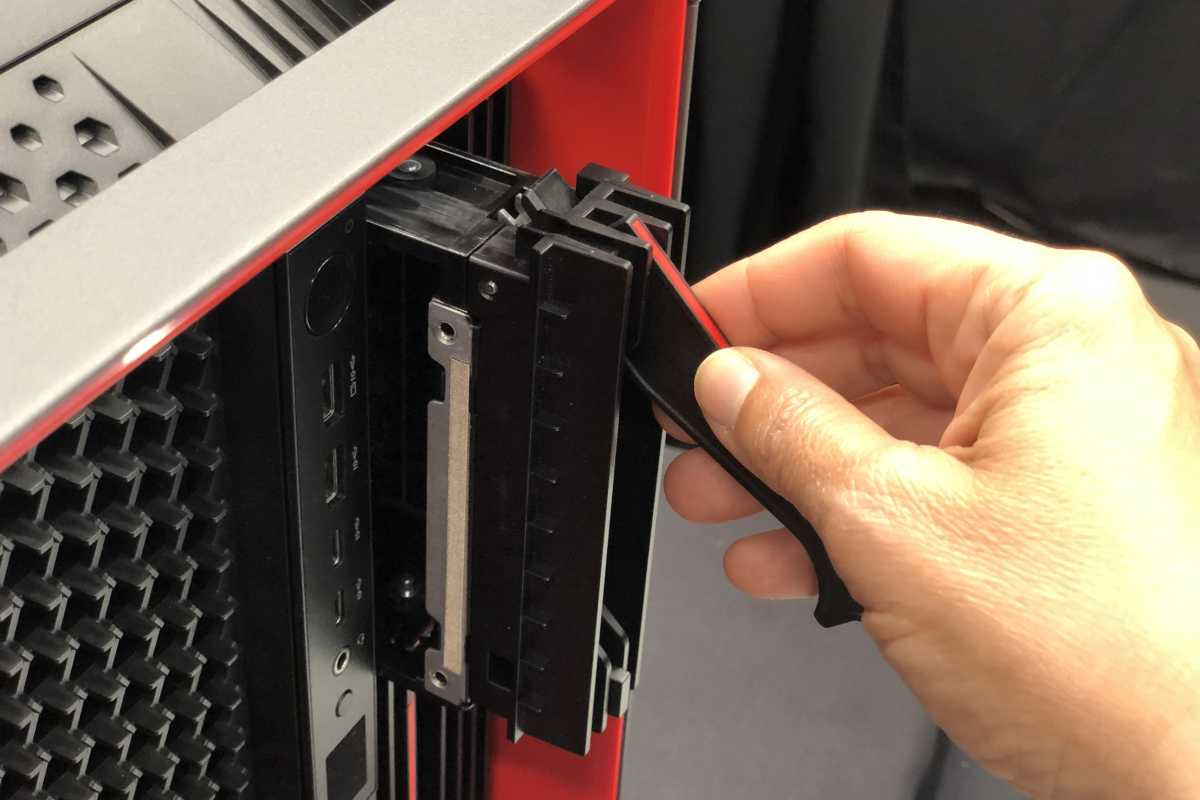 Melissa Riofrio/Foundry
So what's all this performance good for?
As if to highlight the ThinkStation PX's star power, Lenovo showed it off at the Burbank, California headquarters of a famous customer: Dreamworks Animation. 
Lenovo technology—its prior generation of ThinkStations, plus its water-cooled Neptune servers—helped Dreamworks animators create the studio's latest hit. "The painterly style employed in Puss in Boots: The Last Wish required a lot more compute power," said Lenovo vice president Rob Herman during the presentation.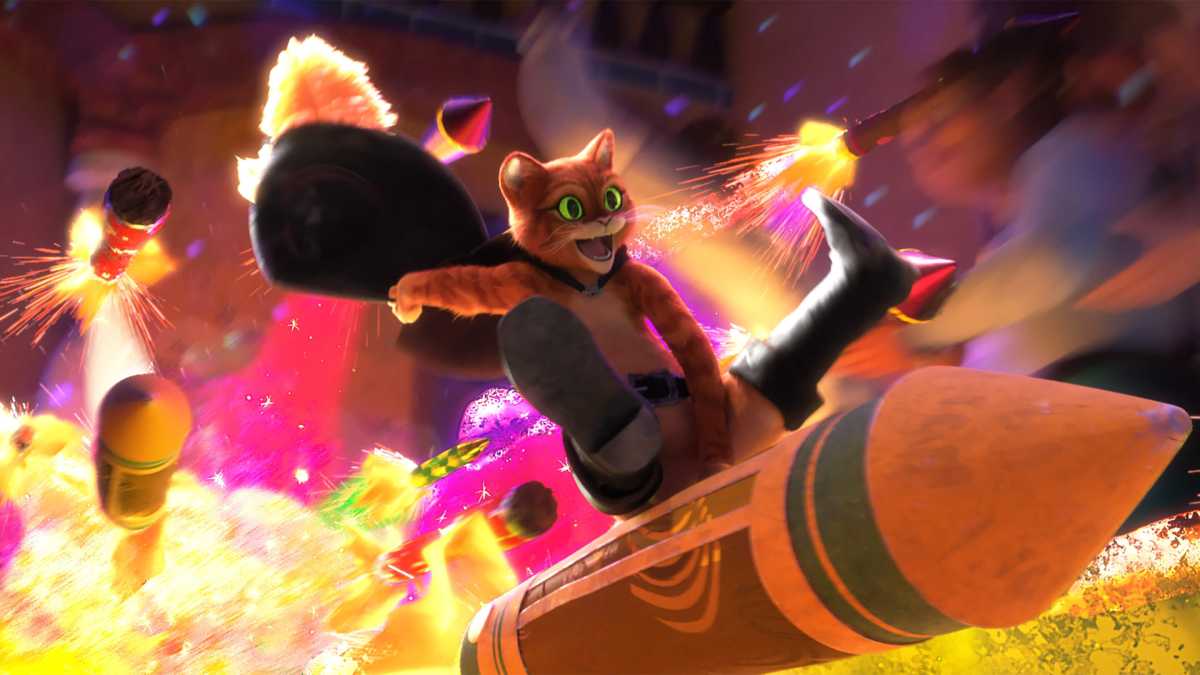 Dreamworks Animation
We watched as Ludo, a lead Dreamworks animator, took a scene from a digital storyboard to a rough animation to a near-final product. Thanks to the ThinkStation's compute power, incremental changes appeared immediately, where they once would have required lag time to render. 
Power lies at the heart of this Lenovo ThinkStation PX story—just as it would with an Aston Martin sports car. The executives were very clear: Dreamworks is a data business. Whether the data is pixels or retail sales or healthcare statistics, managing data for efficiency and profit requires powerful technology—workstations, servers, and more. That's what Lenovo hopes to deliver.