So many hyped-up products to try, so little time. In this era of inflation where even eggs are considered a luxury good, it can be overwhelming to navigate the wide world of stuff. From wellness buys to seasonal treats to candles worth the splurge, it's important that our hard-earned dollars go toward things (and experiences) that pay satisfying, mood-boosting dividends. When it comes to what I eat—and how I budget out my grocery list—items I can store for months in the freezer are an absolute godsend. And as the best Trader Joes frozen food proves, your money-saving grocery haul can unlock all kinds of delicious and convenient inspiration. (Mealspiration, if you will.)
Featured image by Teal Thomsen.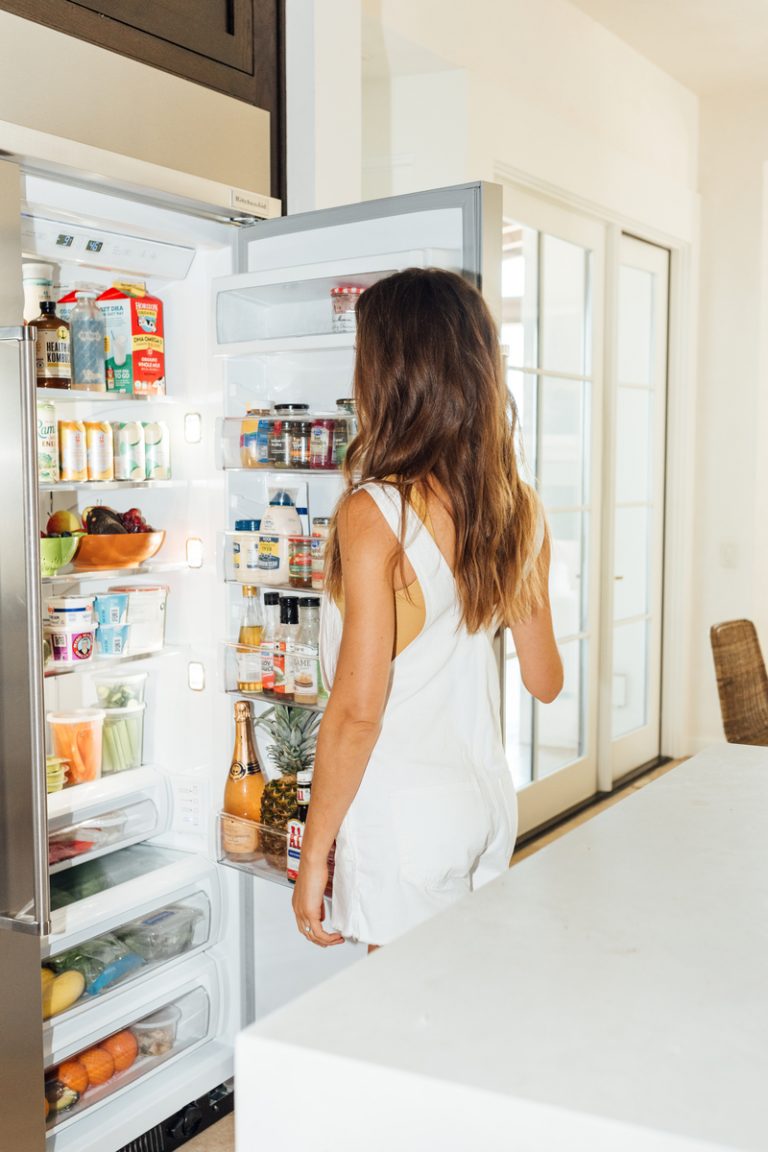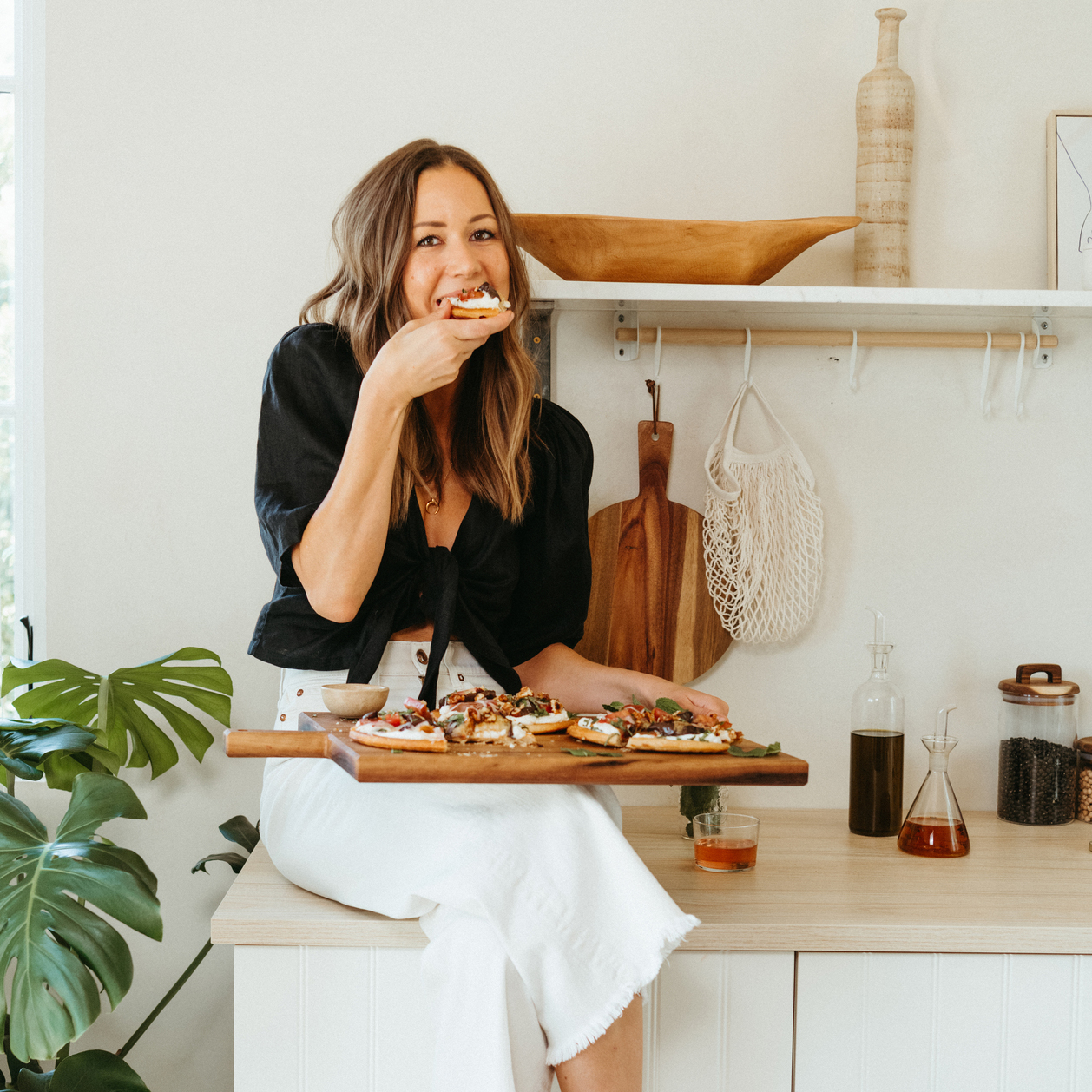 Subscribe
Our Top 10 Recipes
Sign up to receive a FREE E-BOOK of my top 10 most popular recipes of all time!
Thanks for Signing Up!
Oops!
Looks like you're already signed up or your email address is invalid.
Oops!
Looks like you unsubscribed before click here to resubscribe.
The Best Trader Joes Frozen Food: 12 Must-Have Picks
Before I get to my Trader Joe's frozen finds, I have to disclose something. I couldn't have timed this frozen food haul worse. Besides the Wednesday before Thanksgiving and that elusive, late-summer day when fall products hit the shelves, I scheduled my grocery run for perhaps the worst shopping day of the year. Because I'm only a football fan by association—my partner's a die-hard—the fact that my visit coincided with Super Bowl Sunday was completely lost on me. That is, until I had to take four spins around the parking lot before finding a space.
All that to say, this wasn't the leisurely shopping trip I had envisioned. The aisles were crowded, my movements were frantic, and they were out of the most important frozen good I had been instructed (by everyone!) to find. Yes, real tears were almost shed. But I kept my cool, loaded up my cart with all the best Trader Joes frozen food, and vibed out to my chill girl playlist on the ride home. (If you've ever felt your blood pressure skyrocket from a Sunday grocery trip, you know what I'm talking about.)
With my goods procured, I spent all of last week taste-testing and determining the items that earned their place among the frozen masses. Some were old standbys while others were new-to-me recommendations. In the end, 12 products stood out as the best of the best Trader Joes frozen food.
Dive in and discover the hype.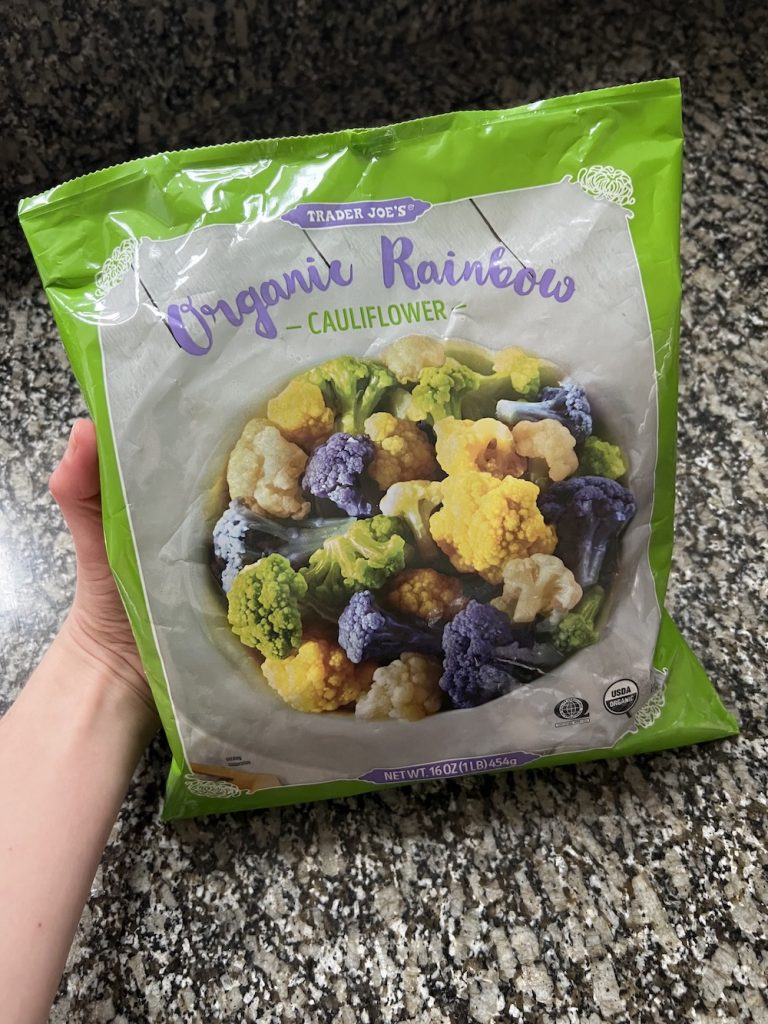 Organic Rainbow Cauliflower: $2.99
Praise be the cruciferous deliciousness that is cauliflower. As we all know by now, cauliflower comes with endless possibilities. It can replace just about every grain you can think of—from pizza crust to pasta—and it can bulk up our favorite smoothies sans banana. And even the hesitant among us are nearly always pleased to discover that cauliflower, roasted with a little oil, salt, and pepper, is a fiber-filled delight. That hype, of course, extends to Trader Joe's frozen rainbow cauliflower. Simply prepare it with the EVOO method and roast in the oven until golden brown. It's easy, it's healthy, and it's your secret to a colorful and nutritious weeknight veg.
One qualm. If you're familiar with the spinach memes, expect a similar result. This bag of frozen cauliflower will not feed a family. I served it as a side for a weeknight dinner, and because I'm *passionate* about roasted cauliflower, my partner was left with a meager serving. (Don't worry, he's a Brussels sprouts guy, anyway.)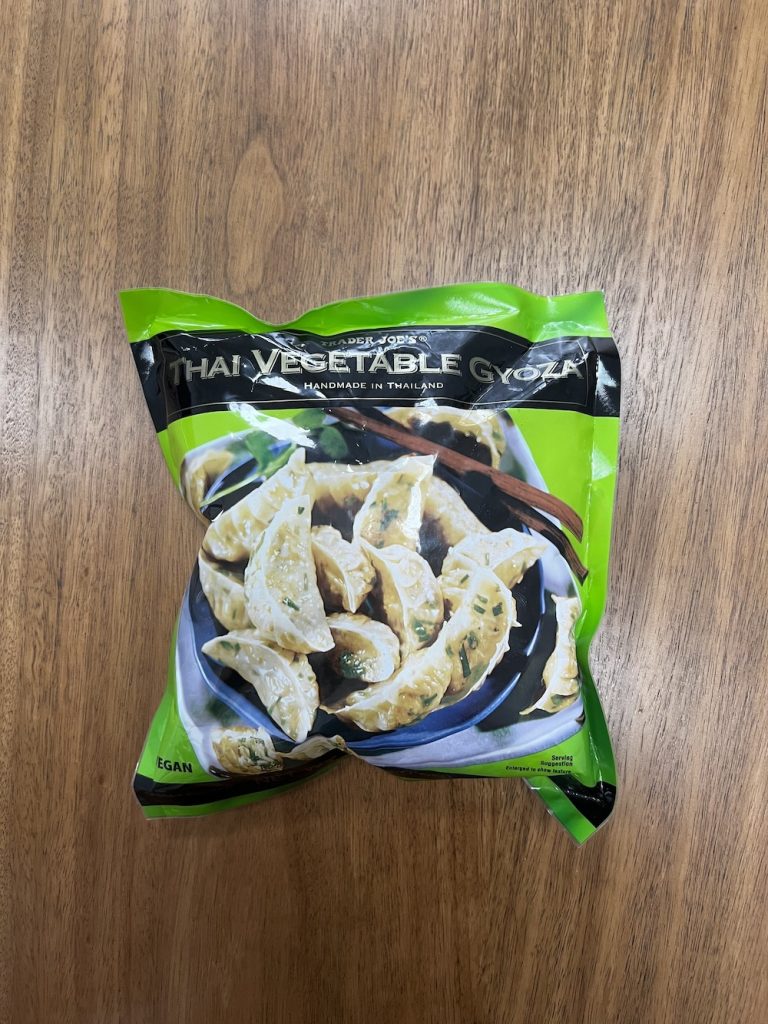 Thai Vegetable Gyoza: $4.79
Of course, this is a list of my Trader Joe's freezer go-to's. But if I had to name a favorite of my favorites, it would be this. Truly, these gyozas: chef's kiss. The vegan version of the Asian steamed dumpling is a tasty spin on the traditional dish. The filling boasts a veggie medley of carrots, cabbage, chives, green onions, and radishes. But the real kicker is the ginger. In every bite, you get the herb's sweet, spicy, and warming hit. Bonus: This is a large bag, so it's great for serving as an appetizer to a crowd or spread out over several meals. And don't you dare microwave your gyozas. Pan frying gives you a perfectly steamed interior, while the outsides get beautifully browned and crispy.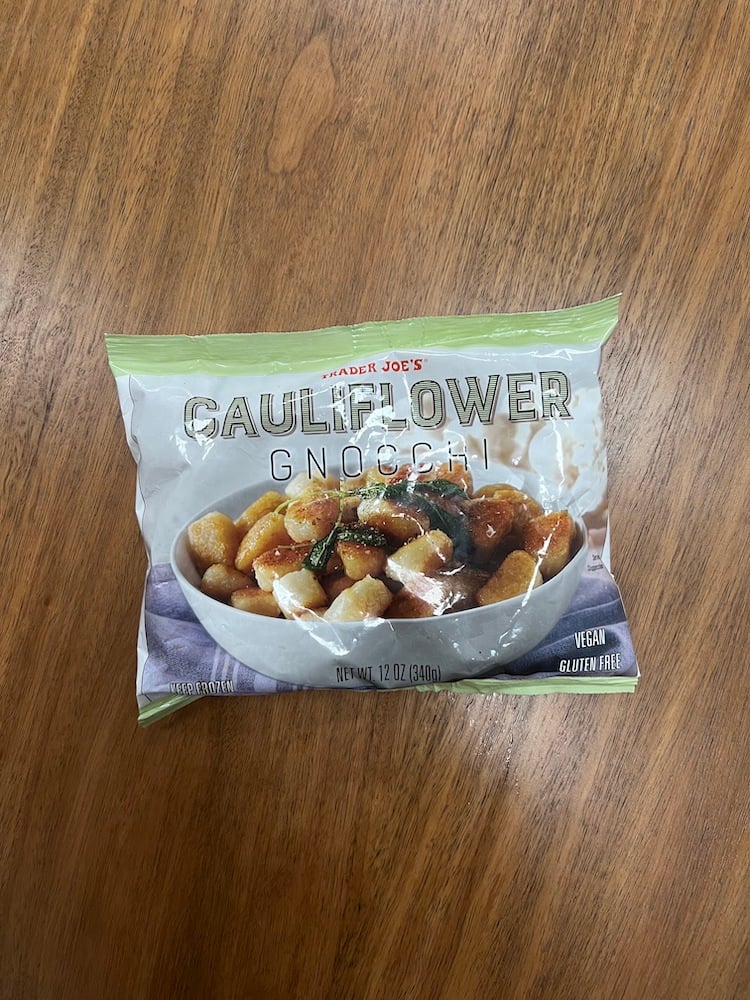 Cauliflower Gnocchi: $2.99
Is it really a Trader Joe's haul if your list doesn't contain at least two cauliflower-ized staples? This gnocchi is a favorite among the TJs-obsessed for a reason. First off, speaking from a financial standpoint, $2.99 for 2.5 servings is a steal. And if you're going for ease, this frozen fave is known to serve as the base for plenty of three-ingredient recipes.
But as for the texture—now that's where the conversation starts. I've heard it all: from pillowy-soft to gummy and watery, Trader Joe's Cauliflower Gnocchi is no stranger to evangelists and haters alike. However, I've found that it all comes down to the preparation. My chosen method(s)? Pan frying and air frying. If your love of kitchen gadgets doesn't extend to the latter, simply heat a little butter or oil in the pan (I went for two tablespoons), add your gnocchi, and heat for 7-10 minutes. You get a golden exterior and the insides remain perfectly fluffy. The perfect vehicle for your go-to sauce.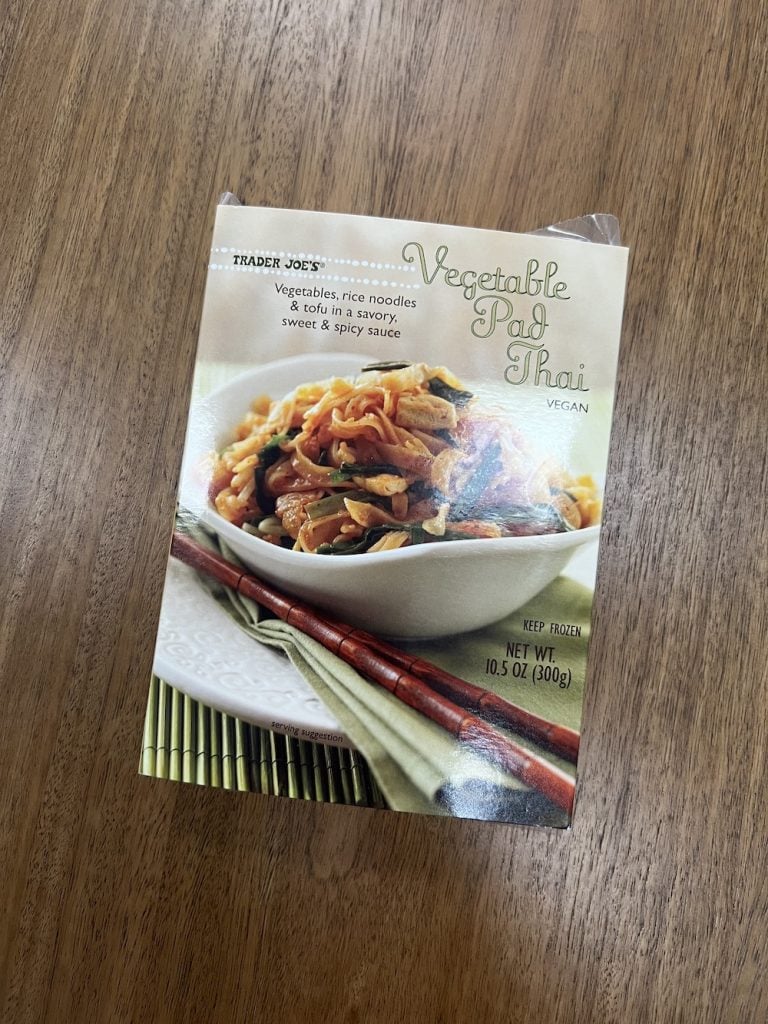 Vegan Vegetable Pad Thai: $3.49
Among being a haven for tasty, budget-friendly wine and a treasure trove of inventive snacks, Trader Joe's has also made a name for itself as a spot to hit up for heat-and-serve meals. And though we love to be ready for the week with a good meal prep, some days take us by surprise with their busyness. When that happens, I'm endlessly grateful for the presence of pad thai in my freezer. As many people know, it's tough to replicate a restaurant-quality pad thai at home on a budget (again, the memes abound). But this vegan version has all the textures and flavors down pat.
From chewy noodles to crunchy peanuts to a sauce that hits the tang just right, Trader Joe's pad thai can contend with just about any takeout version. And for that price, it's a no-brainer.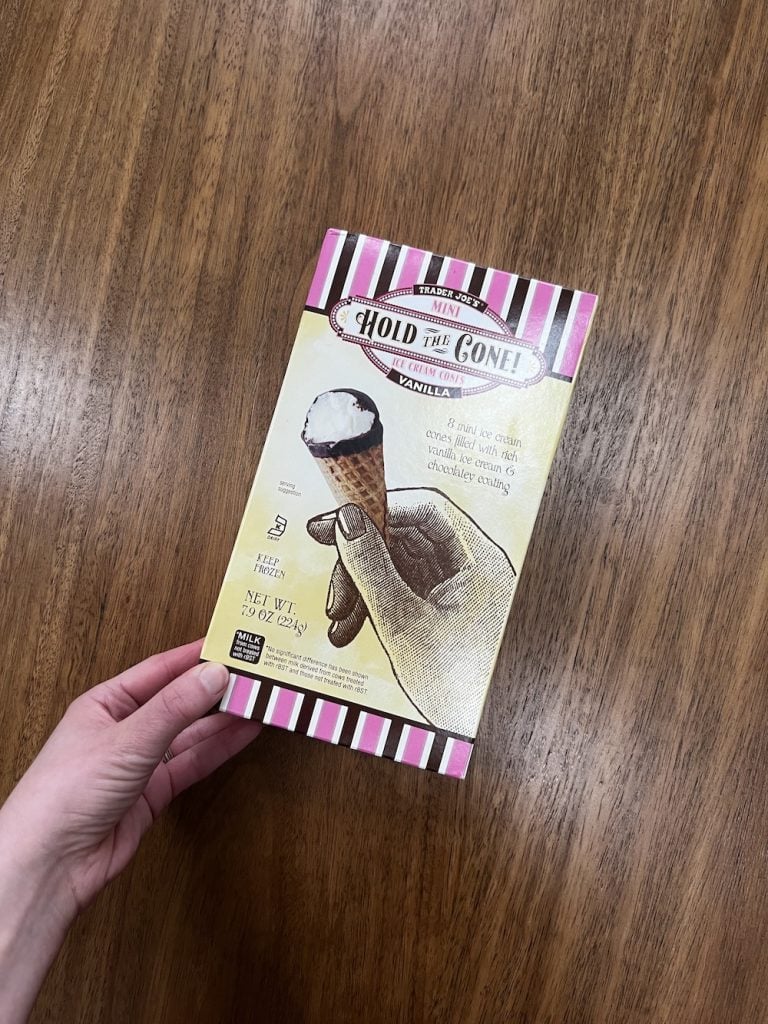 Mini Vanilla Hold the Cone!: $3.79
Somehow, this was my first time trying this frozen treat. I'd seen them raved about on just about every social media platform, but for some reason was just now getting around to tasting them myself. Needless to say, these will be finding their way into my cart on every Trader Joe's trip from here on out.
While the serving size is three mini cones (and I'll happily eat 3+ mini cones), I also find that just one is enough to satisfy my sweet tooth when the craving strikes. The texture play of this treat is unreal. Take a bite of the crunchy chocolatey coating and you'll discover a smooth, creamy base of vanilla ice cream. And unlike other frozen ice creams whose cones lack any understanding of flavor, this one has a distinct, almost molasses-like sweetness. It's the perfect vehicle for all the deliciousness inside.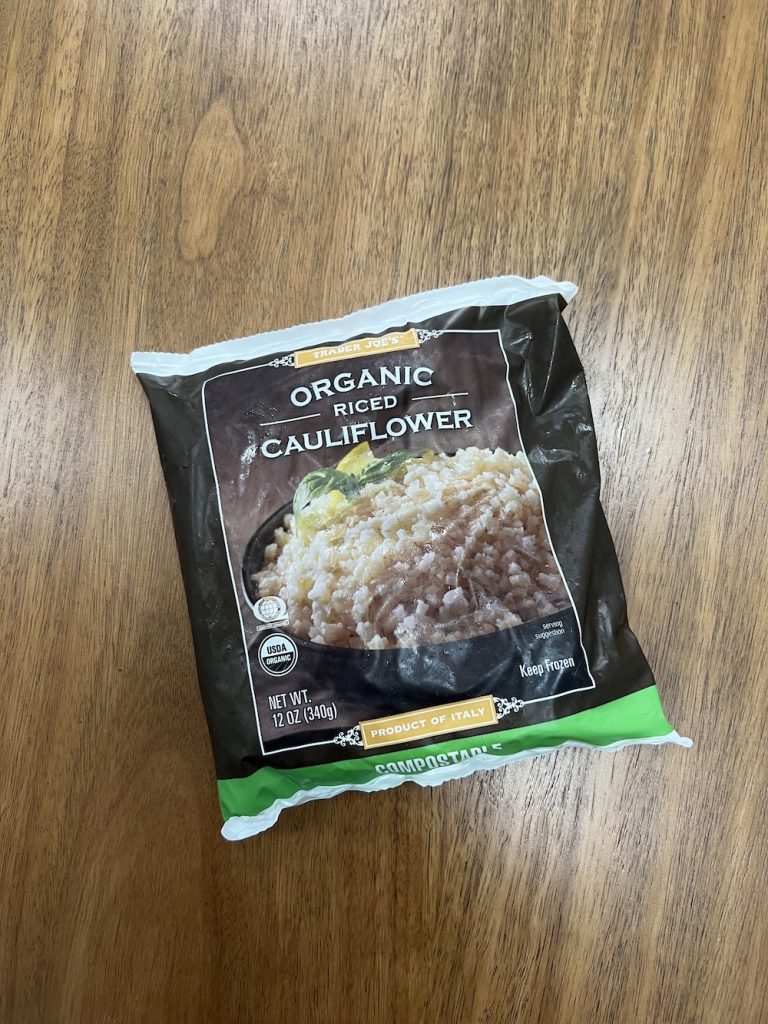 Organic Riced Cauliflower: $1.99
Our third and final cauliflower product to find its way onto this list of the best Trader Joes frozen food. It's a solid way to work veggies into even the most unsuspecting dishes. However, don't expect the same result if you were opting for regular white or brown rice. You'll get that nutty, slightly bitter flavor you'd expect from cauliflower, but I find that it plays well with just about any cauliflower rice recipe I can dream up. What's more, it's virtually effortless to cook and is a great meal booster to lean on when you're in a pinch.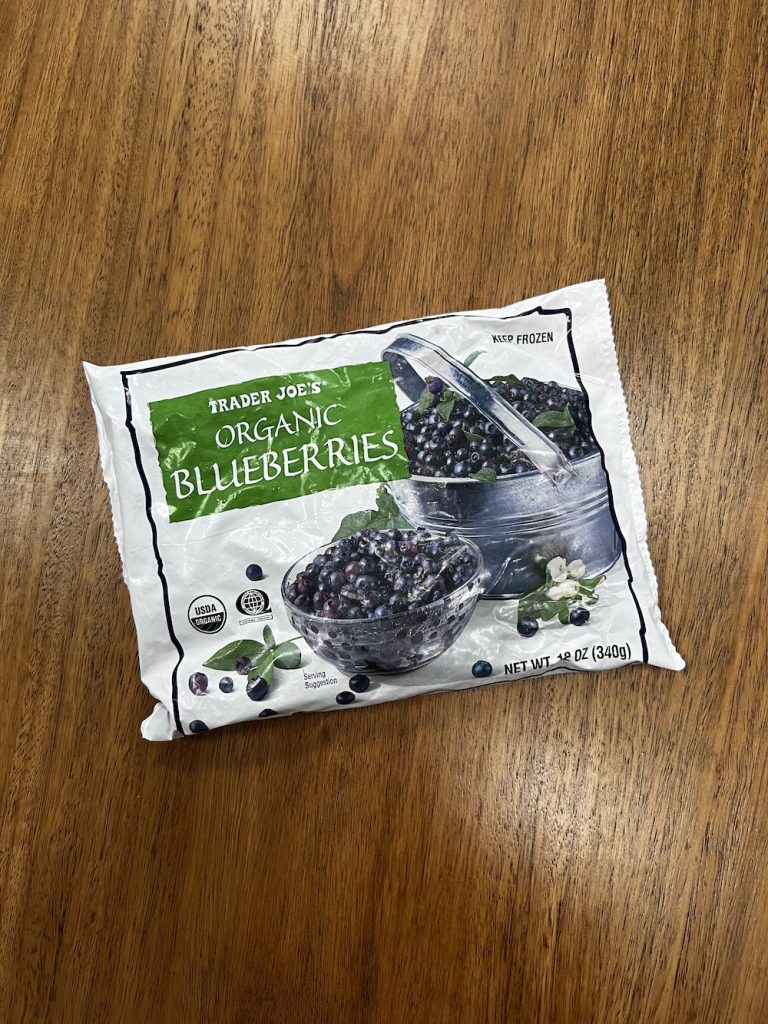 Organic Blueberries: $2.99
Blueberries are a nutritionist-approved freezer staple that I love loading up on for countless health-boosting reasons. They're an excellent source of antioxidants, high in fiber, and are inflammation-fighting powerhouses. I love throwing a handful of these into my smoothies, oatmeal, or any sweet I'm baking up. And at this price? For organic berries? Unbeatable.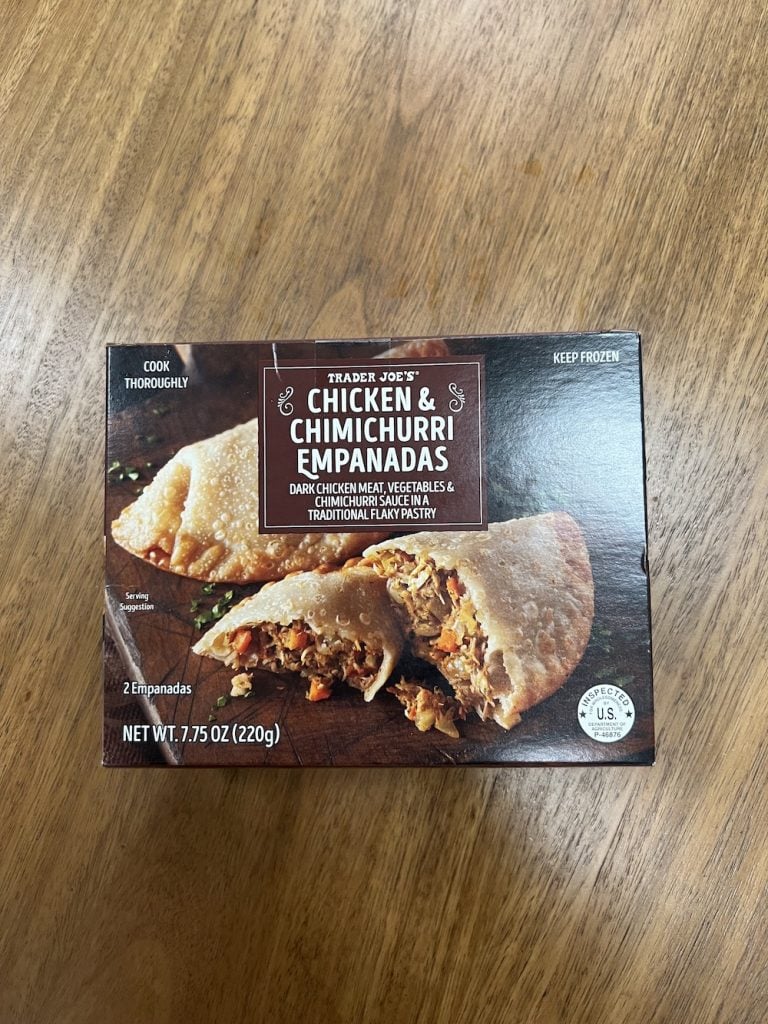 Chicken & Chimichurri Empanadas: $4.49
Taking second place for the most (relatively) expensive item on this list, these empanadas certainly aren't the best bang-for-your-buck pick. But if you're ever looking for a little pick-me-up during your grocery trip—which TBH, we're all after when we hit up Trader Joe's—you can trust that these deliver.
I cooked mine in the air fryer, giving me a tender and flaky crust with an impressive amount of filling packed into each pastry. You get shredded dark chicken meat (the most flavorful) and a colorful blend of veg—potatoes, carrots, and green cabbage. But the true star is the chimichurri. It's sharp and vibrant, with just enough spice. Keep these on hand for when you need a from-the-freezer surprise.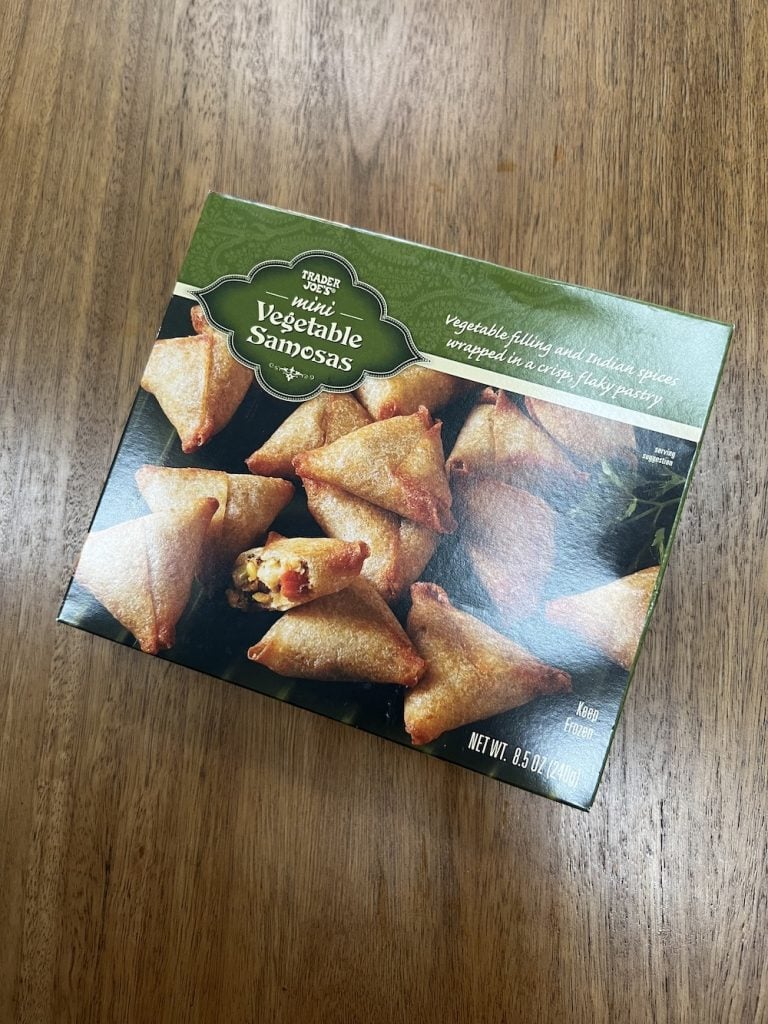 Mini Vegetable Samosas: $3.79
To paraphrase entertaining extraordinaire, Ina Garten—aka, The Barefoot Contessa—when entertaining, never shy away from a few (high-quality) store-bought items. You don't have to do it all! I've taken her advice to heart and have been known to serve these at every gathering. When prep is as simple as opening the box and turning on the oven, why wouldn't you? The result of your (minimal) efforts is an appetizer that everyone will devour. The thin, flaky pastry envelops a filling of peas, carrots, potatoes, lentils, onions, and a curry-like spice. And as the copy geniuses at Trader Joe's write themselves, "these Samosas' nutritional profile is pretty darn reasonable for a savory pastry." Health food? You decide.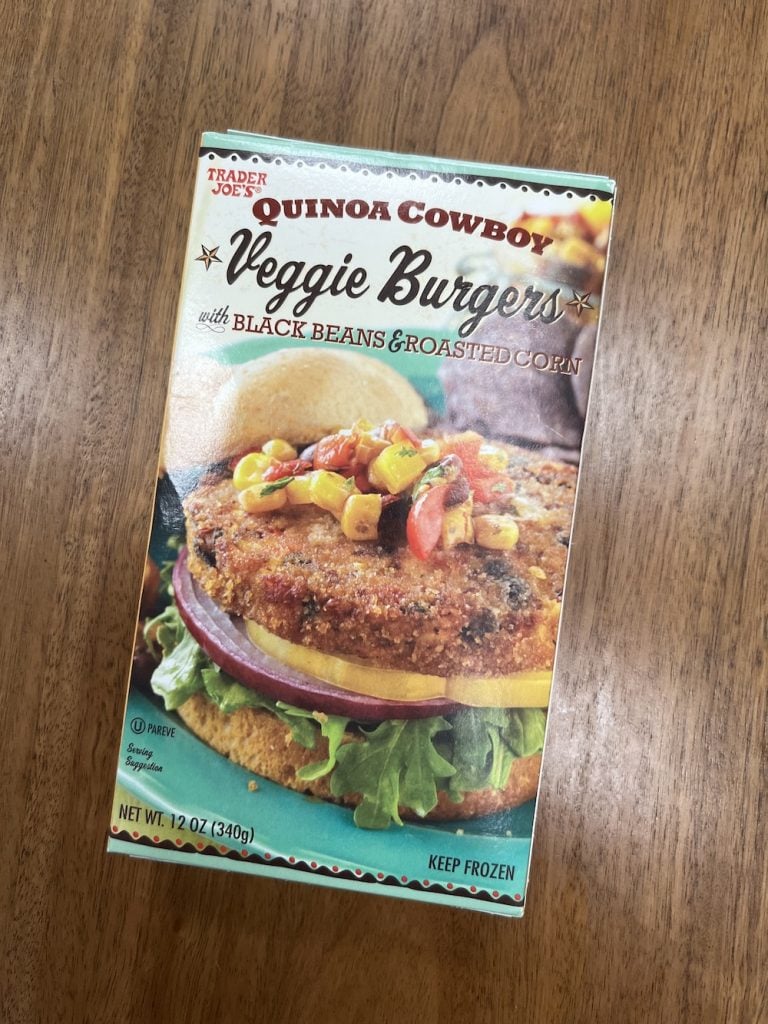 Quinoa Cowboy Veggie Burgers: $3.99
Historically, veggie burgers have gotten a bad rap. Albeit well deserved, times are a-changin'—and TJ's is leading the charge. The burger brings together the best of the store's two popular items: Tri Color Quinoa and Cowboy Caviar Salsa. There's loads of texture thanks to the black beans, roasted corn, and quinoa that serve as the bulk of this burger. They're chewy with just enough crisp and crunch on the outside. And for all of us who believe a burger should have flavor beyond the condiments, you'll be satisfied with a nice bit of kick and zest.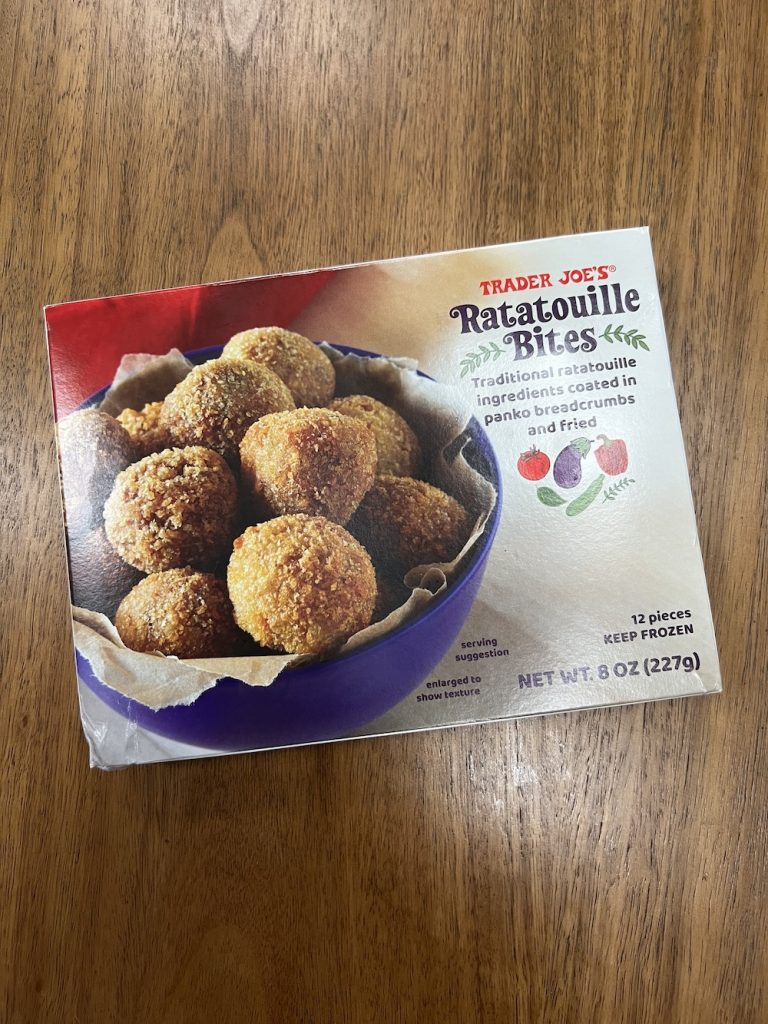 Ratatouille Bites: $4.29
I'm finishing this list of my well-loved frozen foods on a high note. While the Ratatouille Bites may seem like an unusual pick (and likely an insult to the French), these are truly addicting. Here at Camille Styles, we're obsessed with ratatouille-inspired dishes—this pasta is tasty proof. And though I wasn't expecting to enjoy these quite as much as I did, I was oh-so-pleasantly surprised. Ratatouille, though a late-summer dish, has a wonderful air of coziness about it. The large chunks of in-season veggies are cooked with rich glugs of olive oil and seasoned with fragrant garlic and herbs.
This Panko-crusted version pulls together the essence of the dish perfectly, packaging it up into a small, two-bite snack. Again, they might be unexpected—and a blasphemous shift from tradition to some—but serve these at your next party and see what happens. I guarantee they'll be a hit.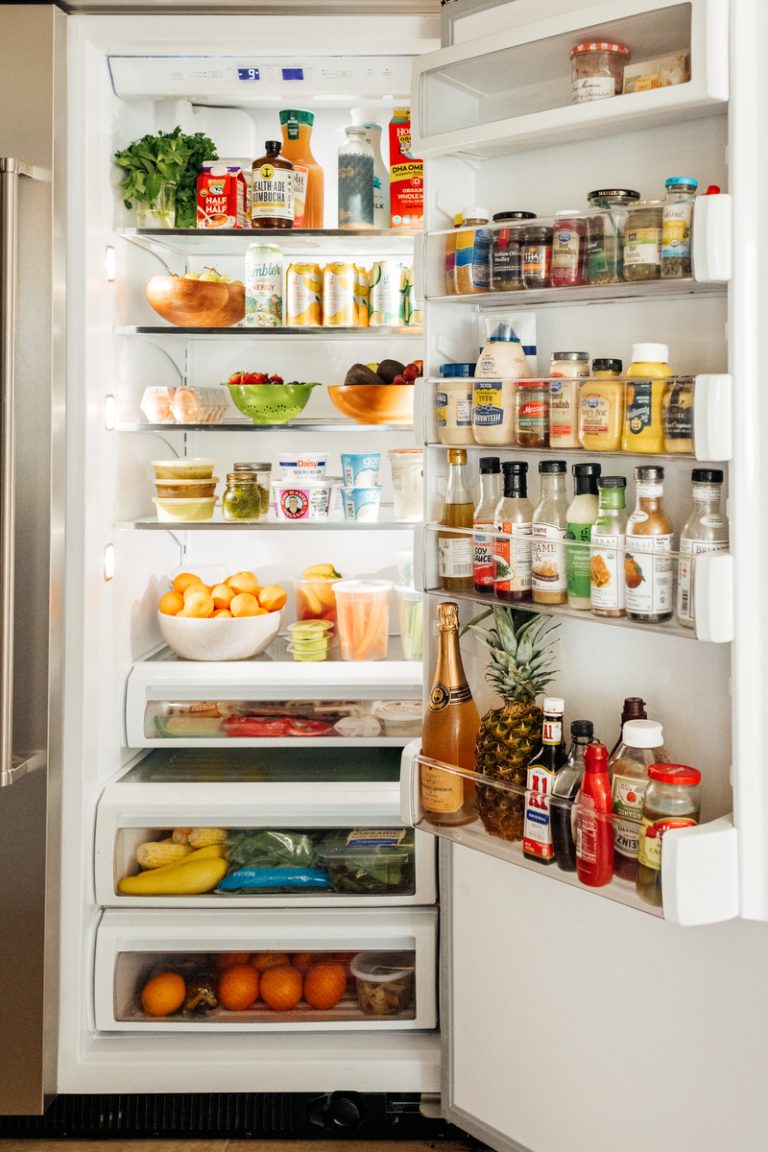 The Best Trader Joes Frozen Food Item I Visited Three Stores to Find
Sadly, out of my entire haul, the #1 item I was after was nowhere to be found. And friends, I braved the crowds and visited two other Trader Joe's in Chicago in my pursuit of this must-try frozen item. What was I after? The much-lauded, unanimously-approved soup dumplings. No matter what side of the city I found myself on, neither the Steamed Pork & Ginger Soup Dumplings nor the Steamed Chicken Soup Dumplings could be found. Was I alone in noticing a shortage? Was everyone eating soup dumplings on Super Bowl Sunday? After having polled a few friends, I discovered that I wasn't the only one experiencing an unfruitful search.
However, when I finally do get my hands on them, I'm told to expect a perfectly-seasoned broth (savory, with just the slightest hint of sweetness) and a texture that's so tender, each dumpling practically melts in your mouth. It's my wish that I can get my hands on a package (or hoard them in my freezer should I be lucky enough to find them) and enjoy them for myself before the cozy season is up. Here's to hoping.