At a glance
Expert's Rating
Pros
Power brick is hidden within, removing clutter
90W to charge your laptop
Supplies a terrific 9.5W for smartphone charging
HDMI 2.1 support
Cons
Ethernet is glitchy, and requires a driver
Bulky
Expensive
Limited built-in display options
Our Verdict
OWC's Thunderbolt Dock Go integrates the power brick, and that's worth something. But this Thunderbolt 4 dock ends up big, bulky, and expensive as a result.
Best Prices Today: OWC Thunderbolt Go Dock
$349.99
OWC's Thunderbolt Go Dock has a unique selling point in its favor: the lack of an external power brick. This helps reduce cable clutter and, in theory, makes it easier to take this Thunderbolt 4 dock on the go. Unfortunately, it doesn't quite achieve its promise.
Like laptops, Thunderbolt docks can include fairly sizeable power bricks—often weighing about as much as the dock itself. Yet desktop PCs and some game consoles manage to integrate the power transformer inside the chassis itself, providing a cleaner, more streamlined look.
Note: See our roundup of the best Thunderbolt docks to learn about competing products, what to look for in a Thunderbolt dock, and buying recommendations.
OWC Thunderbolt Go Dock: Features
You can make the case that the OWC Thunderbolt Go Dock combines the best of both worlds: All there is in the box is the 28-inch Thunderbolt 4 cable, the power cable, and the dock itself. If OWC included a small pouch that the items could be kept in, you could make the case that this is a travel dock. Regardless, the lack of additional cabling is a selling point in its favor.
OWC has traditionally served the Mac market, which has used Thunderbolt as a direct display interface as much as an I/O expansion cable. In addition to a single HDMI 2.1 port, the Dock Go provides two downstream Thunderbolt 4 ports, as well as the Thunderbolt 4 connection to the host PC. Those additional downstream ports can be used as display connections, though you'll need to pay an additional $20 or so for a Thunderbolt 4-to-USB-C cable or a similar DisplayPort cable. In fact, we used such a cable to drive a second 4K display at 60Hz, verifying that the Dock Go's bandwidth works as advertised.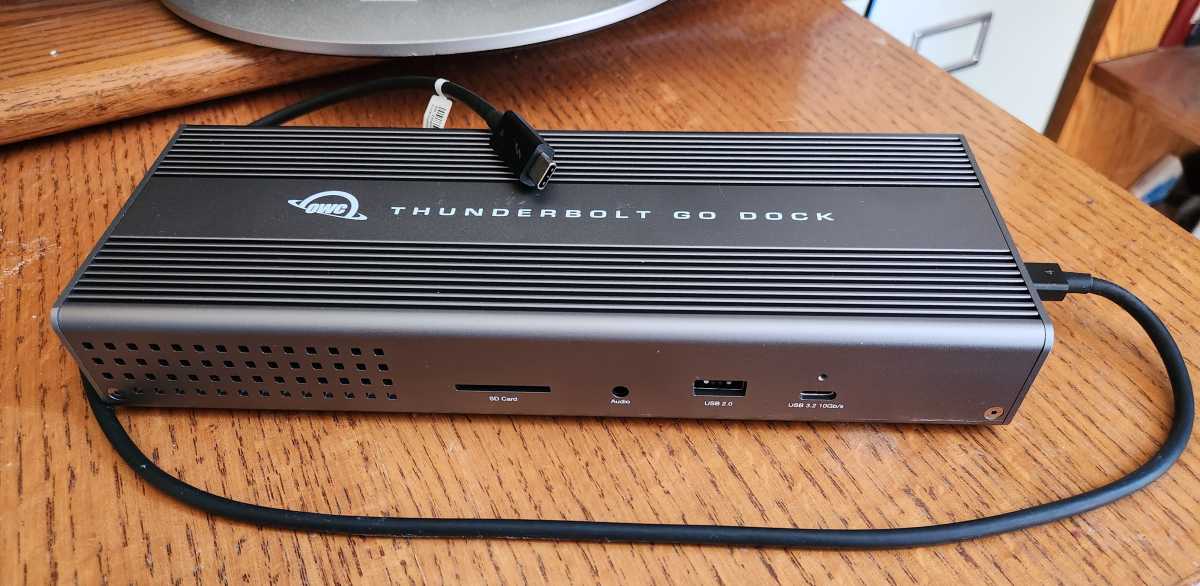 Mark Hachman / IDG
It's worth noting that the single HDMI 2.1 port is really unusual—the massive bandwidth it provides technically allows for a single 10K display at 120Hz, which is certainly beyond today's available hardware.
Additional ports include a legacy 5Gb/s USB-A port, a 10Gb/s USB-C port, an audio jack, and an SD 4.0 UHS-II card slot on the front; on the back, the dock includes the two Thunderbolt 4 ports, the HDMI port, a 2.5Gb/s ethernet port, and a pair of 10Gb/s USB-A ports. The dock delivers 90W of charging power downstream via the Thunderbolt 4 cable, which snakes out from the side of the dock.
In my experience, the USB-A ports on the rear of the dock accommodated a few random USB keys and other devices, but they're closely spaced. If you have an oddly shaped promotional dongle, for example, it may not fit. You can use the front-facing port instead.
Despite its "Thunderbolt Dock Go" name, OWC's dock isn't small; at 9.5 inches long and 3.6 inches deep, it's larger than you might expect. It also weighs 2.09 pounds, which is about a pound less than a typical laptop weighs. The aluminum chassis does a great job of dissipating heat, so that the dock never heated up beyond a slightly warm temperature in my tests.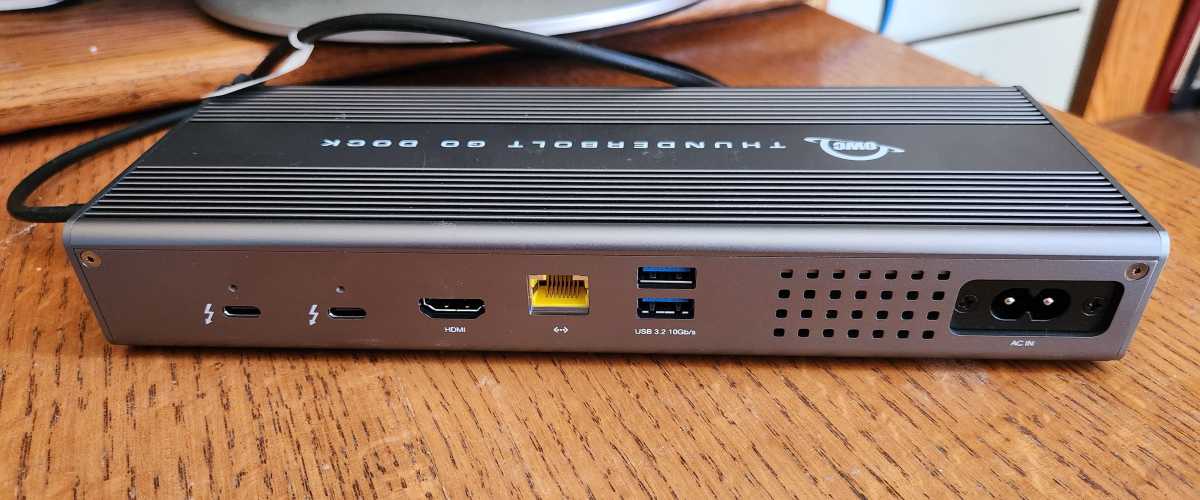 Mark Hachman / IDG
OWC Thunderbolt Go Dock: Performance
Although OWC doesn't list smartphone charging as a selling point, the dock certainly does generate enough power to fast-charge a smartphone: 9.5W from the front-facing USB-C port, and about 12W if you use one of the rear Thunderbolt ports for the same purpose. Otherwise, the USB-A ports produce about 2.5W, just enough to charge a smartphone over several hours.
OWC's Thunderbolt Go Dock connected to two 4K displays perfectly; same for a single 4K display and a 1440p widescreen display at 100Hz. OWC's Thunderbolt Go Dock initially passed our streaming performance tests with flying colors, streaming our 4K60 test video over its integrated ethernet without dropping any frames.
In part, that's because YouTube streamed the video at a lower bitrate than we expected. The reason for that became apparent: Though the dock's ethernet port lit up correctly, all of the data was being passed via Wi-Fi, even with the ethernet cable inserted. OWC support referred us to a Realtek Ethernet software driver, but even after installing it, rebooting, disconnecting the dock, and running a diagnostic program, ethernet still failed to work correctly. Inexplicably, it did work a reboot or two later. After doing so, the dock allowed reads and writes at expected speeds on our SSD while streaming video.
Should you buy the OWC Thunderbolt Go Dock?
The OWC Thunderbolt Dock Go is probably a little too big and heavy to tote along on a business trip, but it is possible. It appears that you'll need to install a software driver to enable ethernet, however, if and when that driver eventually works. And at a $349 MSRP, you'll pay for the privilege. We certainly appreciate what OWC set out to do here with the Thunderbolt Dock Go, but its size, price, and driver issue mean that it falls a bit short of an Editor's Choice award.