These spicy garlic prawns are like a party for your taste buds! Marinated in a sweet and spicy chili garlic sauce and broiled in under 10 minutes, this bold and flavorful prawns recipe is perfect for any seafood lover.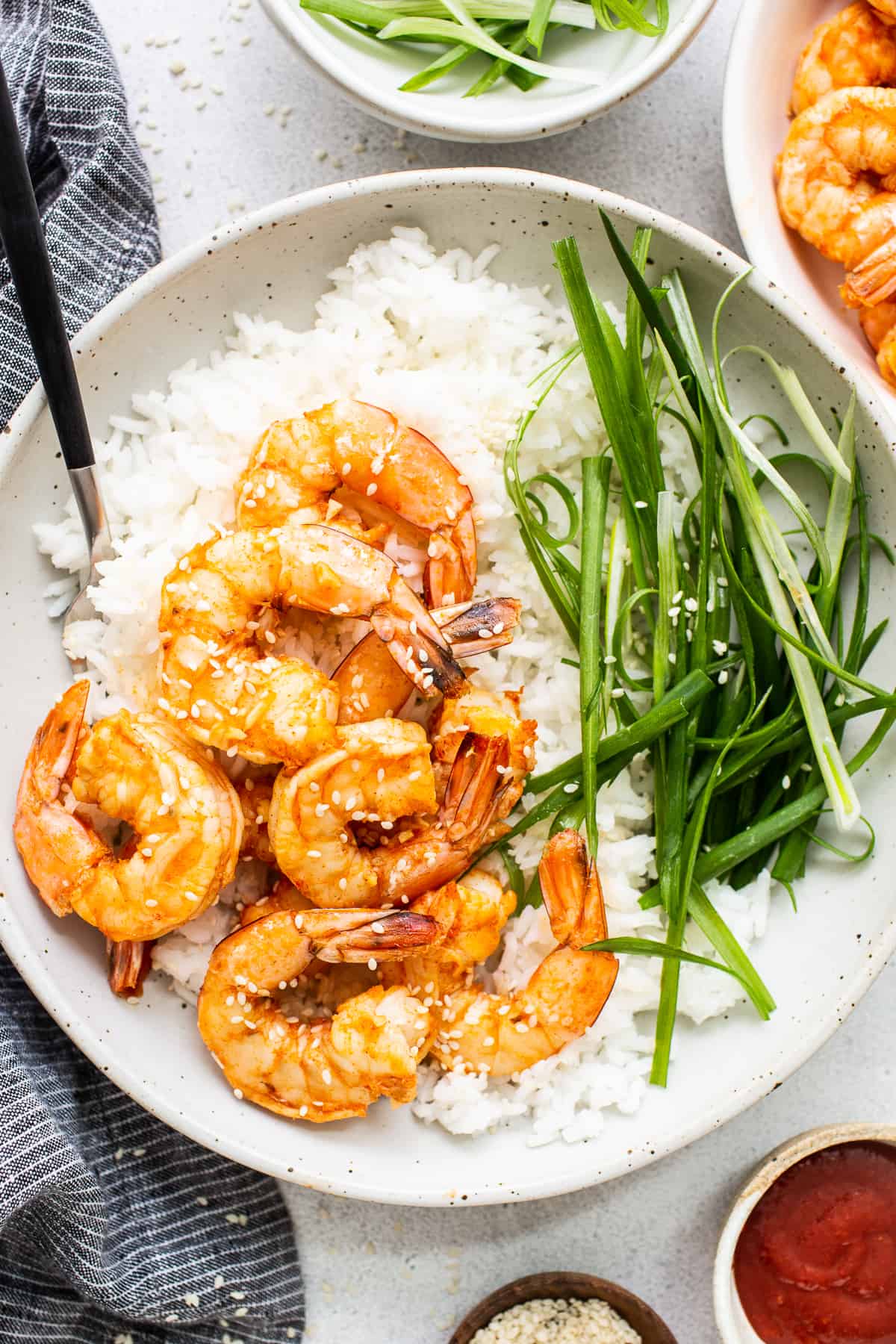 The BEST Chili Garlic Prawns Recipe
A marinade can really make a recipe, which is why we've created the most delicious sauce for marinating these juicy prawns. Made with a mix of garlic, gochujang, vinegar, sesame oil, honey, and soy sauce, there's no doubt your prawns will be bursting with addictive sweet, spicy, and savory flavors. 
We love this dish over white rice or a scallion salad, but these spicy prawns taste great with anything from Hakka noodles to stir fry!
What are prawns?
A prawn is a small crustacean that has an exoskeleton with 10 legs. Prawns have pincers on 3 of their legs and can be found in both seawater and freshwater.
Why you'll love 'em!
Made in 3 simple steps.
The perfect balance of sweet, spicy, and savory.
Goes great with just about any side.
Quick cooking time.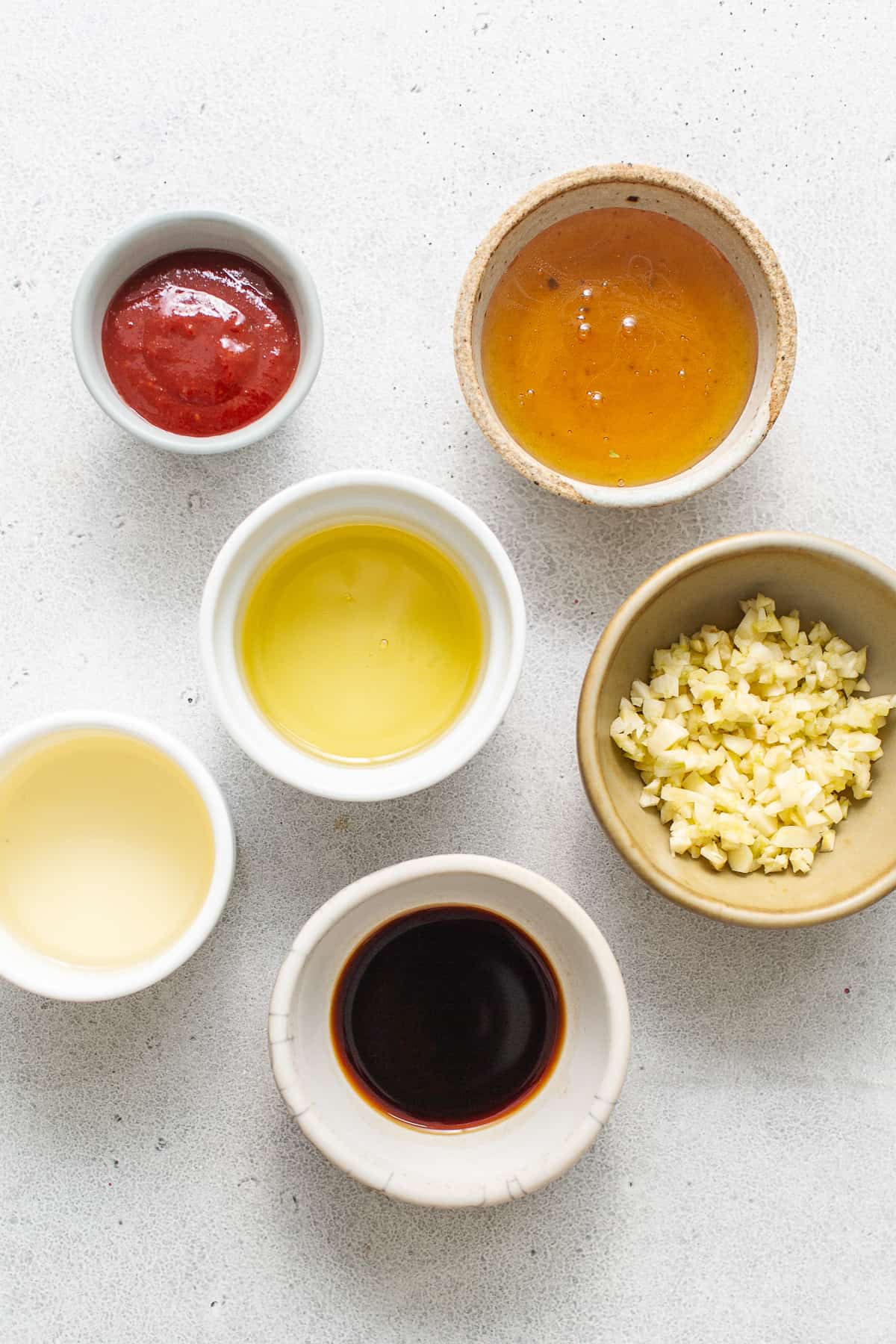 Spicy Garlic Prawns Ingredients
Garlic: fresh garlic adds a bunch of delicious flavor to the prawns.
Gochujang sauce: a Korean chili paste that offers the prawns a wonderful salty, spicy, umami flavor.
Rice vinegar: brings an acidity to the marinade for a deeper flavor profile.
Sesame oil: adds a nutty, earthy taste to the marinade.
Honey: adds just the right amount of sweetness to balance out the spicier notes.
Soy sauce: another key ingredient to the marinade to give it a well-rounded flavor.
Prawns: we used large prawns that were deveined and peeled. However, jumbo shrimp works just as well!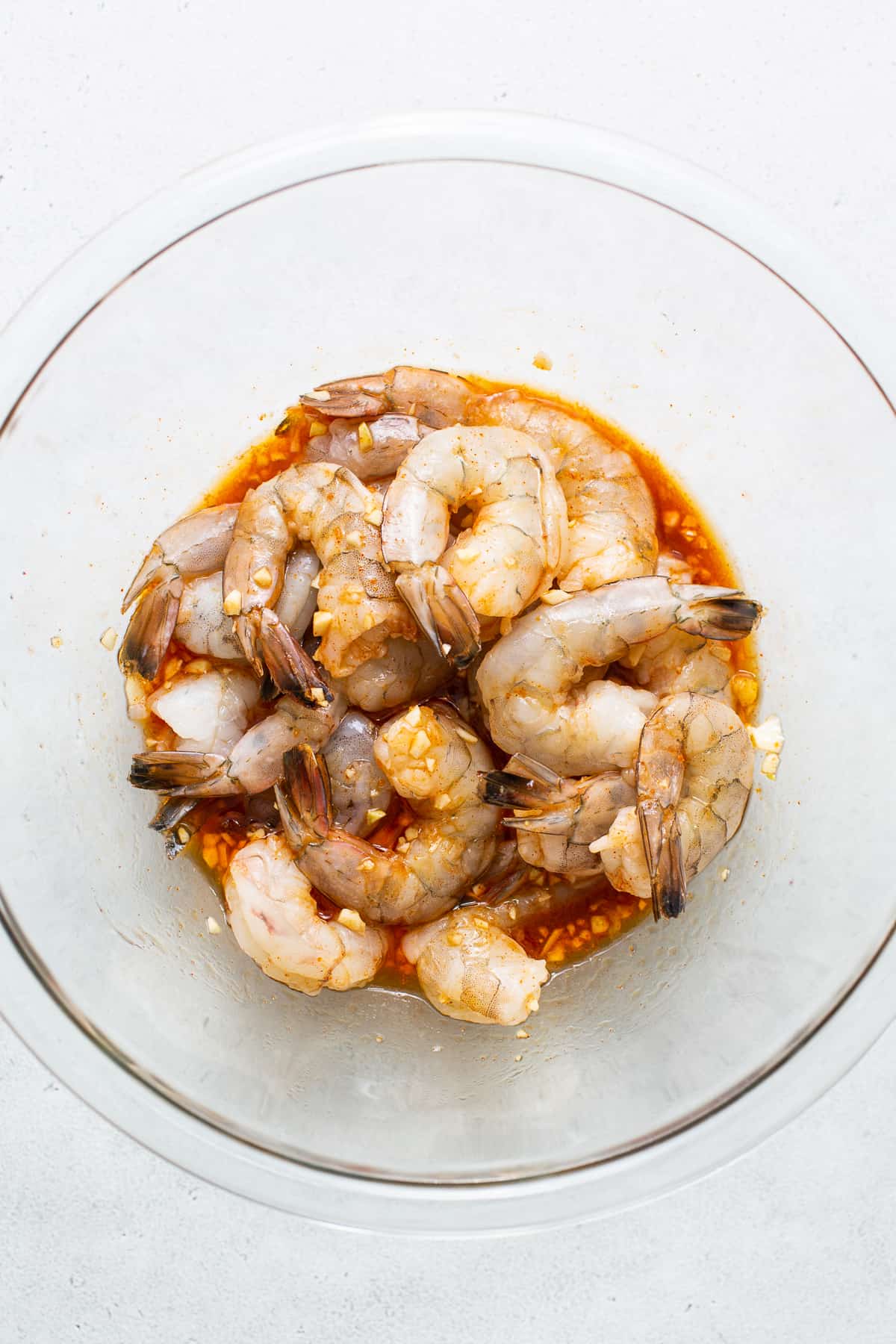 What's the difference between shrimp and prawns?
Although they look and taste similar, shrimps and prawns are two different species. Shrimp only have one pair of legs with claws at the end, while prawns have three pairs with claws. Prawns are also typically larger than shrimp and tend to have a sweeter, meatier taste.
Tips for Cooking Prawns
When shopping for fresh prawns or shrimp at the grocery store, look for the peeled and deveined kind. The deveining and peeling process is tedious, so this will save you time and frustration.
Can you use frozen prawns/shrimp? YES! But make sure it's thawed before you make this recipe.
Can you use cooked prawns/shrimp? We don't recommend using already-cooked shrimp for this recipe.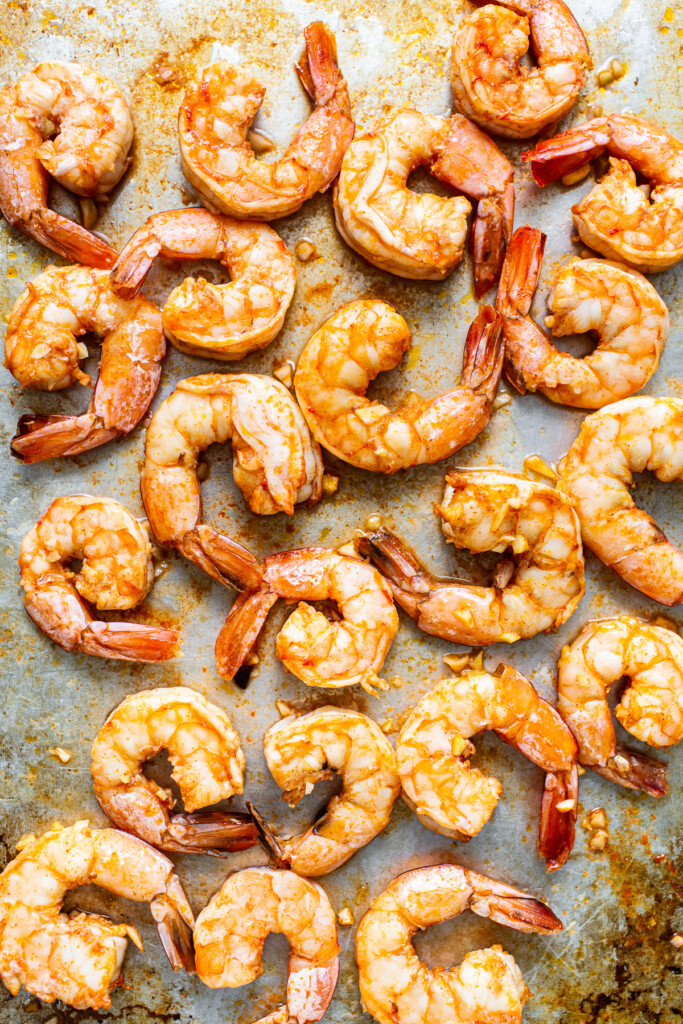 How to Make Spicy Garlic Prawns
PREPARE MARINADE
Add the garlic, gochujang, vinegar, sesame oil, honey, and soy sauce to a large mixing bowl. Whisk the ingredients together until smooth. 
LET THE PRAWNS MARINATE
Next, transfer the prawns to the bowl with the marinade. Then toss the prawns until they are covered and let them marinate for 30 minutes to 2 hours in the refrigerator. 
BROIL PRAWNS
Preheat the oven to broil and spread the marinated prawns across a baking sheet so they are not touching. 
Broil the prawns for 2-3 minutes on each side. The prawns are ready when they start to curl. Immediately remove the prawns from the baking sheet so they don't overcook. 
SERVE + ENJOY
There you have it! A delicious chili prawns recipe. Serve your prawns on their own or over rice for a complete meal. Enjoy!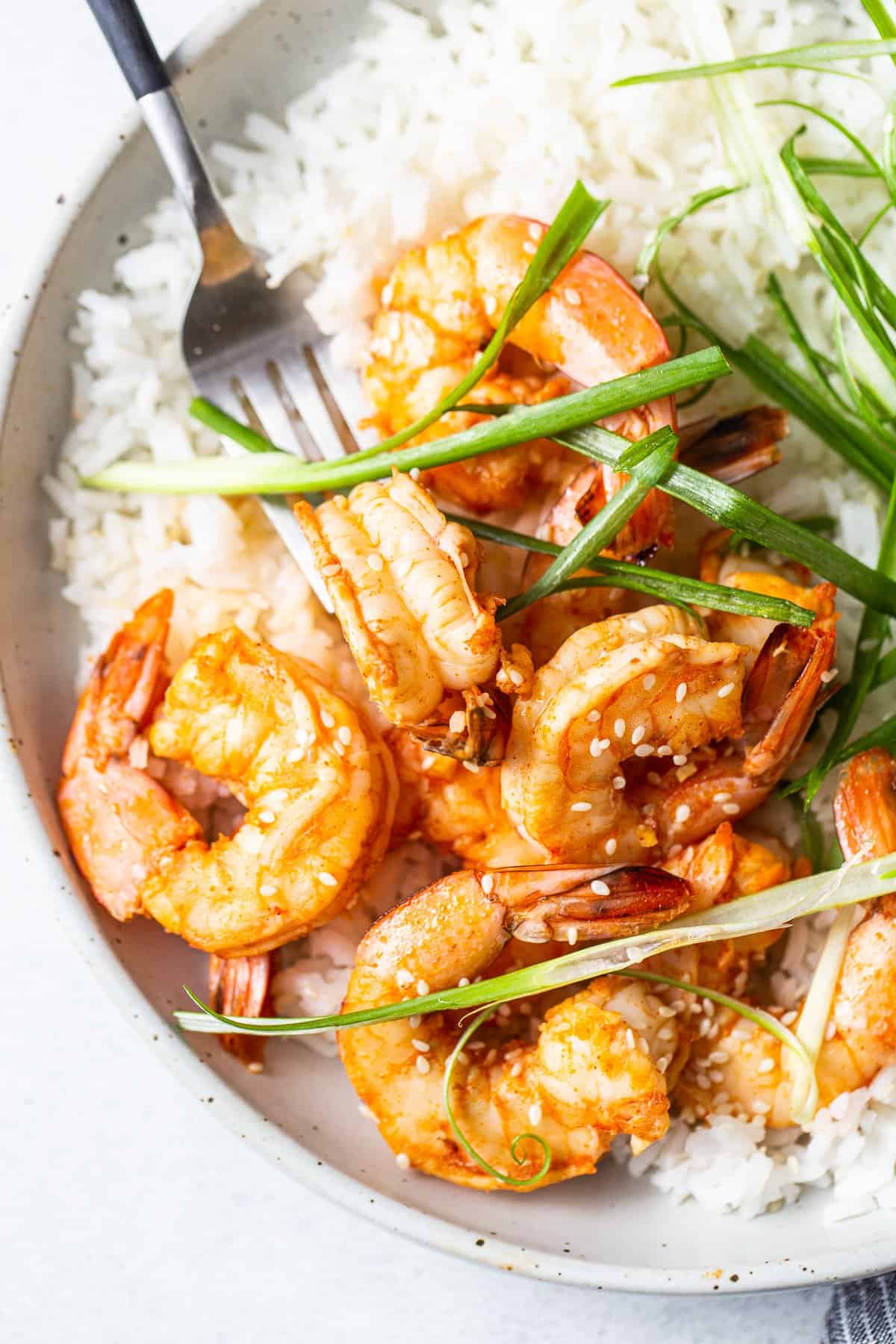 What to Serve with Spicy Garlic Prawns
These prawns make for an excellent appetizer or tapas recipe, but you can also pair them with any of the following to round out a healthy and delicious meal:
SIDES
SALADS
Storage
Store your leftover spicy garlic prawns in an airtight container in the fridge for up to 5 days.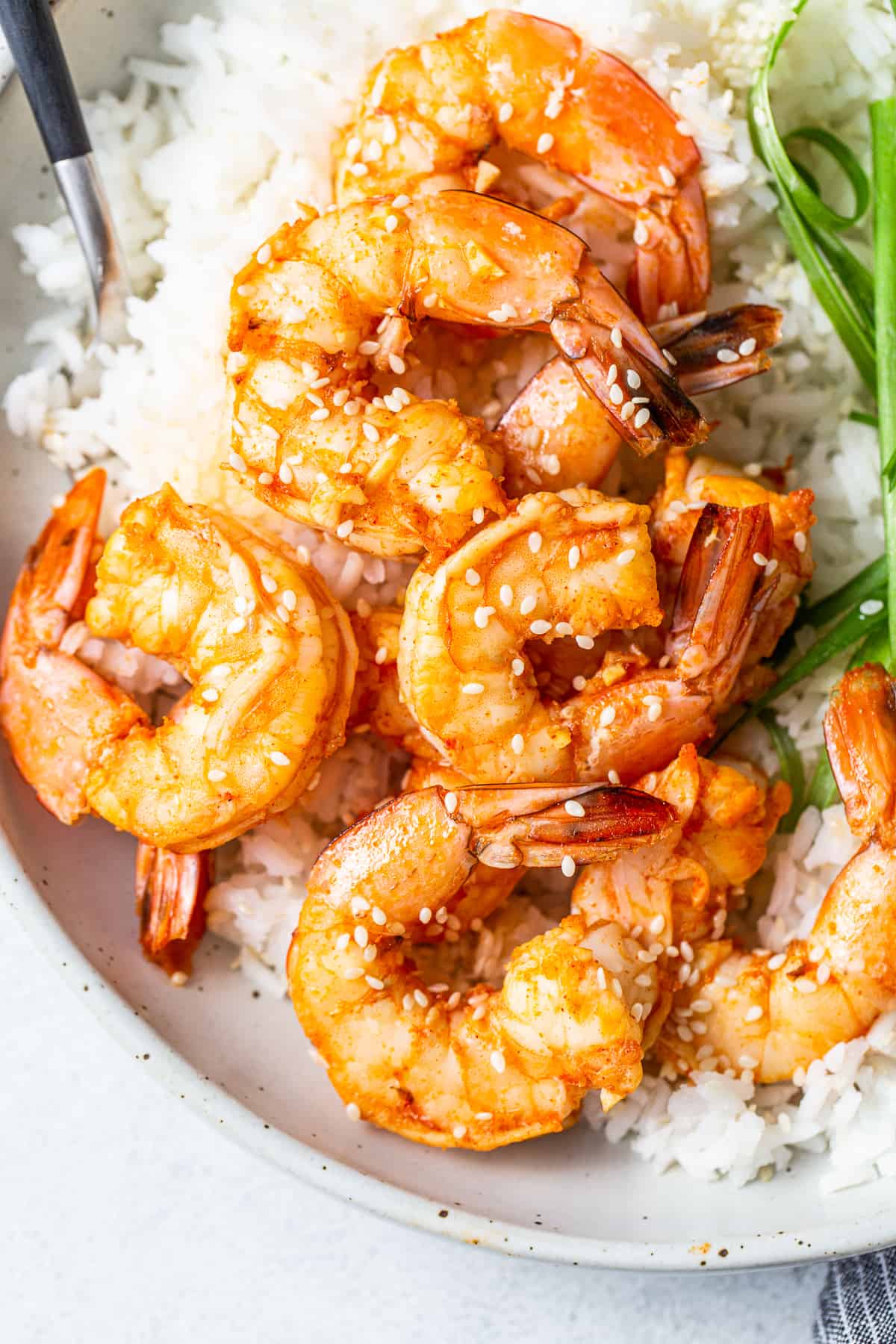 Photography: photos taken in this post are by Ashley McGlaughlin from The Edible Perspective.