Our chicken salad recipe is made with perfectly grilled chicken, greens, blueberries, apple, gorgonzola, bacon, slivered almonds, and a homemade creamy honey mustard dressing.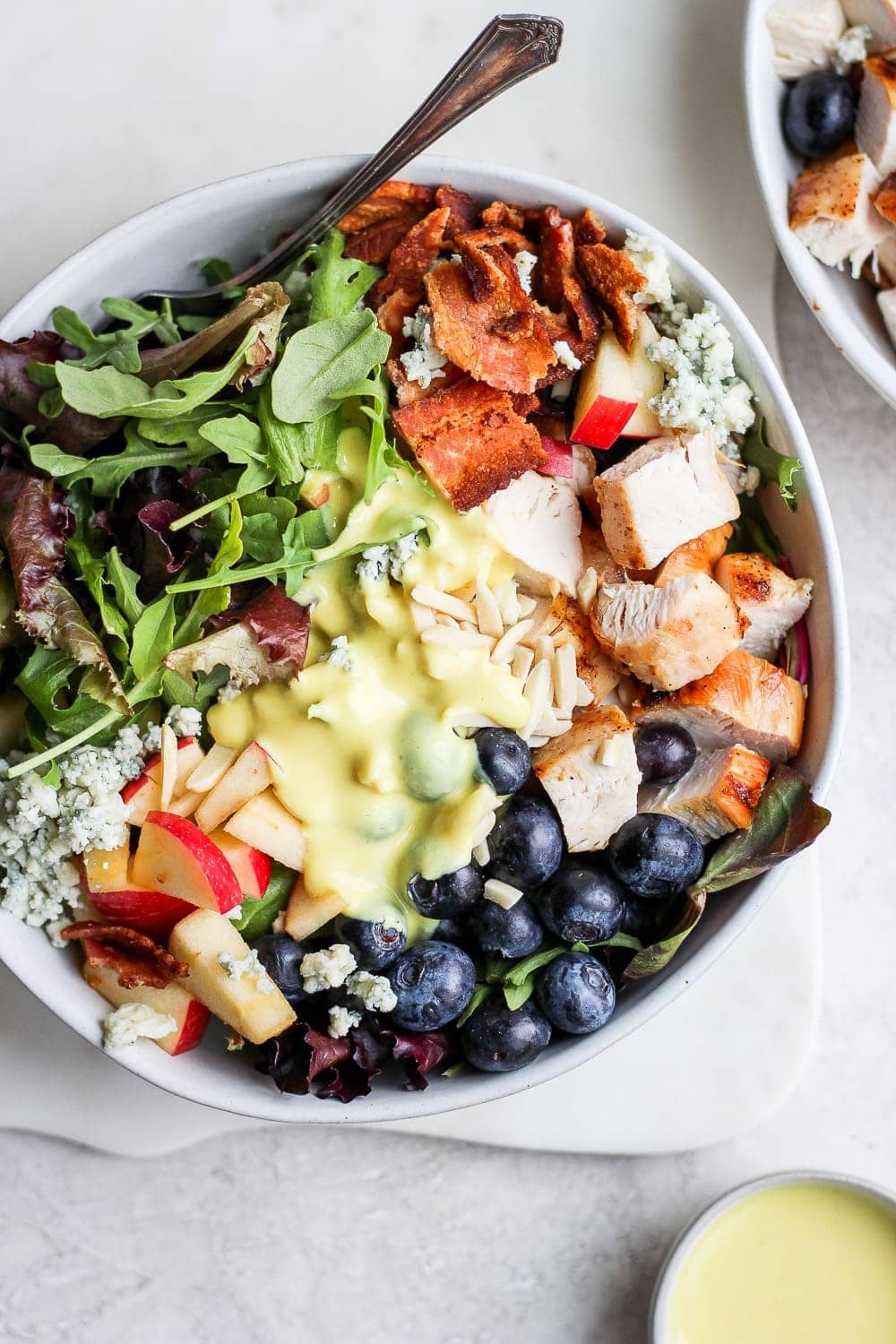 Flavor-Packed Grilled Chicken Salad
If you're looking to get your protein and greens all in one meal, then this grilled chicken salad is just what you need.
Made with juicy grilled chicken breast, sweet blueberries, salty bacon, and a homemade honey mustard vinaigrette, this is going to be your go-to chicken salad from here on out!
Why you'll love it!
If these photos don't immediately convince you that you need to make this grilled chicken salad recipe, here are a few more reasons why!
High protein: 42g protein per serving makes this salad a great healthy lunch or dinner!
Fresh: this salad packs in fresh fruits and veggies and there truly isn't anything better.
Healthy Fats: our homemade honey mustard dressing is made with full-fat Greek yogurt and the slivered almonds add a nice touch, too.
Balanced: you've got your protein, healthy fats, fruit, and veggies all in one meal! YES!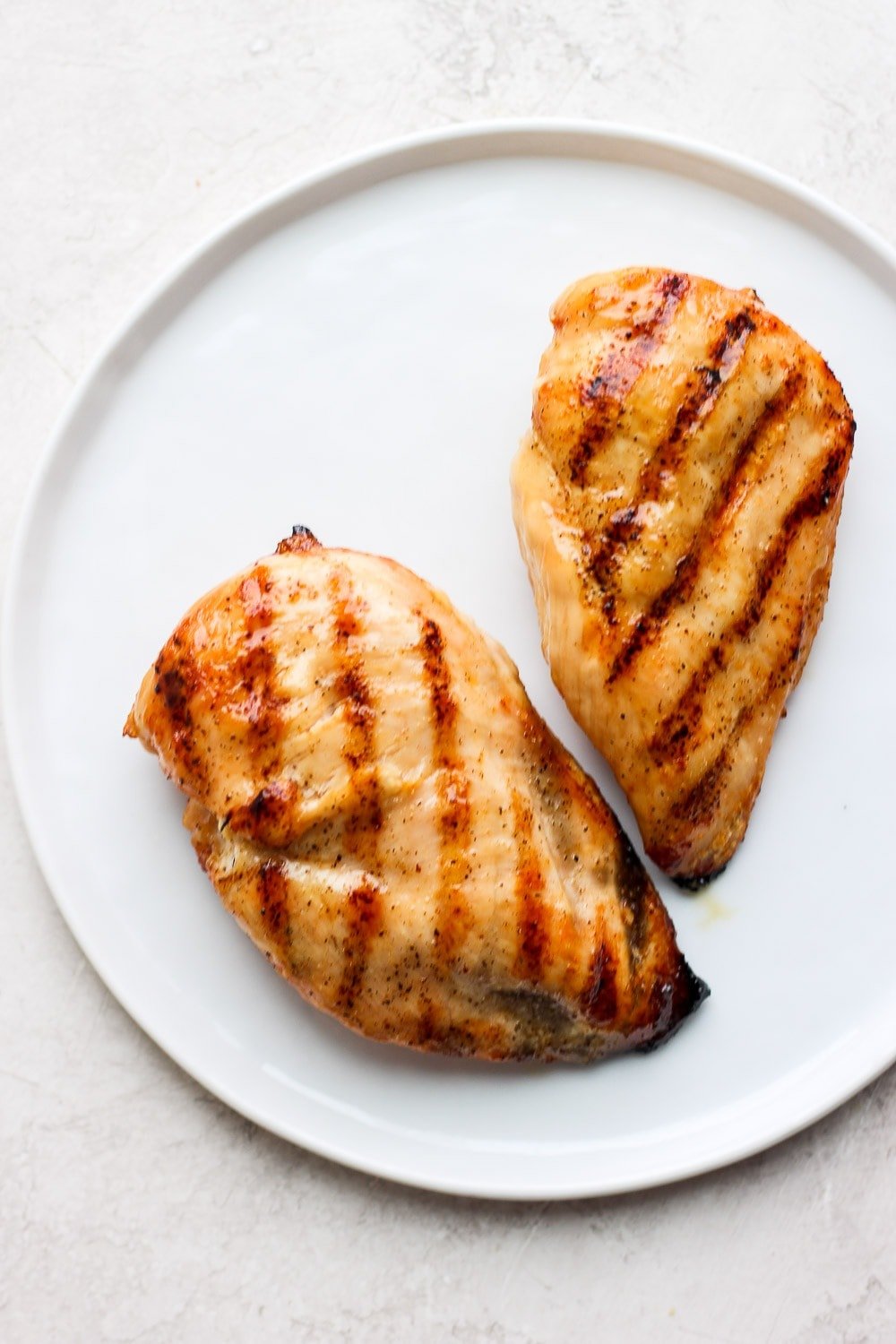 What's in this grilled chicken salad?
Salad greens: the great thing about most FFF salads, is that you can choose whatever greens you like best. We chose Spring lettuce, but field greens, spinach, or arugula are great options.
Grilled chicken: you'll need about 1 lb. of grilled chicken or 2 large chicken breasts. You can also use grilled chicken thighs, too.
Gorgonzola cheese: gorgonzola adds such great flavor to this salad! Not a huge fan? Try blue, goat, or even white cheddar.
Apples: apples add crunch and a sweet flavor this really compliments the rest of the savory flavors.
Blueberries: I love adding blueberries to salads because they're not too sweet, yet they add so much flavor.
Slivered almonds: what is a salad without a nut? Option to use whole almonds and chop them into smaller pieces.
Bacon: because why not add bacon? Follow our tutorial on how to cook bacon in the oven or microwave bacon for the easiest way to cook your bacon.
Homemade honey mustard: once you make this dressing, you'll never go back to store-bought!
Try it!
Steak Salad
Incredible steak salad made with perfectly grilled New York strip steak, tons of veggies, avocado, goat cheese, and a yummy herby vinaigrette dressing!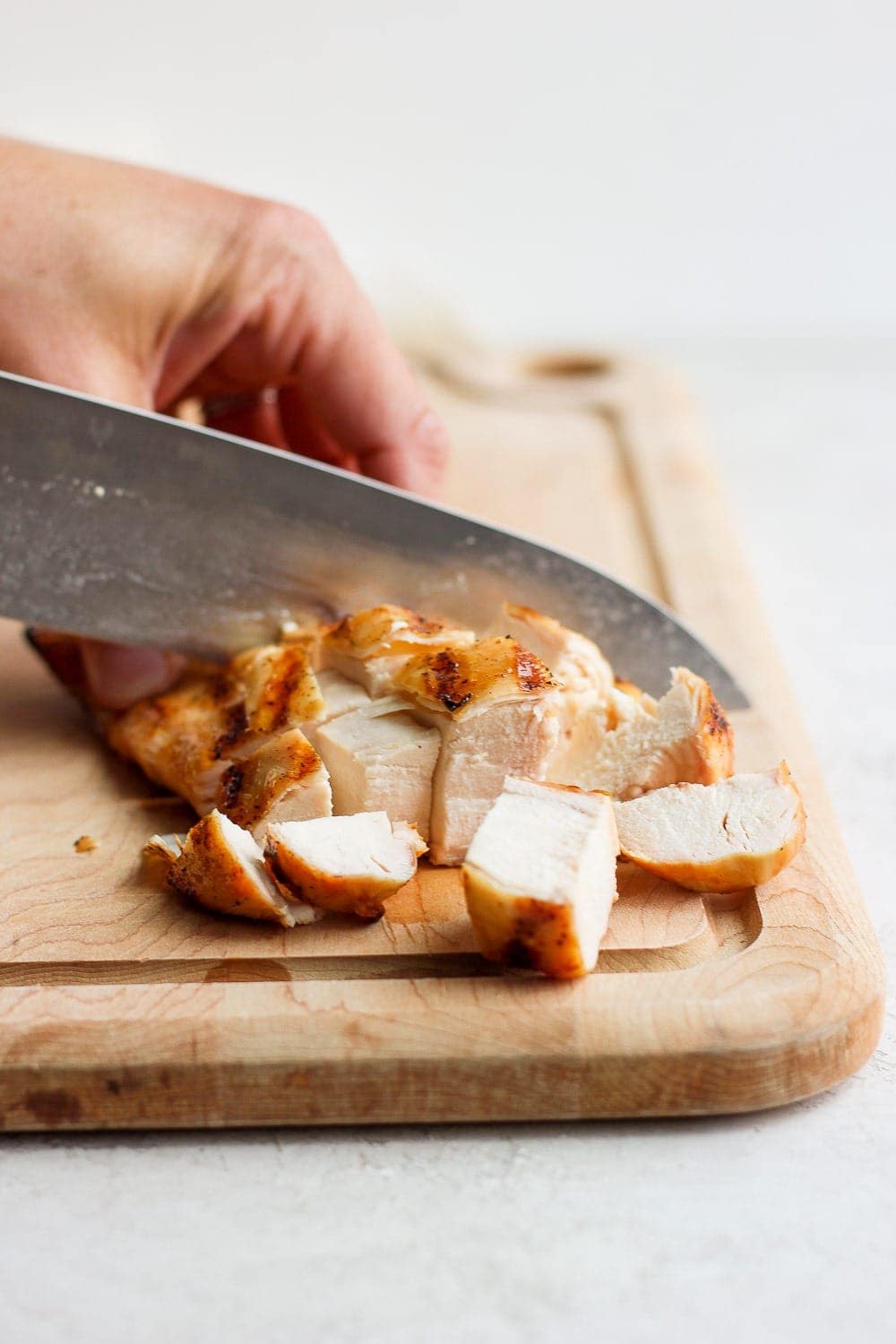 Tips for Salad with Grilled Chicken
Grilling chicken breast is super simple and I'm going to give you 2 tips to get perfect grilled chicken for salad every time.
400ºF grill temp: 400ºF is not too hot and not too cold. It'll get you gorgeous grill marks on the outside and juicy, tender meat on the inside.
165ºF internal temp: since all chicken breasts are different, the one thing you need to do in order to figure out if it's done is measure the internal temperature. So? Grab yourself a meat thermometer and cook your chicken to perfection.
What kind of chicken can I use in grilled chicken salad?
While we used grilled chicken breast, any cut of grilled chicken will work!
Don't want to grill your chicken?
Don't have a grill? Follow our easy pan-seared chicken breast recipe or our baked chicken breast recipe for other methods.
try our grilled salmon!
Instead of using chicken all together, try making our grilled salmon recipe for an easy twist on this salad.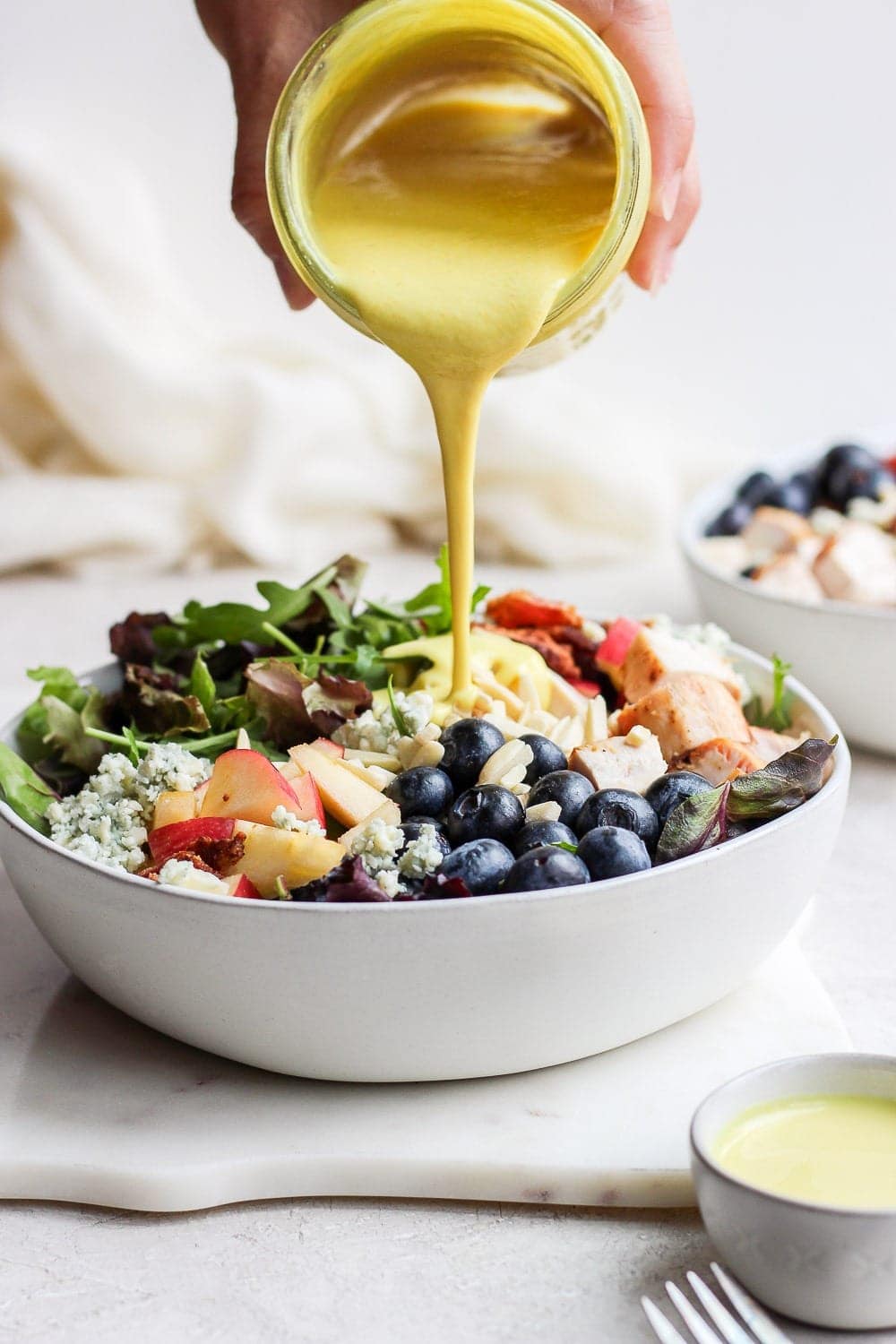 Homemade Honey Mustard
No additives, no preservatives, just 6 total ingredients to make the most delicious better-for-you homemade honey mustard dressing. Here's what you need:
Greek yogurt
yellow mustard
honey
white vinegar
garlic powder
pepper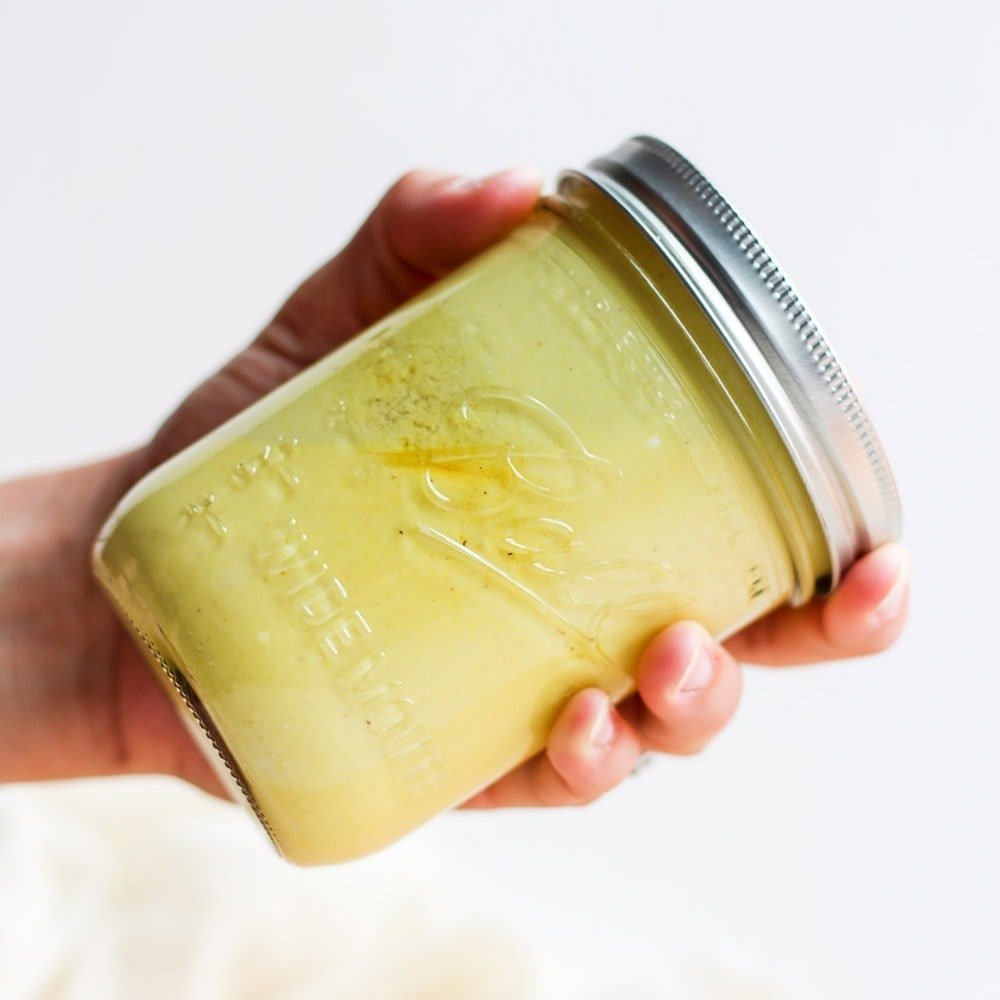 Homemade
Honey Mustard Dressing
The easiest honey mustard dressing recipe you'll ever make! This recipe is made with Greek yogurt, yellow mustard, honey, and a little white vinegar.
More Salad Dressing Ideas
Not a fan of honey mustard? Try one of our other homemade dressings below!
Creamy Green Goddess Dressing – This Creamy Green Goddess Dressing recipe is made with a Greek yogurt base, tons of fresh herbs, anti-inflammatory spices, and a squeeze of lemon juice.
Avocado Cilantro Lime Dressing – Our avo cilantro lime dressing is fresh, tangy, and a A+ choice to keep in your fridge at all times!
Best Balsamic Dressing – Simple yet oh so flavorful, this ain't no basic balsamic dressing. Made with real ingredients, and the perfect companion to any salad. Make this dressing today!
Homemade Poppyseed Dressing – Try our poppy seed dressing recipe. It's made with olive oil, lemon juice, a little Greek yogurt, poppy seeds, and honey.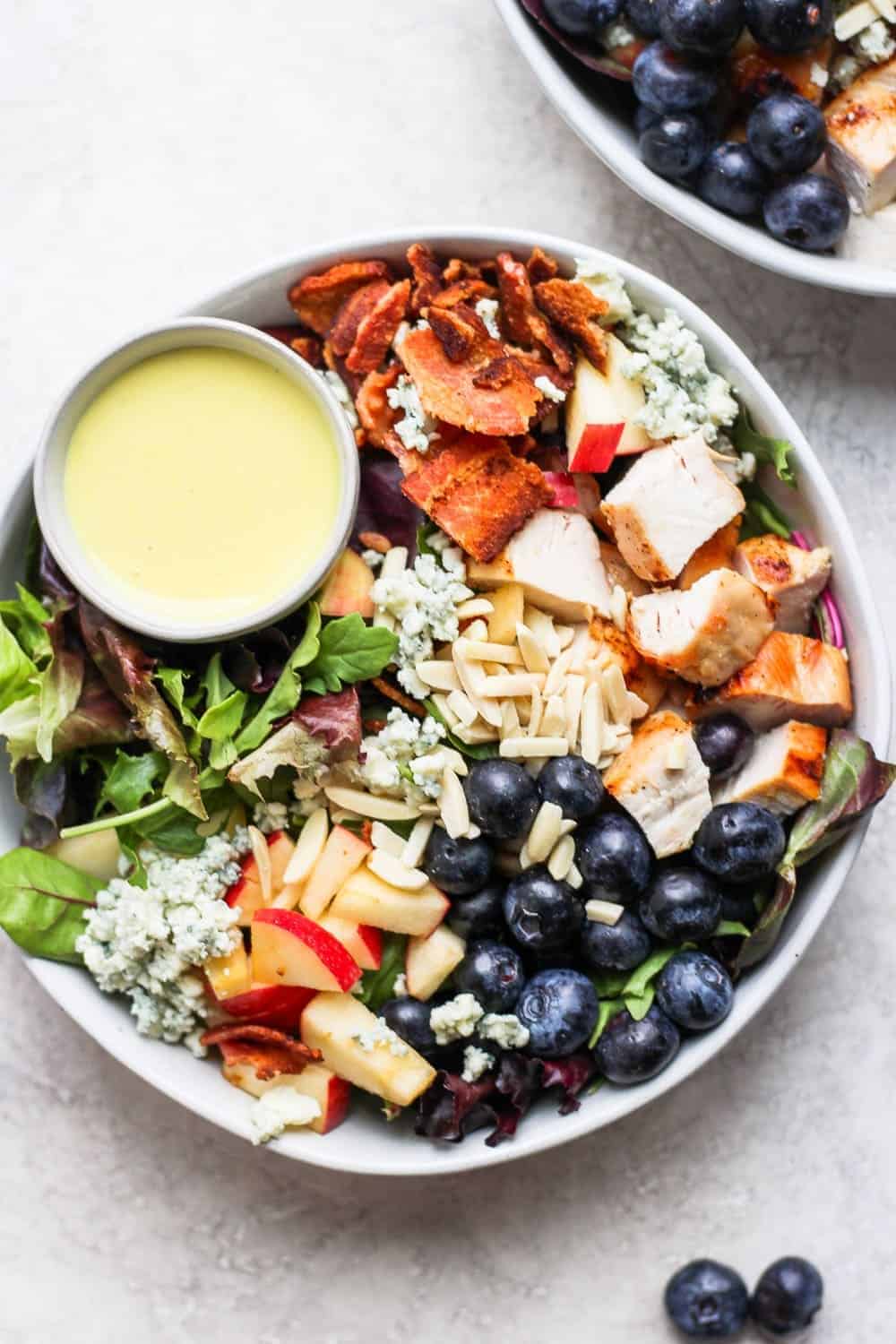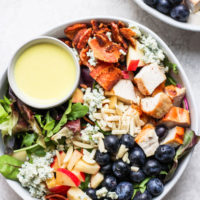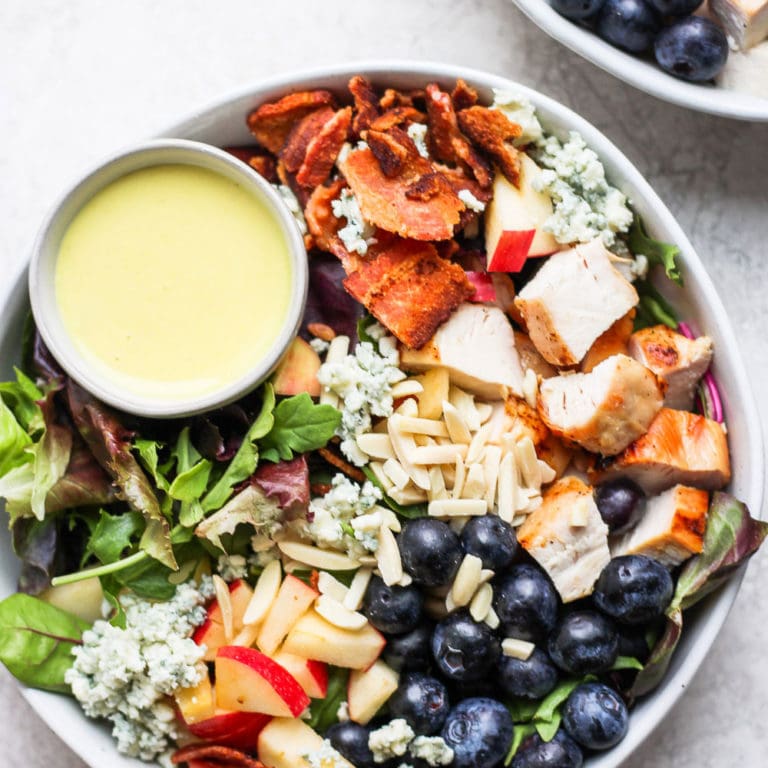 Grilled Chicken Salad
A light a fresh grilled chicken salad recipe made with perfectly grilled chicken breast, blueberries, gorgonzola cheese, apple, almonds, bacon, and honey mustard dressing.
Prep:30 minutes
Cook:20 minutes
Total:50 minutes
Fat 19
Carbs 48
Protein 42
Ingredients
Grilled Chicken Breast
1-1.5

lb.

boneless skinless chicken breasts

2-3

teaspoons

garlic powder

1/4

teaspoon

salt

⅛

teaspoon

ground pepper
Other Ingredients
8

cups

spring lettuce mix

1/4

cup

crumbled gorgonzola cheese

1/2

cup

slivered almonds

1

cup

diced apples

1

cup

fresh blueberries

1/2

cup

chopped cooked bacon

~6 strips
Instructions 
Grilled Chicken Breast
First, season chicken with garlic powder, salt, and pepper. Set aside.

Next, preheat the grill to 400ºF and spray grates with cooking spray

Grill chicken breasts at 400ºF for around 15 minutes, flipping halfway through. You know the chicken breast is done cooking when the internal temperature reaches 165ºF.

Remove from the grill and let sit for 5 minutes. Then, cut into small chunks.
Honey Mustard Dressing
To make this homemade honey mustard dressing, follow the instructions HERE.
Salads
To assemble the salad, place about 2 cups of spring lettuce mix in each bowl.

Then, top each salad with equal amounts of gorgonzola cheese, almonds, apples, blueberries, bacon bits, and diced chicken breast.

Finally, drizzle on about 2 tablespoons of honey mustard dressing onto each salad.
Nutrition facts
Calories: 521kcal Carbohydrates: 48g Protein: 42g Fat: 19g Fiber: 5g Sugar: 36g
Photography: photos taken in this post are by Erin from The Wooden Skillet.