At a glance
Expert's Rating
Pros
Supports up to four 1920×1080 displays
Portable
Cons
Short USB-C cable
Connected displays can't play HDCP videos
Arranging displays in the Displays macOS setting can be daunting
Our Verdict
If you have an M1 or M2 Mac and want to get around the built-in support for the number of external displays you can connect, the Plugable adapter does the job. But you can't use 4K displays and the setup can be frustrating.
As great as the M1 and M2 processors are for Mac performance, they have a limitation that's a problem for a lot of users: They only support two displays at the same time. For the iMac, MacBook Air, and 13-inch MacBook Pro, that means only one additional display can be connected. While two displays are more than enough for a lot of users, there are plenty of people who need three or more screens to be productive.
To get around this limitation, you need to turn to an external solution, and Plugable offers a relatively affordable one with its USB-C Quad HDMI Adapter. This $119 box has four HDMI 1.4 ports, and when it's connected to the Mac via USB-C you can plug in up to four displays.
The Plugable adapter does have limitations, however. The maximum resolution and refresh rate supported for each connected display is 1920×1080 at 60Hz, a far cry from the 4K or 6K resolution that many pros prefer. So if you're looking for a way to connect three 4K displays to an M1 Mac mini, the UBC-C Quad HDMI Adapter is not the solution. But if you don't need the high resolution, this adapter could work.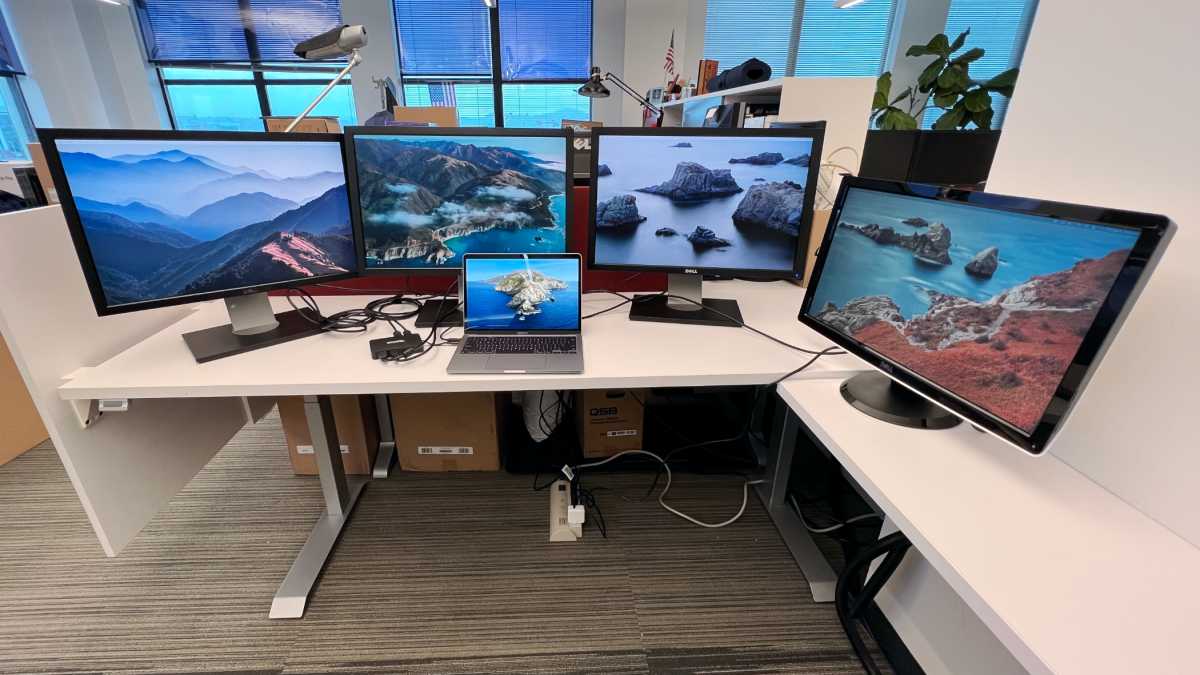 Foundry
Plugable USB-C Quad HDMI Adapter: Mac connection
The Plugable adapter is designed to be portable, measuring 4.75×3.13×0.56 inches and weighing 5.5 ounces. It's about the same size as many portable hard drives and can easily be stashed in a laptop bag.
The adapter has a built-in USB-C cable to connect to the Mac which is a bit too short. I'd like a longer cable so I can place it farther away from the Mac. Plugable also includes a USB-C to USB-A adapter that, along with the built-in cable, can be tucked into slots underneath the case. The USB-C Quad HDMI Adapter does not need an external power source and draws power from the USB connection.
The USB-C Quad HDMI Adapter requires Plugable's Silicon Motion InstaView app to be installed on the Mac. It's available on the Plugable website and during installation, you will be asked to allow the macOS InstantView app to record the computer screen. That may seem like fishy behavior, but according to Plugable's website, nothing is being recorded or stored. This access is needed for the displays connected to the adapter to work.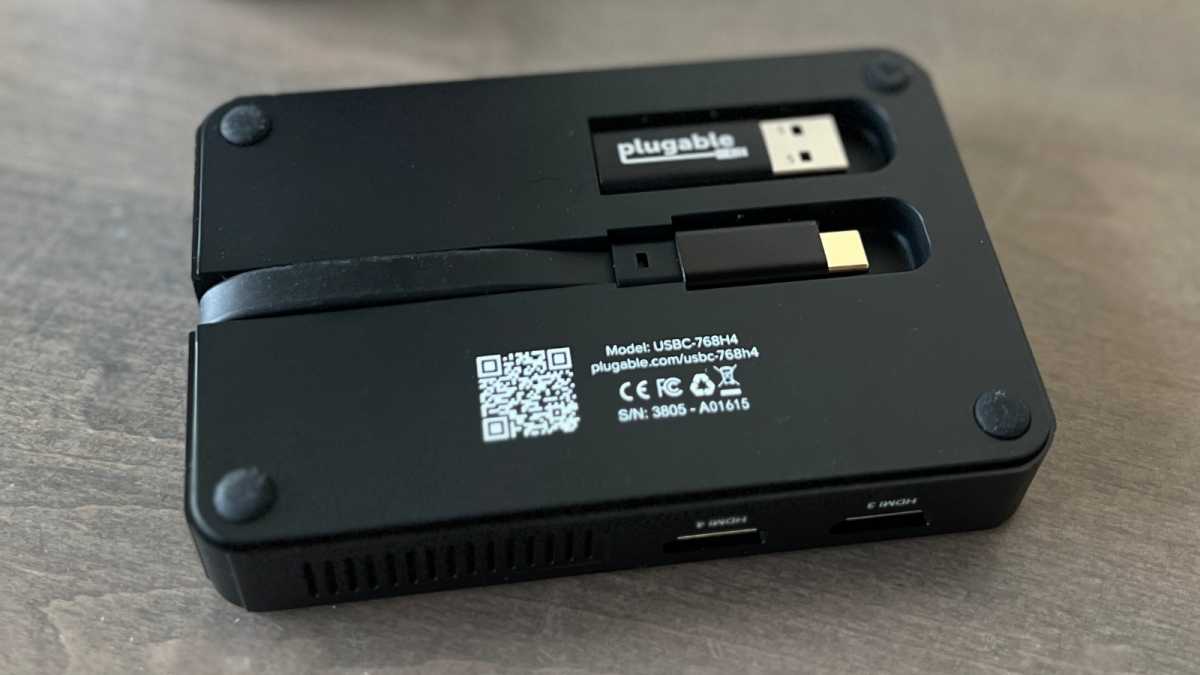 Foundry
Testing the Plugable USB-C Quad HDMI Adapter
I tested the adapter with a 13-inch M1 MacBook Pro that's equipped with two Thunderbolt ports. While technically a Pro model, its M1 chip limits it to just one external display with a maximum resolution of 6K at 60Hz, like the other M1 and M2 Macs in Apple's lineup. (Macs with the Pro and Max versions of the M1 and M2 have support for more displays at higher resolutions.)
After installing the InstantView software, shutting down the MacBook Pro, and plugging in the adapter to the MacBook Pro, I plugged in four older Dell displays sitting around the office. These displays have a maximum resolution of 1920×1200 and can be adjusted to the 1920×1080 resolution supported by the adapter.
When I restarted the MacBook Pro, three of the Dell displays worked, but one didn't. That's because one of the displays was set to 1920×1200, which prevented that other display from working. I was able to fix this when I adjusted the resolution in macOS Ventura's Displays system setting (I also tested with macOS Monterey).
Essentially, the adapter just worked, and it worked fine. The picture quality on the displays was good, and the adapter didn't introduce anything to affect the quality. I didn't notice any screen lag or sync issues. However, it doesn't allow for the playback of videos with High-bandwidth Digital Content Protection (HDCP), which means displays connected to the adapter won't play video from streaming services such as Apple TV+, Netflix, Hulu, and others. But YouTube videos will play.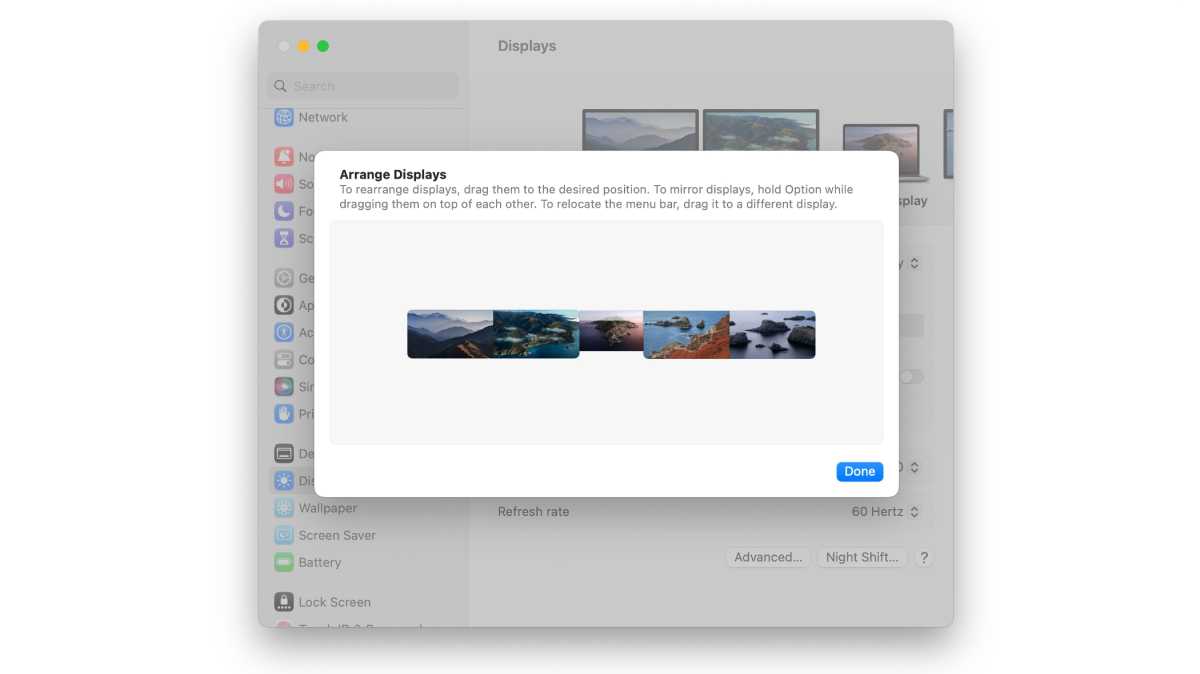 Foundry
I did have one major hurdle to overcome that involved arranging the displays in the Displays system setting. Figuring out the order of the displays in the setting was a nightmare. The adapter has labels for each port (HDMI 1, HDMI 2, HDMI 3, HDMI 4) for identification, but they didn't correspond to the label numbers in the Displays settings. I had to resort to changing the wallpaper for each display to identify which was which and arrange them in my desired order. Fortunately, you'll probably need to do this only once, unless you're constantly rearranging your setup.
Bottom line
The Plugable USB-C Quad HDMI Adapter is a nifty little adapter that brings the display expandability that many M1 and M2 Mac users want. It has its limitations: 1920×1080 at 60Hz only, can't play HDCP videos, and it needs a longer USB-C cable. But if you want a setup where high-resolution and streaming playback on those external displays aren't needed, the Plugable adapter does the job.