This year in particular, it's been a joy to lean into cold-weather comfort. As a born-and-raised Texan, I love our occasional chilly episodes that give everyone an excuse to stay home, bake cookies all day, and catch up on a classic movie. But as the weather slowly starts to warm up, I'm transitioning the cozy vibes straight into spring soup recipes that also feel light and refreshing.
Among other things, of course. I'm sliding out from under my blanket, kicking off my fuzzy slippers (without letting them too far out of sight in case of emergency), and gearing up for my favorite seasonal refresh. No matter what the groundhog declared, I'm ready to refresh my space with a spring cleaning and cater my kitchen efforts to fresh, in-season produce and recipes that feel just as good on the inside as they do at face value. With that in mind, it's high time for spring soup recipes, people!
Featured image by Michelle Nash.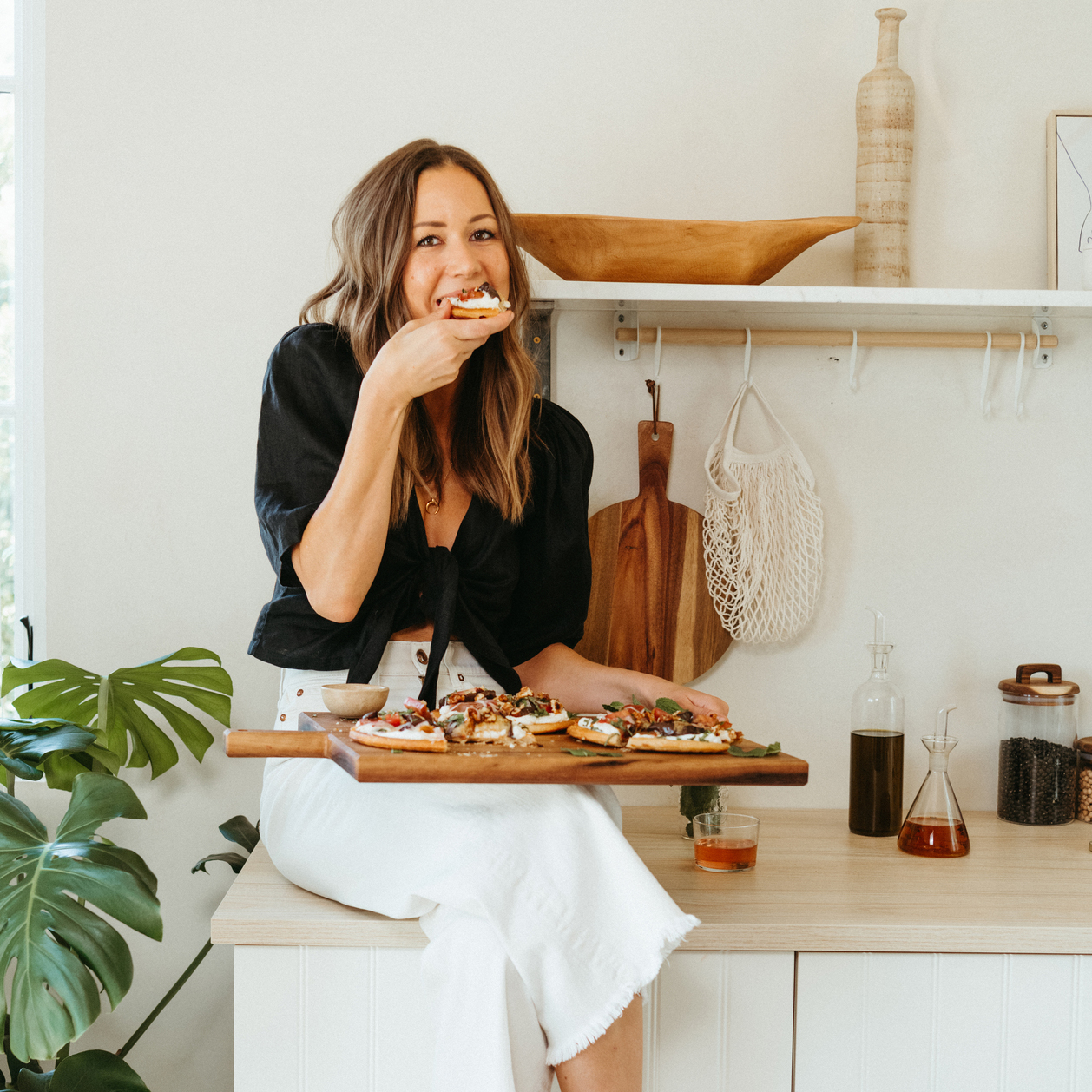 Subscribe
Our Top 10 Recipes
Sign up to receive a FREE E-BOOK of my top 10 most popular recipes of all time!
Thanks for Signing Up!
Oops!
Looks like you're already signed up or your email address is invalid.
Oops!
Looks like you unsubscribed before click here to resubscribe.
15 Simple and Mouth-Watering Soup Recipes to Try This Spring
There's a lot to love when we think about spring soup recipes. Each healthy soup on this list is full of nourishing veggies, feel-good ingredients, and in-season produce. Things like asparagus, peas, carrots, onions, mint, and more are coming up roses and we're celebrating them so. There's a lot to enjoy about eating seasonally, like more flavor from your ingredients, sourcing them locally, and getting into the seasonal spirit with your food.
With that in mind, bookmark these spring soup recipes for healthy weeknight meals that are ready in no time. Bonus: they make amazing leftovers.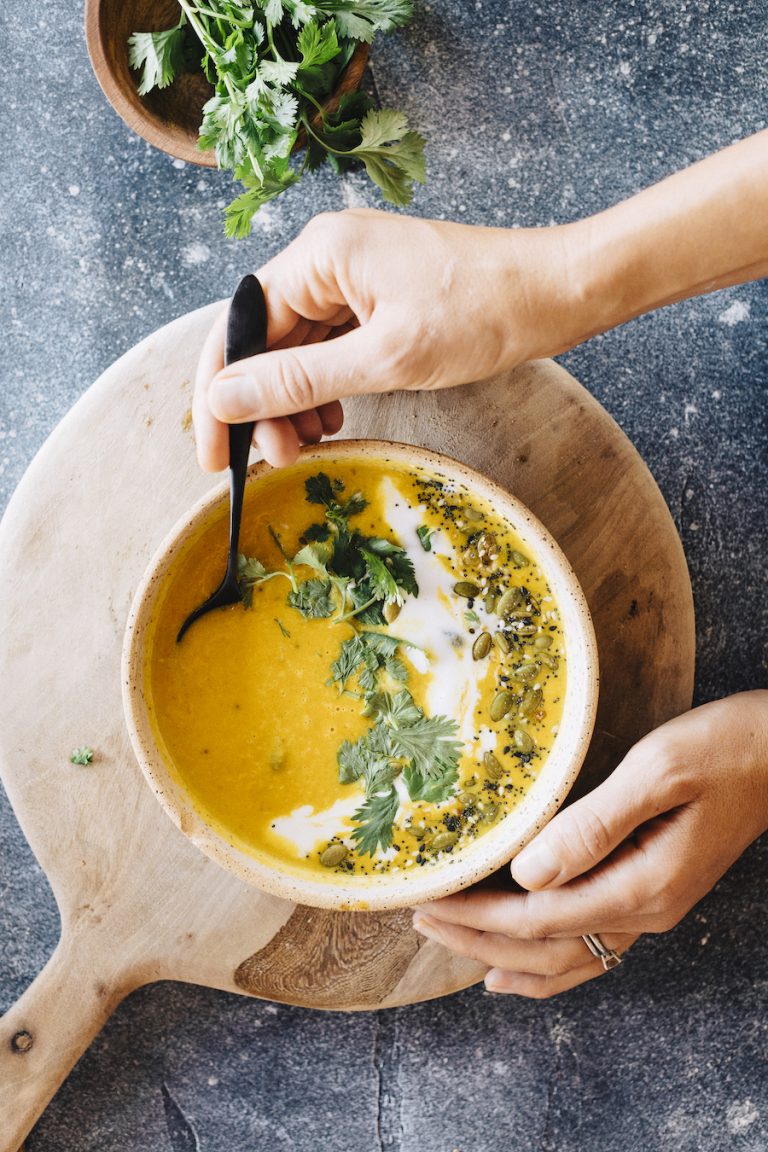 Why We Love It: This soup may not contain any of those in-season veggies I mentioned before, but it's actually perfect to enjoy when your body is craving a reset. Post-vacay, post-holiday, or post-takeout bender, this sneaky soup works from the inside out to restore your glow. And you would never guess how refreshing this soup can feel based on its bold flavor profile.
Hero Ingredient: Turmeric and ginger work behind the scenes to introduce alllll the anti-inflammatory benefits.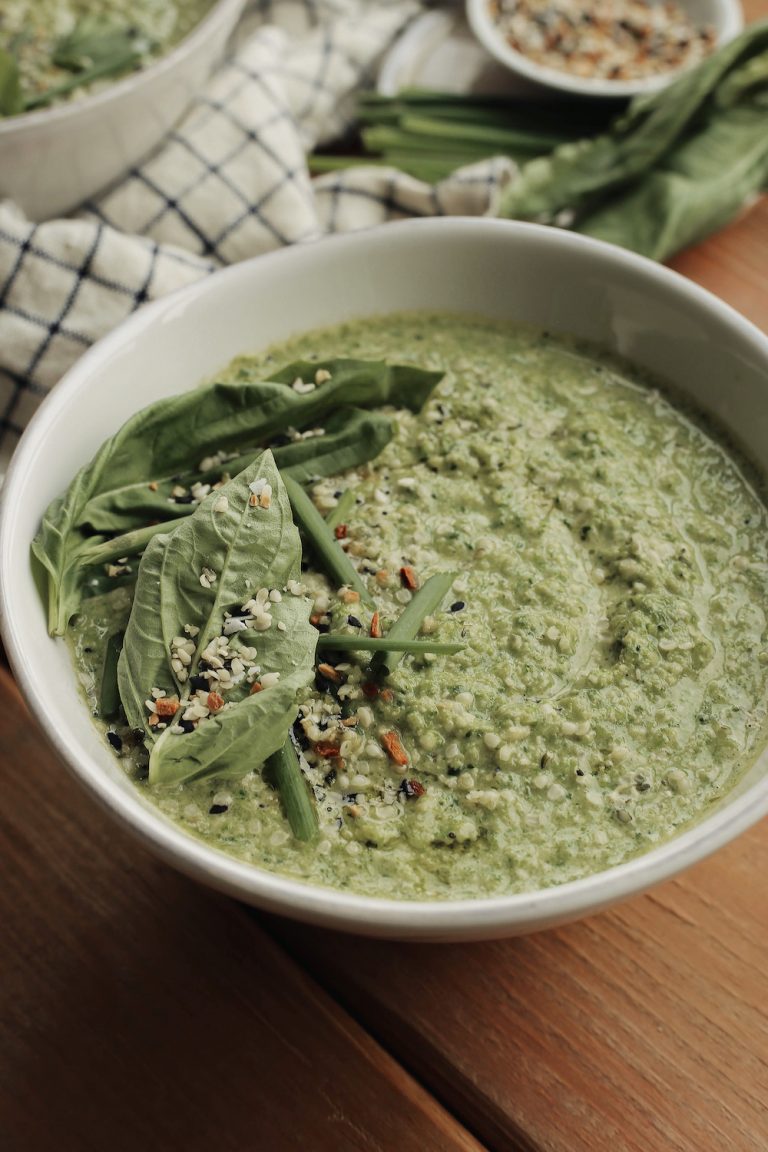 Why We Love It: Back to the spring veg, this soup packs in lots of greens that will keep you looking and feeling your best all week long. We're talking asparagus, broccoli, spinach, and as many fresh herbs as you've got on hand. Thanks to soaked cashews, it maintains a little texture and a whole lot of creaminess without any unwanted additions.
Hero Ingredient: As with most soups, the toppings are important for texture, flavor, and visual appeal. Here, go for nuts, herbs, everything seasoning, a drizzle of Greek yogurt, or whatever speaks to you. It's impossible to go wrong.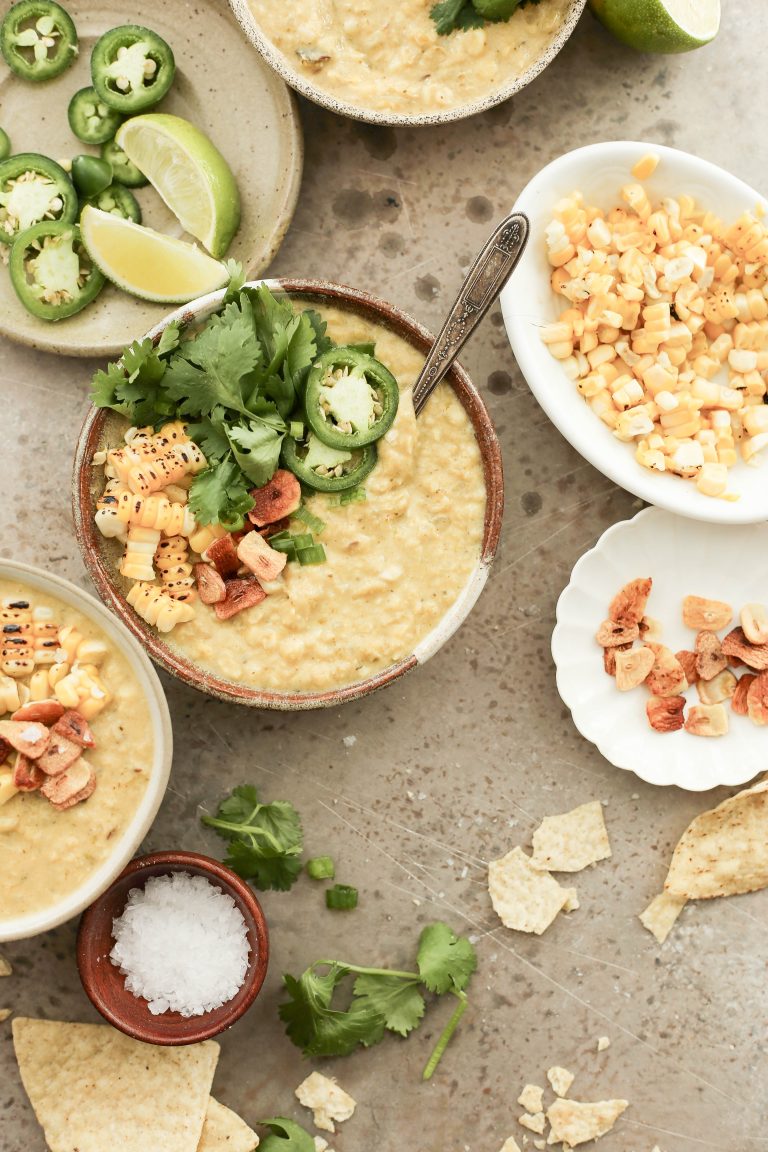 Why We Love It: Spring may be a liiiittle early for corn, but it would be wrong not to include such a sunshiney soup. It's a one-pot wonder that's absolutely packed with flavor and texture. And before you fear it's too sweet, this one is perfectly balanced with plenty of heat. It's easy to make, easy to store, and—most of all—easy to enjoy.
Hero Ingredient: The roasted poblanos add a smokiness that rounds out the spice from the jalapeño and sriracha.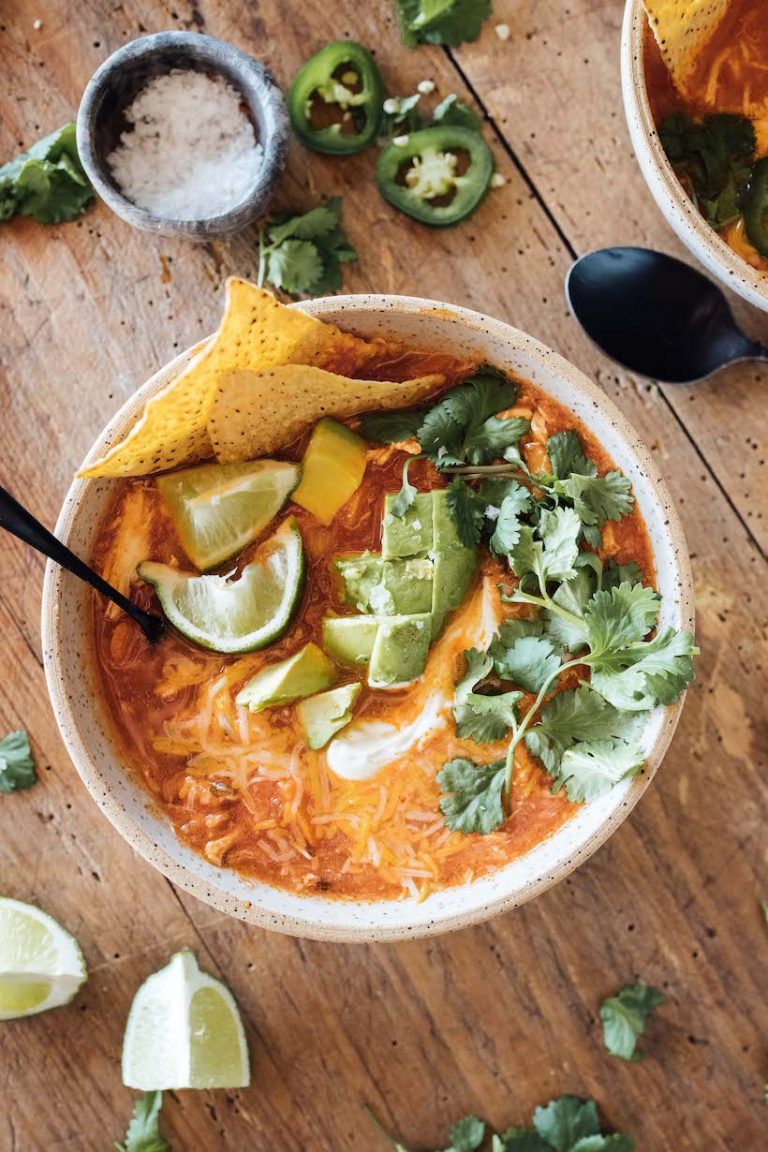 Why We Love It: I've never met a chicken tortilla soup that I didn't love—and this one is no exception. It's truly the easiest, most flavorful gift you can give to yourself (or drop off to a friend in need!). With just 30 minutes of hands-on time, you can go from pot to bowl in no time. And don't think the ease means any flavor gets sacrificed. This one is loaded with lots of spices and a poaching method that gives the chicken maximum flavor. Check it out for yourself—you won't regret it!
Hero Ingredient: Again, the toppings are so fun to pile on. Lime juice, shredded cheese, sour cream, cilantro, tortilla strips, avocado, the list goes on…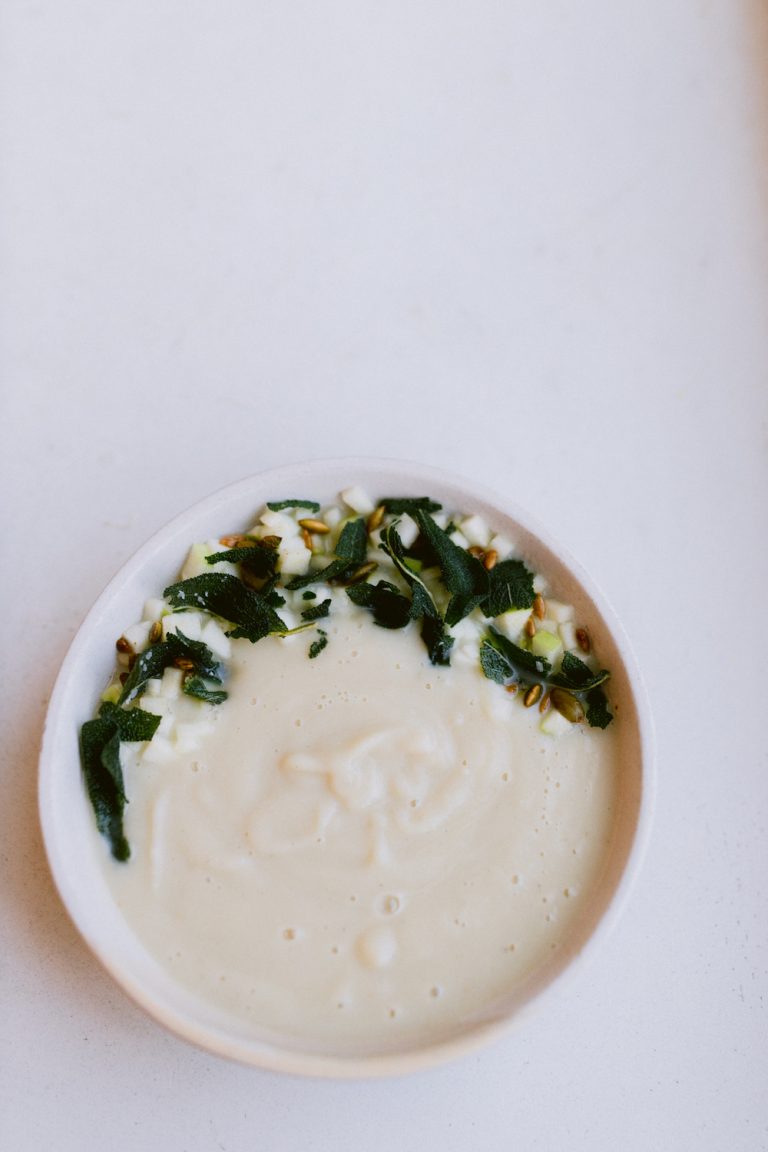 Why We Love It: Ok, yes, cauliflower is a wintery vegetable. However, it's light and refreshing and just what springtime eating called for. In this soup, it's coupled with parsnip, celery root, and leeks to drive home a hearty dose of veg and substantial texture. Plus, ginger, lots of spices, and a crispy sage topping enter the scene to amp up that rounded flavor.
Hero Ingredient: The crispy sage with flaky salt is a game-changer.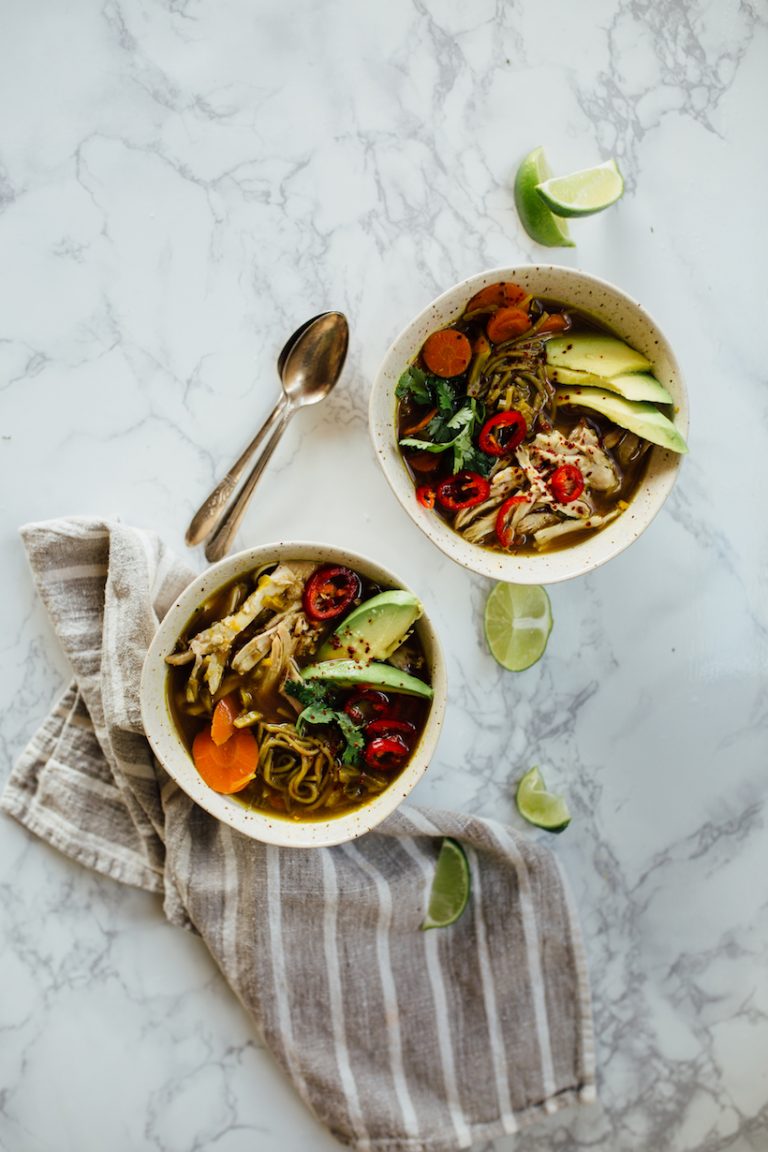 Why We Love It: Food is medicine—and its healing is in full force in this Turmeric Chicken Soup. With a flavorful broth, al dente buckwheat soba noodles, and lots of juicy rotisserie chicken, this soup lends its nourishment to even the worst case of allergies (anyone else not get along with pollen this time of year?). It's also home to anti-inflammatory and antibiotic ingredients like turmeric, ginger, and garlic to cure any ailments.
Hero Ingredient: The rotisserie chicken is a life-saver. Plus, it realistically tastes just as good as anything I can make at home, with almost no effort required.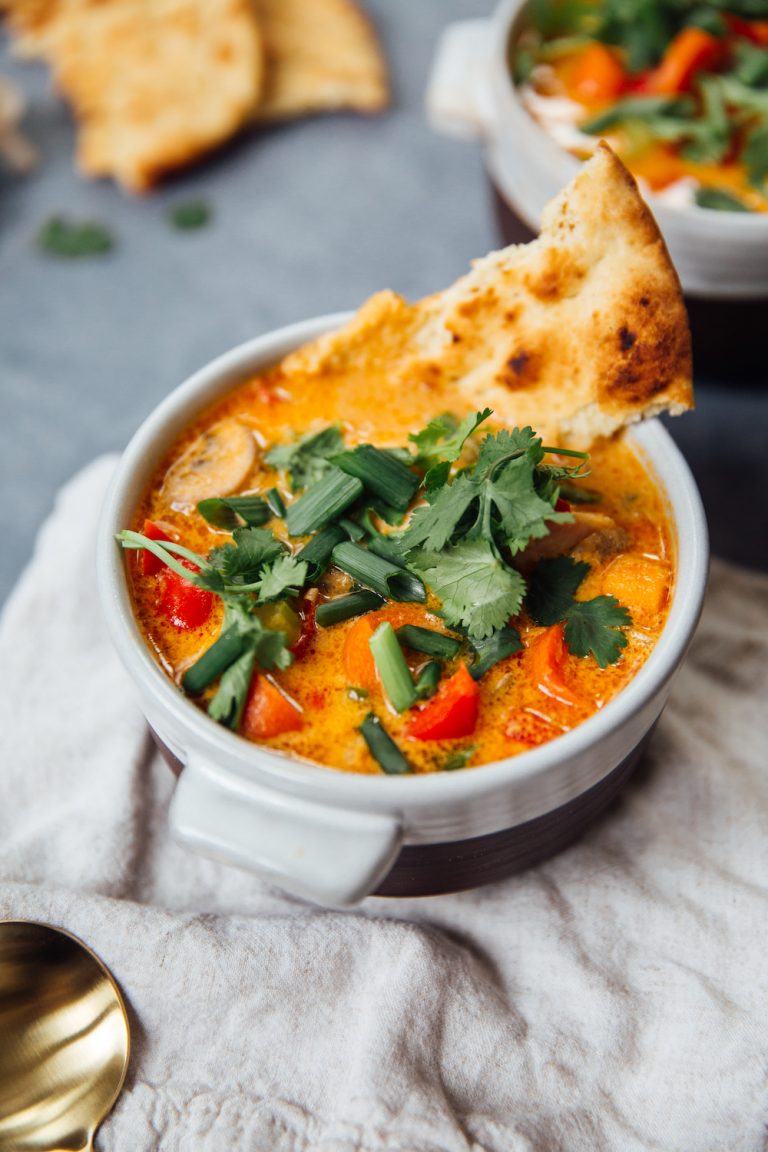 Why We Love It: This healthy soup recipe is absolutely loaded with feel-good veggies. You're getting onion, sweet potato, bell pepper, mushrooms, cauliflower, peas, carrots, and celery all in one delicious go. They're simmered in Thai red curry paste and coconut milk, plus a clean-ingredient Thai coconut soup that's amped up with a slew of spices. It's simple, nourishing, and packed with spring veggies and chicken for a filling soup you'll likely have on hand for a few ready-made meals to come.
Hero Ingredient: If you've got it, serve this one up with lots of garlic naan. It's so delicious dipped in that rich broth.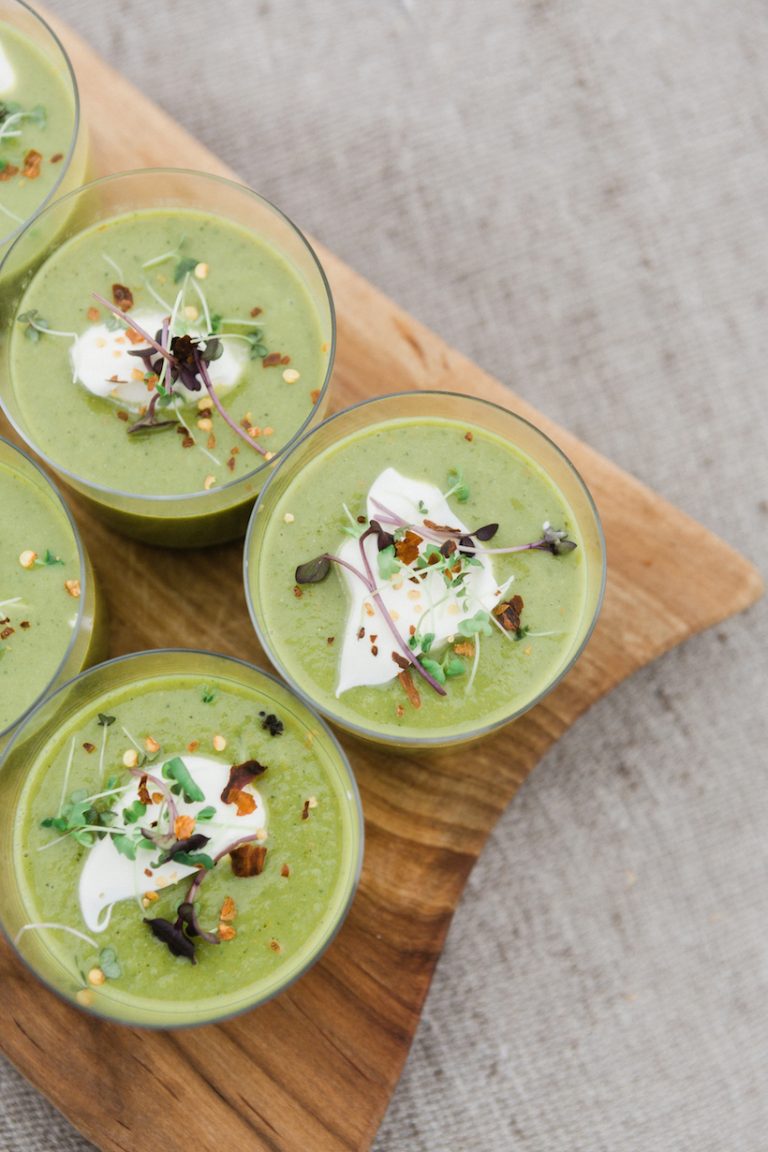 Why We Love It: We've spent a lot of time on warm, comforting spring soup recipes, so it's time to shine some light on this chilled pea soup. Peas are totally in this time of year, and what better way to celebrate them than in a refreshing chilled soup that ticks all the boxes? This soup is lean, green, and clean—with zucchini, broccoli, and onion joining in on the fun as well. With a dollop of creme fraiche and sprinkle of red pepper flakes to top it all off, it feels indulgent and healthy all at once.
Hero Ingredient: Although this soup is beautifully silky-smooth, feel free to add a little toasted almond or green onion for more texture.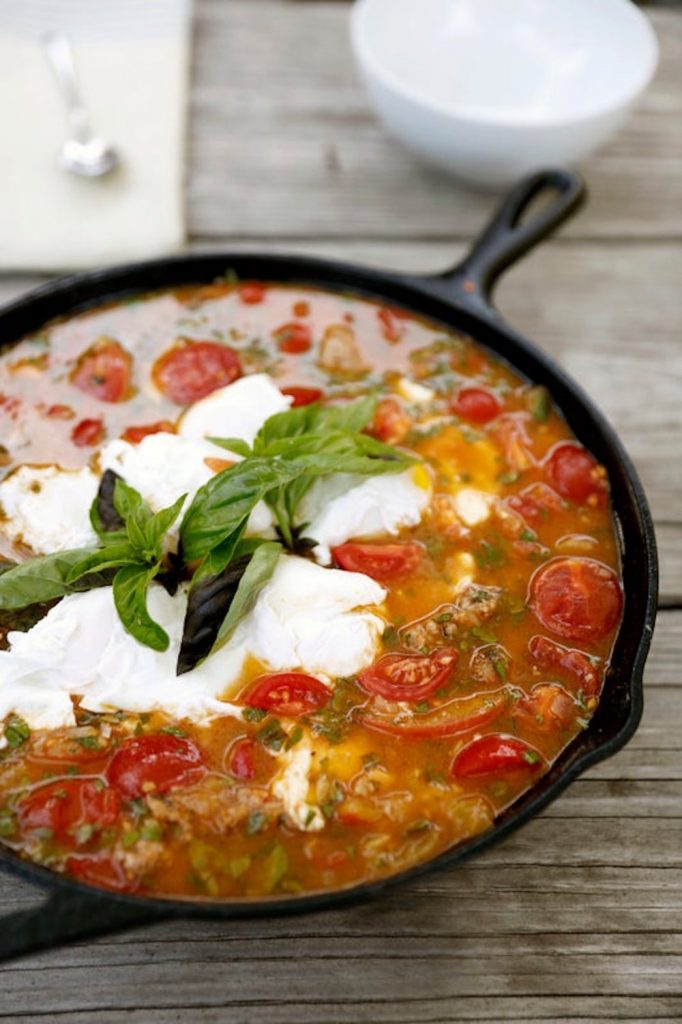 Why We Love It: It may be the forefront of tomato season, but this rustic skillet tomato soup is a gorgeous preview of what's to come. It's truly garden-to-table and couldn't be easier to make. You'll start by sautéing shallots and garlic, adding in plump cherry tomatoes, and simmering away until they're nice and soft. Then, add a handful of fresh basil and balsamic vinegar drizzle to finish off your fresh soup base. You can leave it at that, or get creative with an assortment of your favorite mix-ins. To amp up the protein, crumble in browned Italian sausage. Or, keep it vegetarian with fresh mozzarella and creamy white beans. The possibilities are endless.
Hero Ingredient: If you're feeling particularly adventurous, crack in a few eggs to poach right in the broth. Then, dip toasty sourdough straight into the golden yolks. Yum.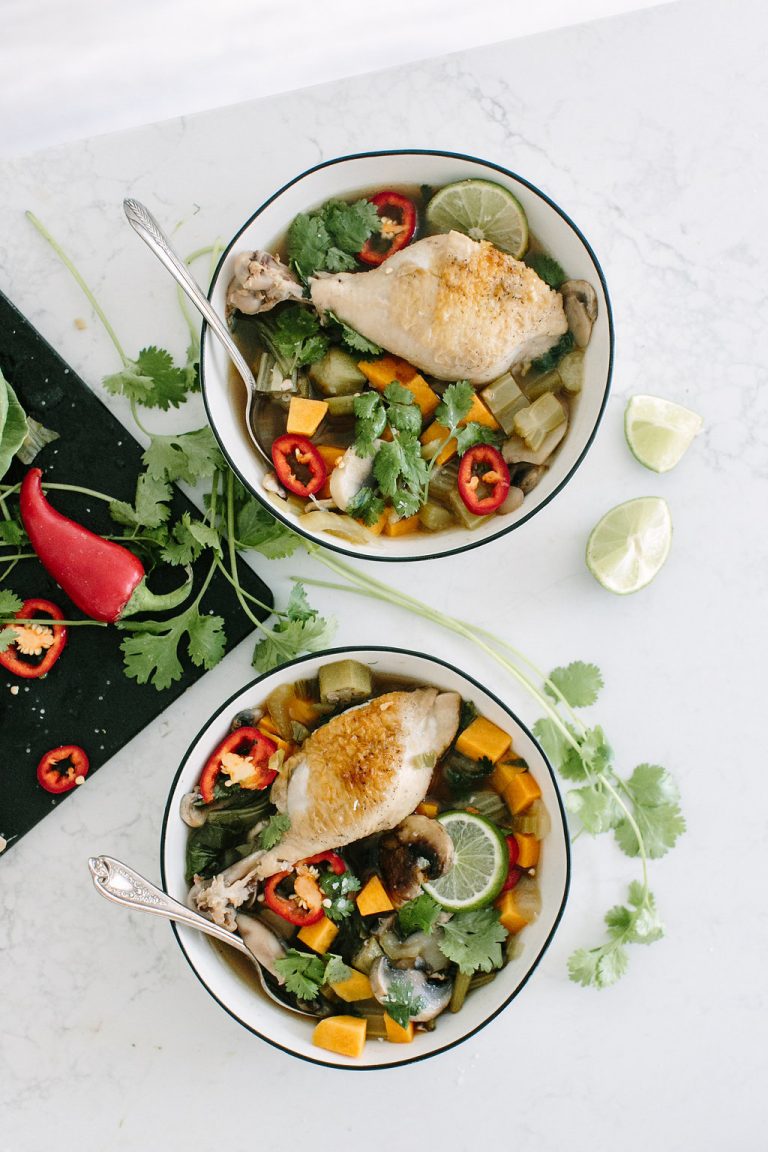 Why We Love It: Another one-pot wonder, this Thai Chicken Soup is packed with nutrients from mushrooms, okra, butternut squash, bok choy, and more. It features poached chicken drumsticks that cook right alongside the soup to lend the broth a lovely richness. It's simple to make, full of flavor, and ideal for a stick-to-your-ribs dinner that's full of healthy ingredients.
Hero Ingredient: To bulk up the spice content, garnish with thinly-sliced red chile pepper. Or, leave it as-is to savor all that rich flavor.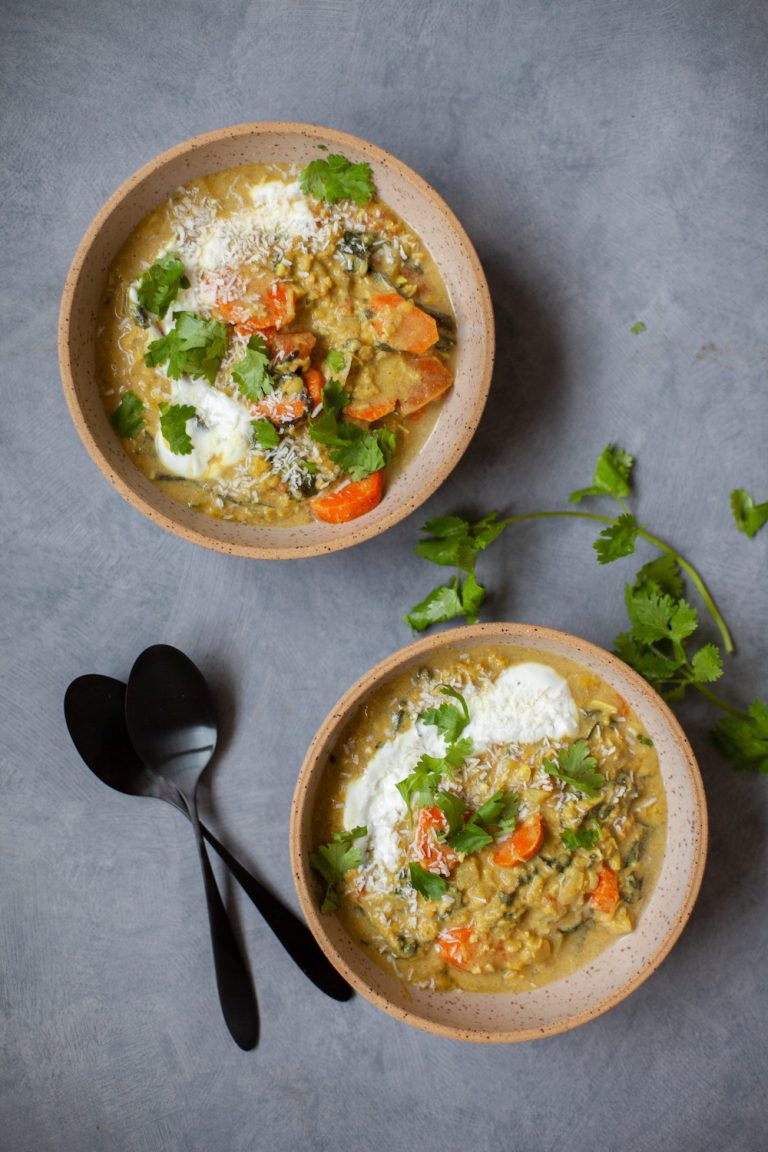 Why We Love It: For a vegetable soup, this one is full of protein. On their own, lentils pack 18 grams of protein into a single cup—plus, they're full of fiber, iron, calcium, and magnesium (superfood, anyone?). In this filling soup, they join carrots, kale, tomatoes, onion, and ginger to round out that spring feel and constitute a nourishing soup that will leave you feeling satisfied without being weighed down.
Hero Ingredient: Garnish with plain Greek yogurt, cilantro, unsweetened shredded coconut, and/or buttery naan for dipping.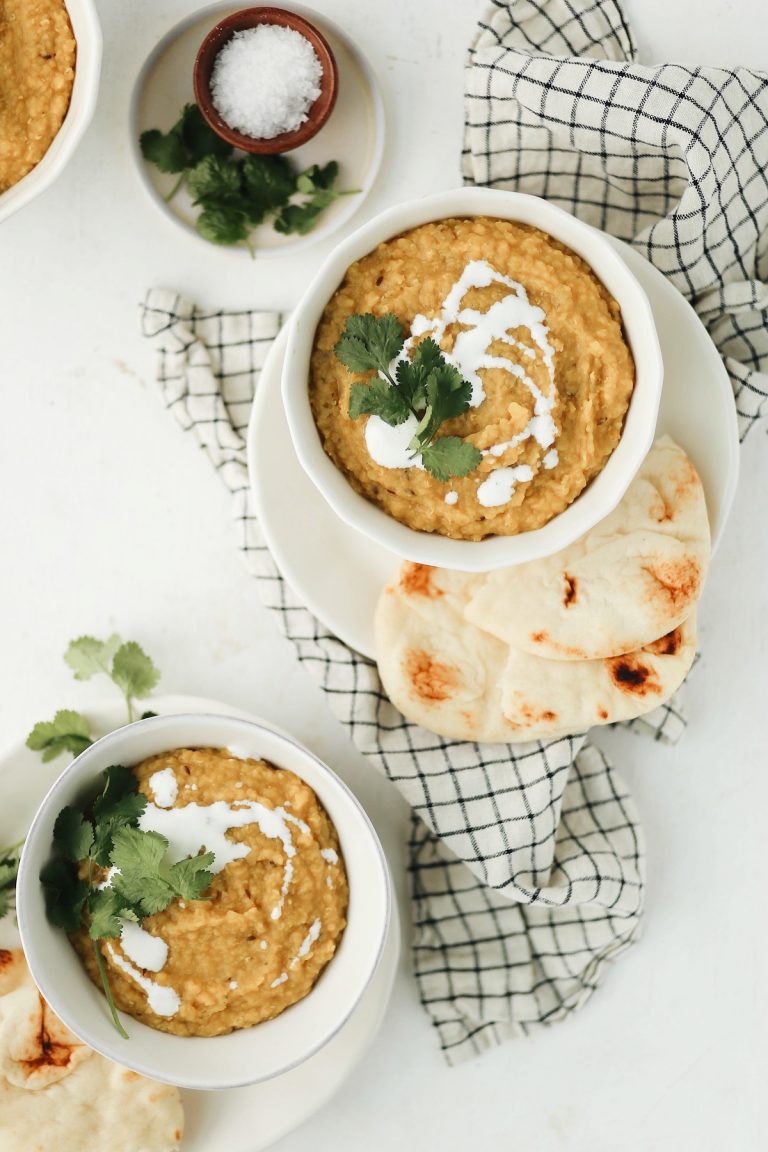 Why We Love It: More lentils, please! (Especially because we've officially inducted them into the superfood category.) In this soup-esque recipe, they truly shine as the central ingredient embellished by turmeric, ghee, and cumin seeds. This bowl of goodness is so delicious spooned over fresh naan bread or fragrant rice. As our food editor Suruchi shares, "This is one of those recipes that I turn to when I don't feel like cooking at all. It comes together in fifteen minutes and is the ultimate cozy dish for me."
Hero Ingredient: Back to the cumin seeds. You'll toast them in the ghee to wake up each flavorful aroma. It's magical.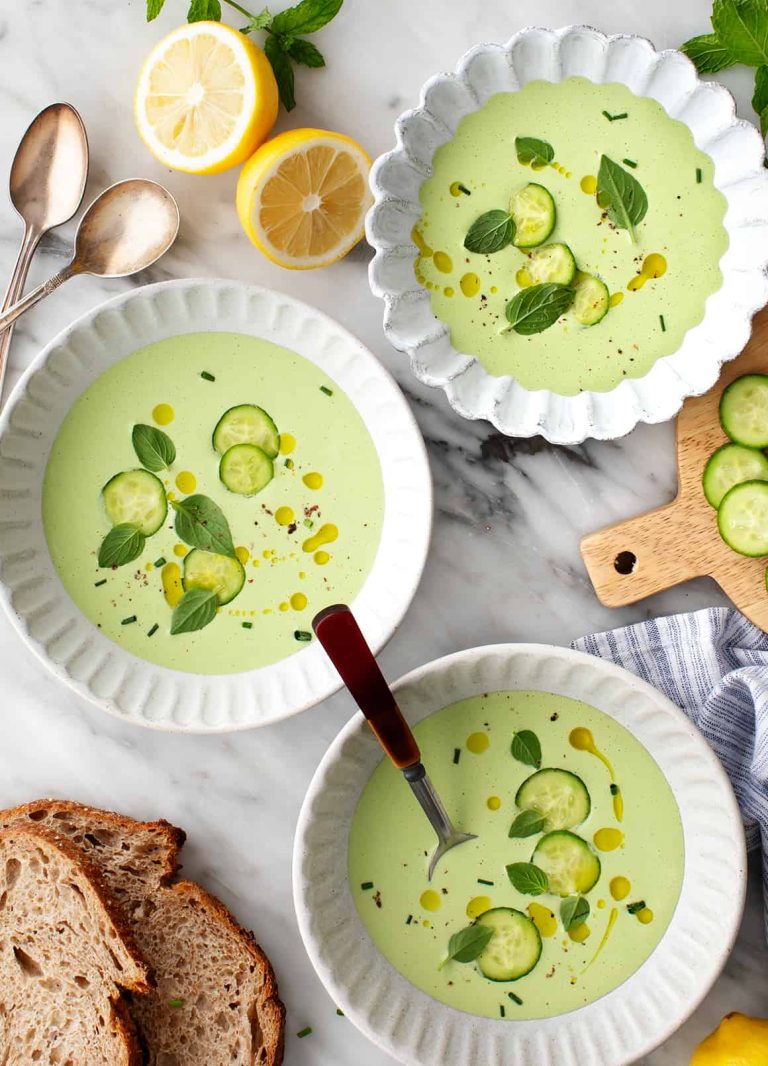 Why We Love It: This cold cucumber soup is tailor-made for those warm spring days when you need a little something refreshing. The best part? You don't even have to turn on the stove. Instead, you'll toss all the ingredients into a blender, puree, and chill until you're ready to serve. It takes literally ten minutes to prep, and just a few hours to cool to perfection.
Hero Ingredient: A touch of honey counterbalances the tartness from the lemon and bite from the garlic. It's all about balance.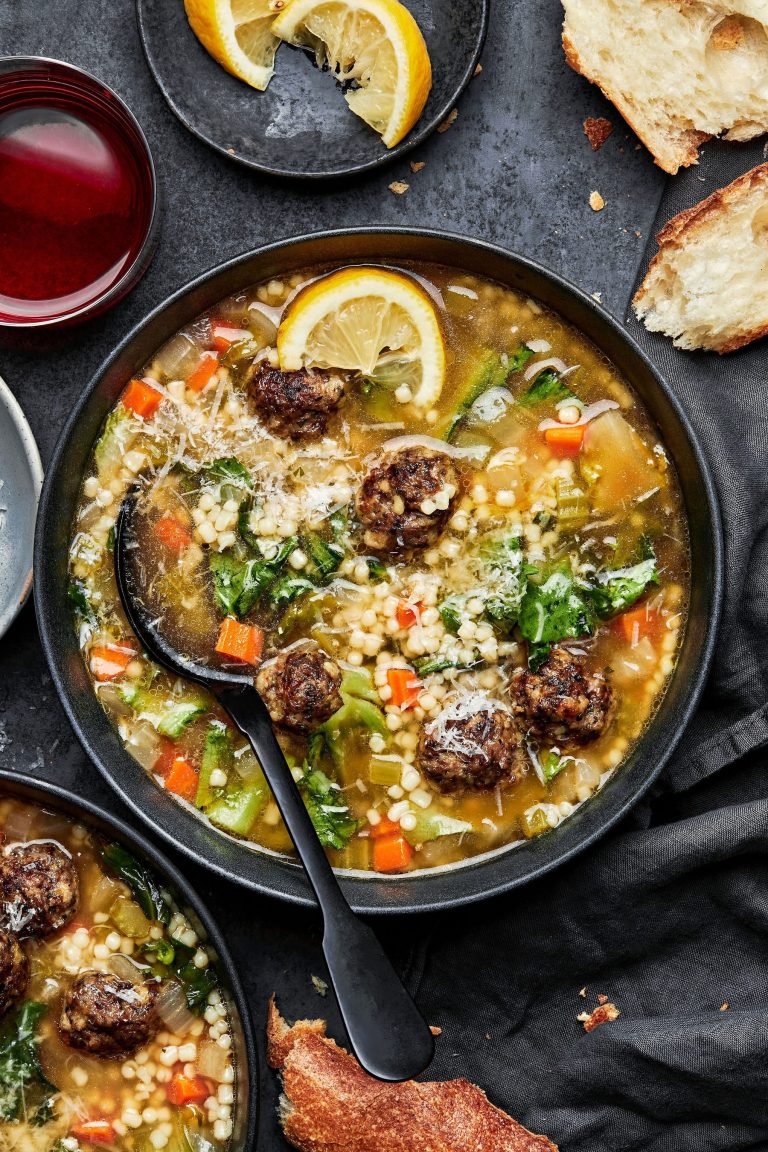 Why We Love It: If you've got a hankering for something hearty, this soup is for you. Beef and pork meatballs poach in a gorgeous broth full of carrots, celery, endive, onion, al dente pasta, and more. If you're making your own meatballs, this one might take you a little longer than the other spring soup recipes on this list. But don't let that hold you back from enjoying a hearty bowl of Italian Wedding Soup!
Hero Ingredient: Be sure to squeeze lots of lemon juice over top to liven up the flavors underneath. It gives this soup just the right amount of tangy freshness.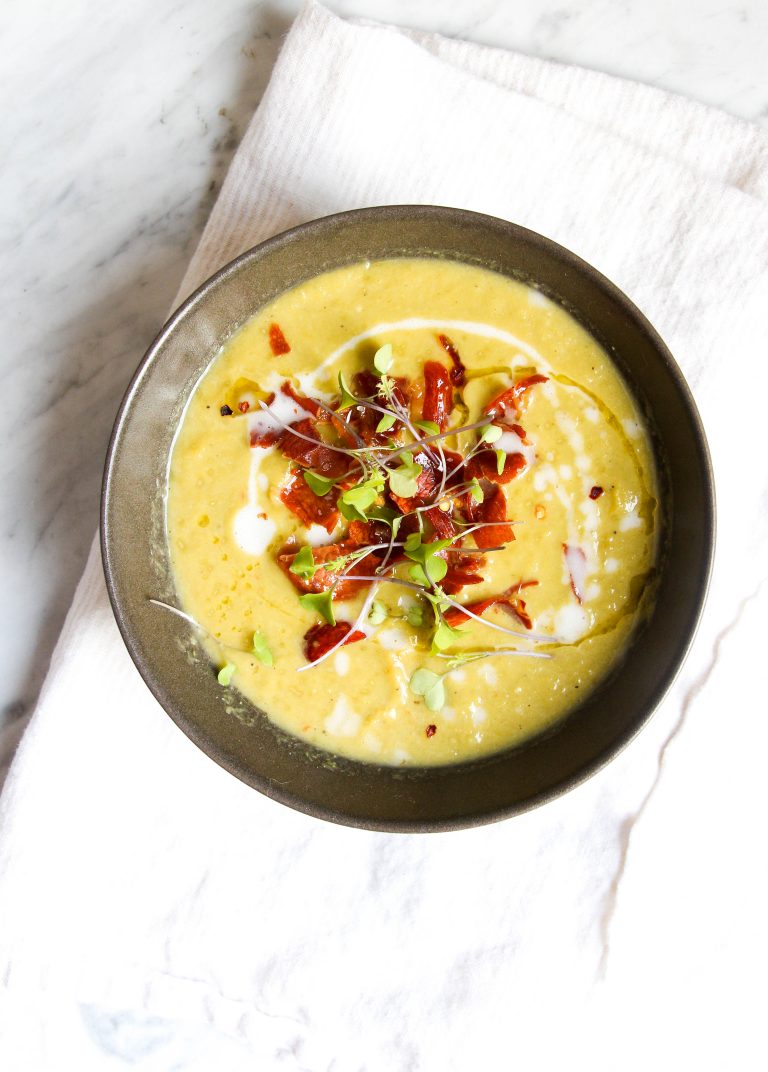 Why We Love It: If there were ever a soup to epitomize spring, this would be it. You'll make its base with onion, garlic, broth, full-fat coconut milk, and—of course—springy asparagus. It takes about 20 minutes to throw together, which makes it perfect for busy weeknights when you need something substantial and comforting.
Hero Ingredient: If you're able to venture into non-vegetarian territory, toasting up some prosciutto slices in the oven gives this soup the most delicious topper. It's salty, meaty, and so perfectly crispy.