Making your own roasted broccoli could not be easier! This tutorial will show you how to roast broccoli in the oven, how to serve it, and simple tips for perfectly roasted broccoli every time.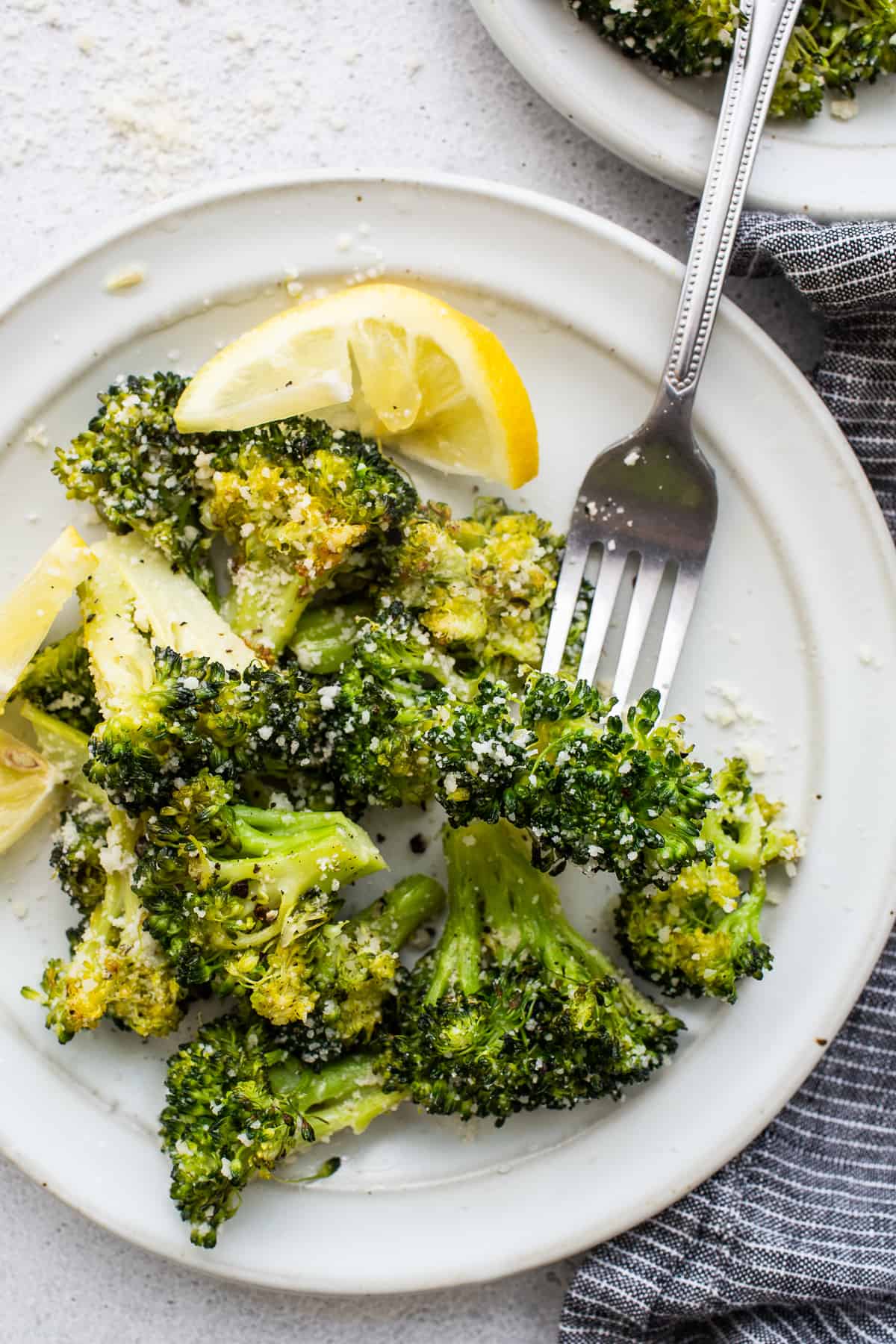 Perfectly Roasted Broccoli
Roasted broccoli is such an amazing side dish for any meal! And you'll absolutely love our simply seasoned, perfectly roasted broccoli recipe. We're sharing all our tips for roasting broccoli florets in under 20 minutes in the oven.
Why you'll love it!
There's no mushy broccoli here! They are roasted in the oven for a short amount of time so the inside cooks and the outside stays crispy.
This roasted broccoli is brightened up with fresh lemon juice.
Roasted broccoli makes for a great meal prep veggie side for the week.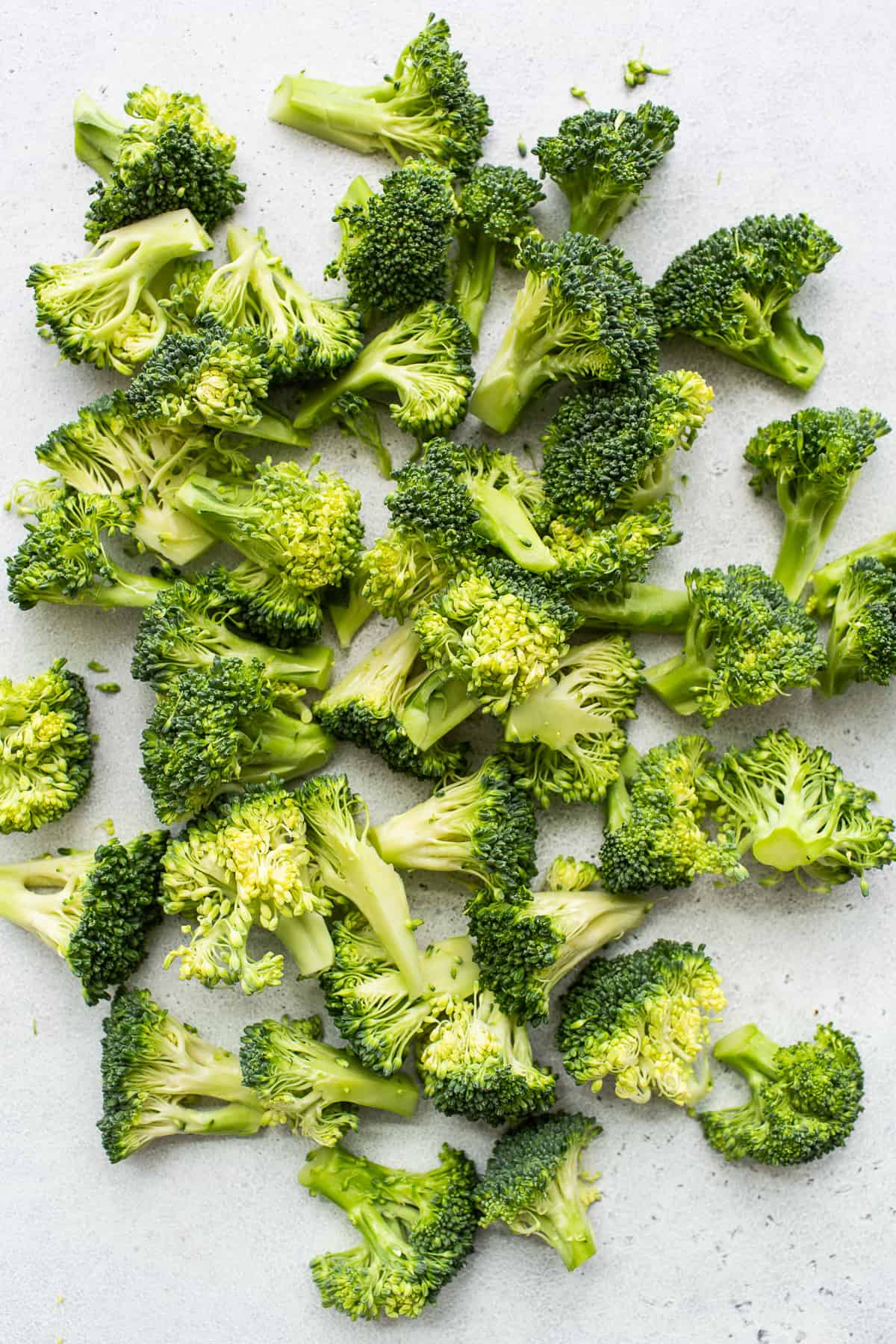 Broccoli Nutrition
Not only do we love the flavor and vibrant green color of this vegetable, but broccoli is so good for you! It's high in vitamin c and vitamin k and is naturally vegan and gluten-free. Per 1 cup of broccoli:
31 calories
6g carbs
2.6g protein
2g fiber
.3g fat
Featured Ingredients
Broccoli: the star of the show is obviously broccoli for this recipe. We highly recommend using similar sized broccoli florets to ensure even cooking.
Lemon juice: a little lemon juice brightens up the broccoli.
Olive oil: to roast any veggie in the oven you need a little bit of oil. We chose olive oil because we love the flavor. Feel free to use whatever oil you would like.
Salt & pepper: we kept things simple for the seasoning for this roasted broccoli recipe. A little salt and pepper did the trick.
Parmesan cheese: this is optional, but we love the cheesy bite that a dusting of parmesan gives roasted broccoli. Add it right before serving.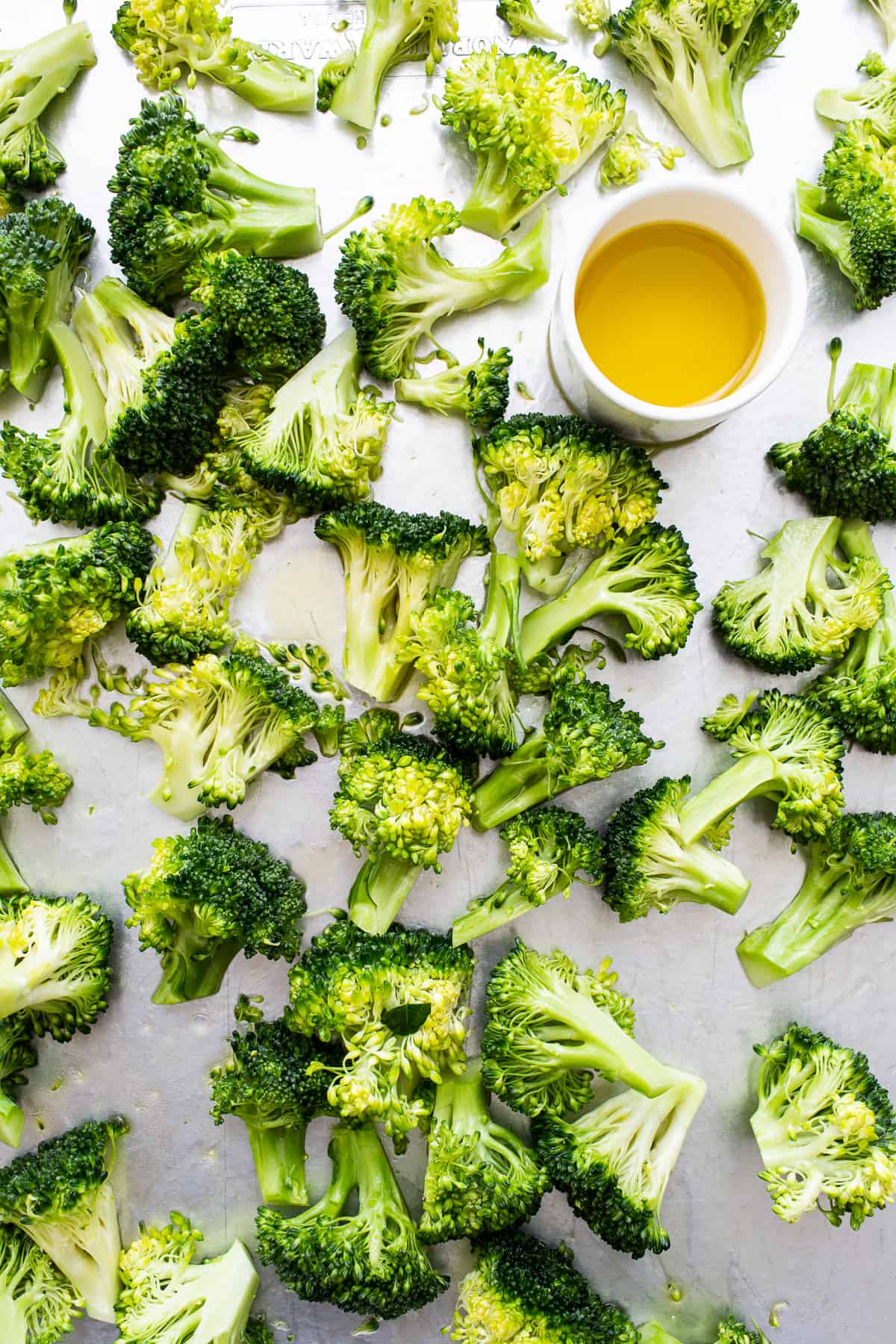 How to Roast Broccoli
Make sure to scroll all the way down to the recipe card to get the full ingredient list and written recipe.
Prep & season
Preheat the oven to 375ºF, and spread the broccoli over the baking sheet and drizzle with olive oil. Massage the oil into the broccoli with your hands. 
Season the broccoli with salt and pepper and massage the broccoli again. 
Roast Broccoli
Transfer the baking sheet to the oven and roast for 15-17 minutes, tossing halfway through.
Garnish & Enjoy!
Transfer the broccoli to a large serving bowl, add the lemon juice and parmesan and toss. Enjoy!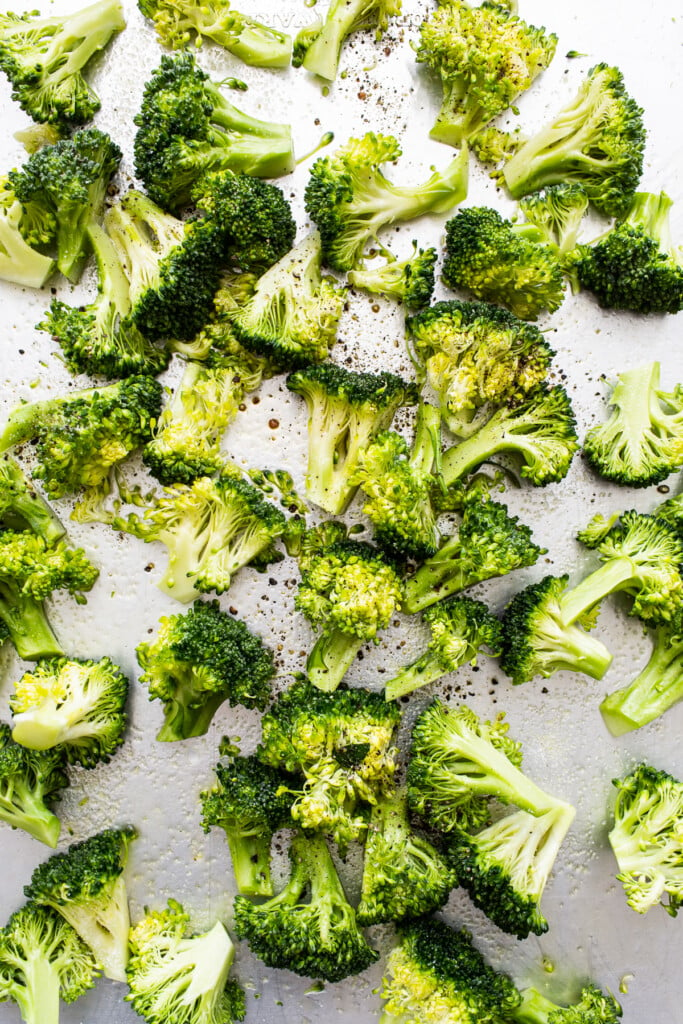 Top Tips
Cut broccoli in similar sizes: make sure to cut your broccoli florets uniformly so that they're all around the same size. This will make sure they roast at the same rate.
Cook until brown & not burnt: roast your broccoli for around 15-20 minutes or until golden brown. Ours took 17 minutes and came out perfectly roasted and while not being mushy or burnt (not overdone at all!).
Ovens vary: Ovens can vary in temperature. Be sure to check your broccoli half way through to gauge how much additional time is needed for roasting.
Roasted Broccoli FAQs
Do you need to blanch broccoli before roasting?
You definitely don't have to! By roasting broccoli at 375°F for 17 minutes, you'll have perfectly roasted broccoli with a bite that's never mushy.
Why is my roasted broccoli soggy?
To avoid soggy broccoli do not crowd the sheet pan which will cause the broccoli to steam at the same time it's roasting.
Why do you put oil on roasted vegetables?
Oiling veggies before roasting not only helps them not stick to the pan, but allows them to brown perfectly while adding a rich, nutty flavor.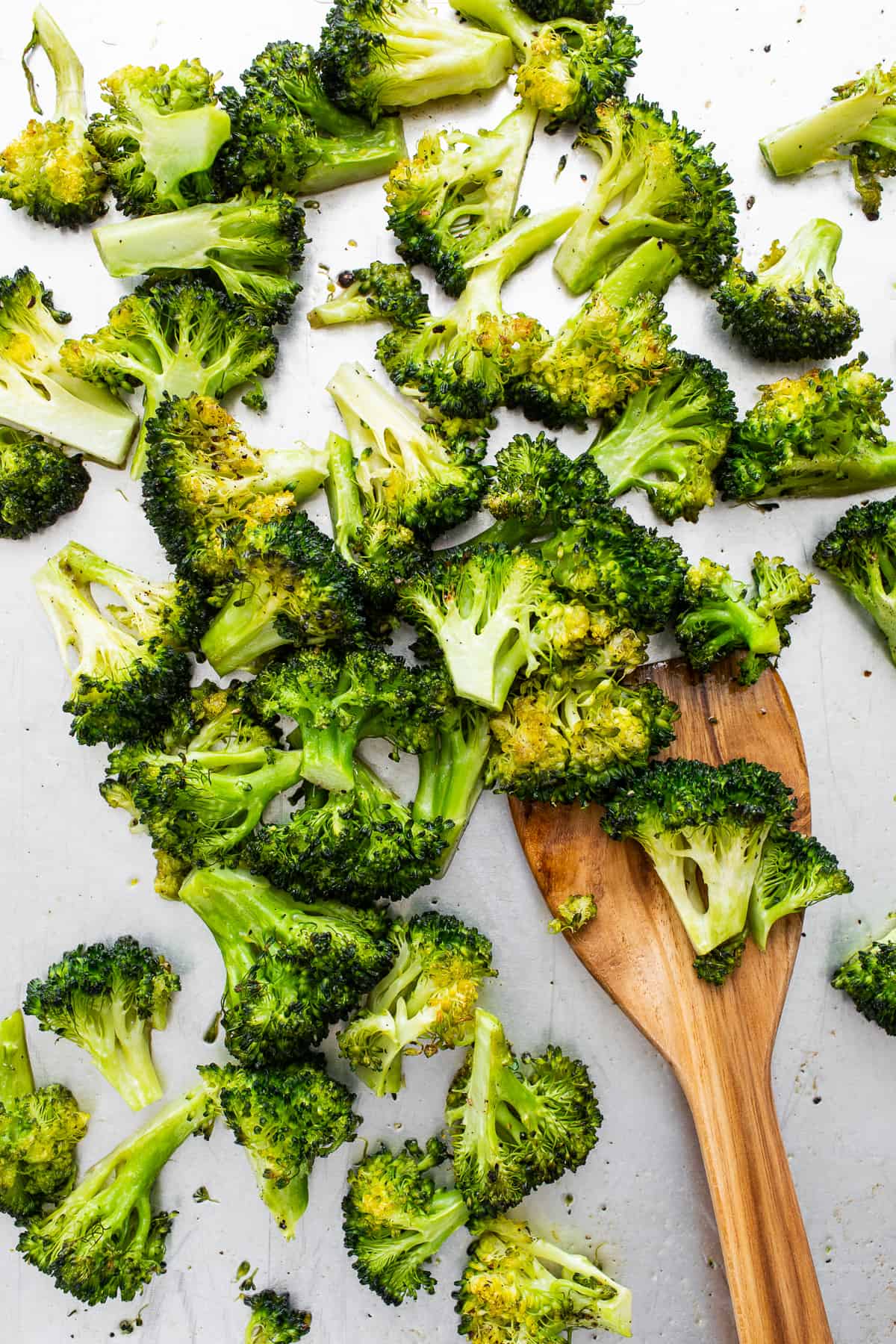 Want to Make Steamed Broccoli?
Want to steam these broccoli florets instead? You can make this same recipe but on the stovetop or in the microwave! Follow the instructions over on our How to Steam Broccoli recipe.
Want to make Air Fryer Broccoli?
We also have that! Make perfectly crispy broccoli in 10 minutes flat in your air fryer. Follow the instructions over on our Air Fryer Broccoli recipe.
Storage
Got leftover roasted broccoli? Let it cool completely and then transfer it into an airtight container for up to 3-5 days.
How to Freeze Roasted Broccoli
Let broccoli cool completely.
Transfer it to a parchment-lined baking sheet and spread it out so that the florets aren't touching.
Freeze for around 2 hours.
Once frozen, transfer into an airtight container or gallon-size plastic bag. Freeze for up to 3 months.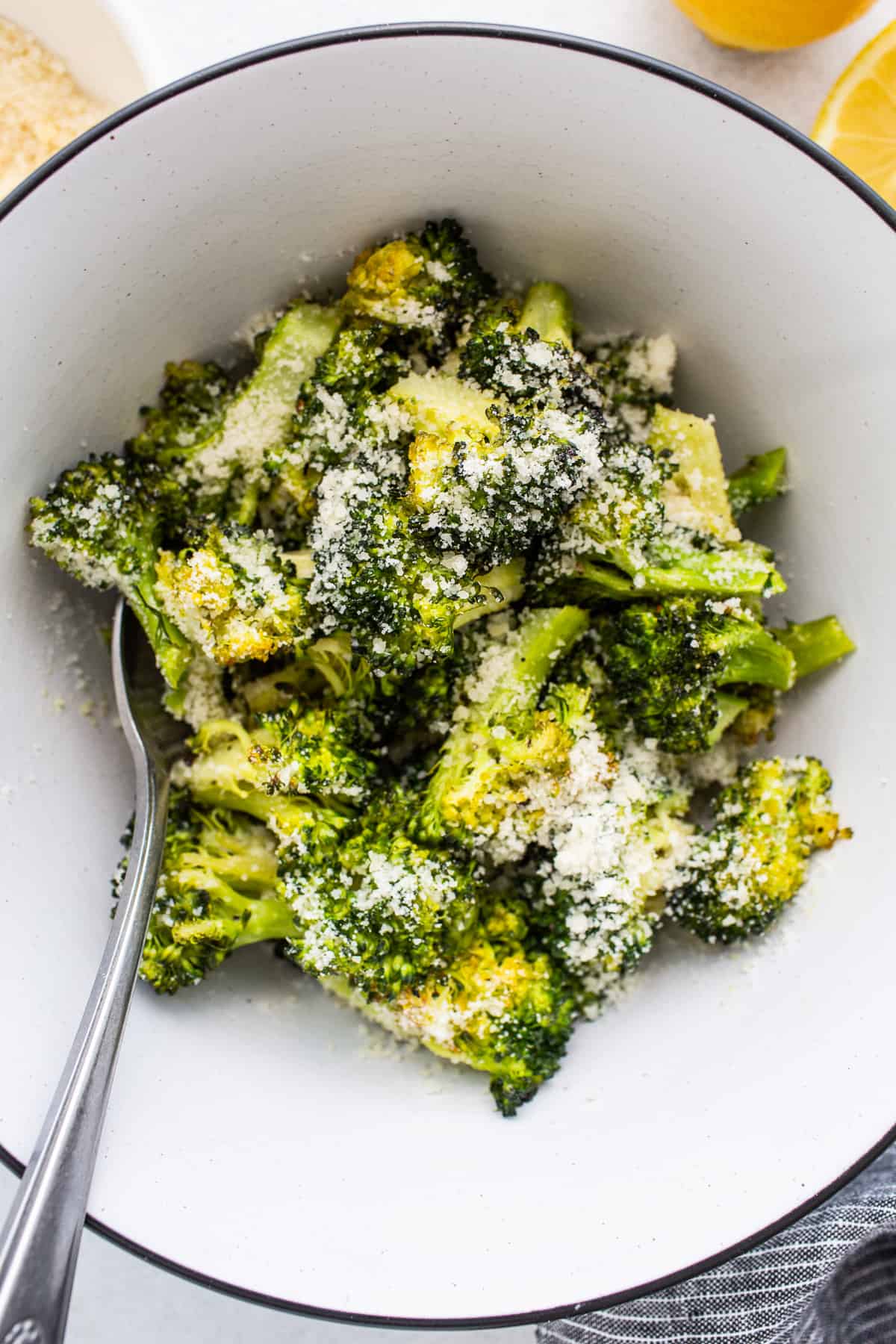 Photography: photos taken in this post are by Ashley McGlaughlin from The Edible Perspective.