Grilled asparagus in foil is a fool-proof method for grilling asparagus in just 15 minutes. You'll need asparagus, olive oil, salt, and pepper.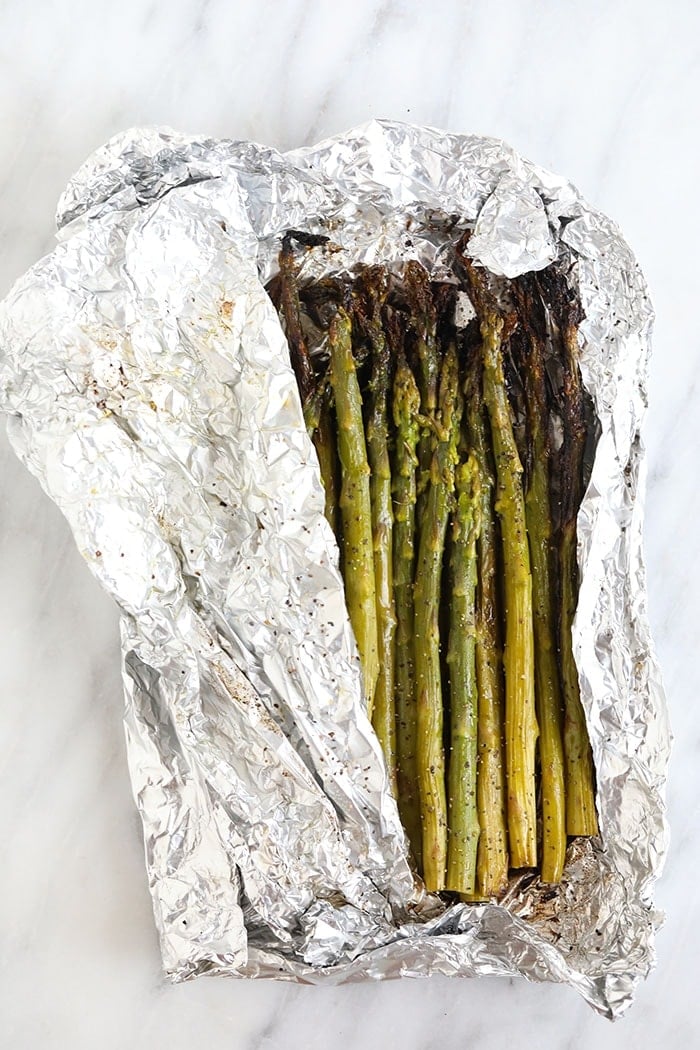 15-Minute Grilled Asparagus
Grilled asparagus is ready in just 15 minutes by using the foil pack method to trap air around the asparagus, cooking it faster!
We love grilling asparagus along with other bbq mains such as grilled chicken thighs, grilled steak, and grilled pork chops. It's truly the best green veggie to pair with any protein.
In this post, we'll teach you how to prepare, flavor, and grill your asparagus in no time!
A few reasons why we love asparagus!
Asparagus Benefits
Asparagus is a great vegetable option if you're looking to pack in fiber, folate, and vitamins A, C, and K, while not packing in the calories.
vitamin C
vitamin A
vitamin K
Folate
Potassium
vitamin E
Asparagus Nutrition
Asparagus is not only packed with tons of vitamins and minerals but calorically is extremely good for you. Per one lb. of asparagus….
85 calories
.5g fat
17g carbs
8g fiber
8g sugar
12g protein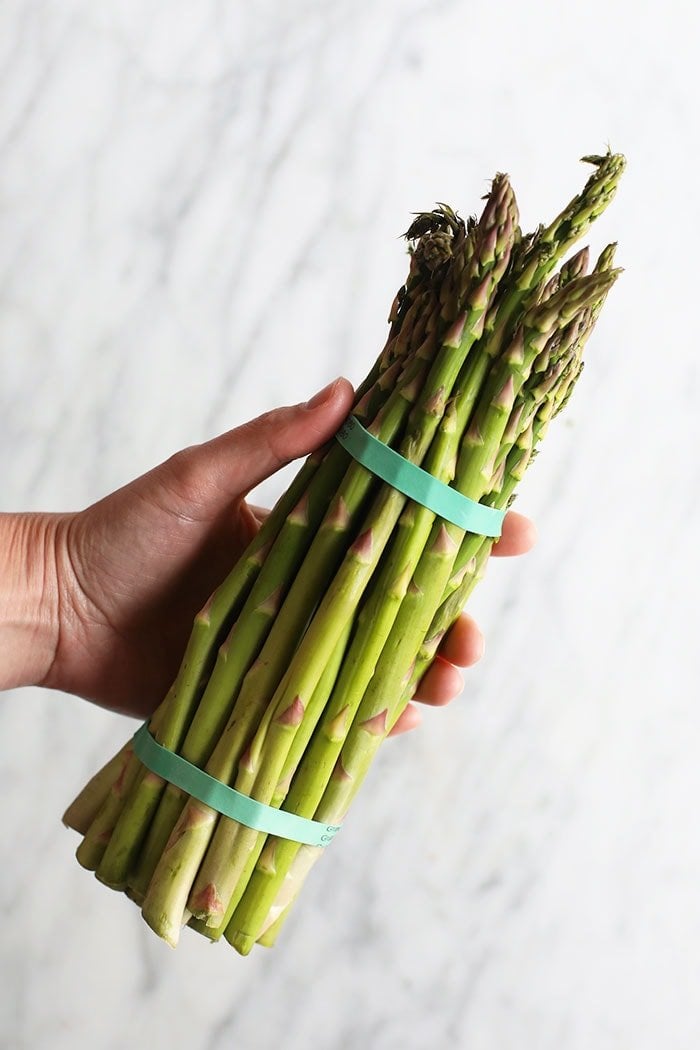 How to Prepare Asparagus for Grilling
There are many different ways to cook asparagus — grilled asparagus, oven roasted asparagus, air fryer asparagus, pan-fried, steamed, etc. Before you do any of these things it is important to take a few minutes to clean and prepare your asparagus. To do this it is very simple.
Wash asparagus: Hold the bunch of asparagus, tip-side down, and run it under cold water. Use your hands to remove any dirt or sand (or worms!) from the tips. Asparagus comes from the ground, so it's normal for it to have a little dirt on it!
Dry off asparagus: Next, use a towel to dry your asparagus spears.
Dice asparagus: Finally, cut about an inch off the end of each asparagus spear. We do this because this part of the asparagus is too woody to eat and it's hard to digest.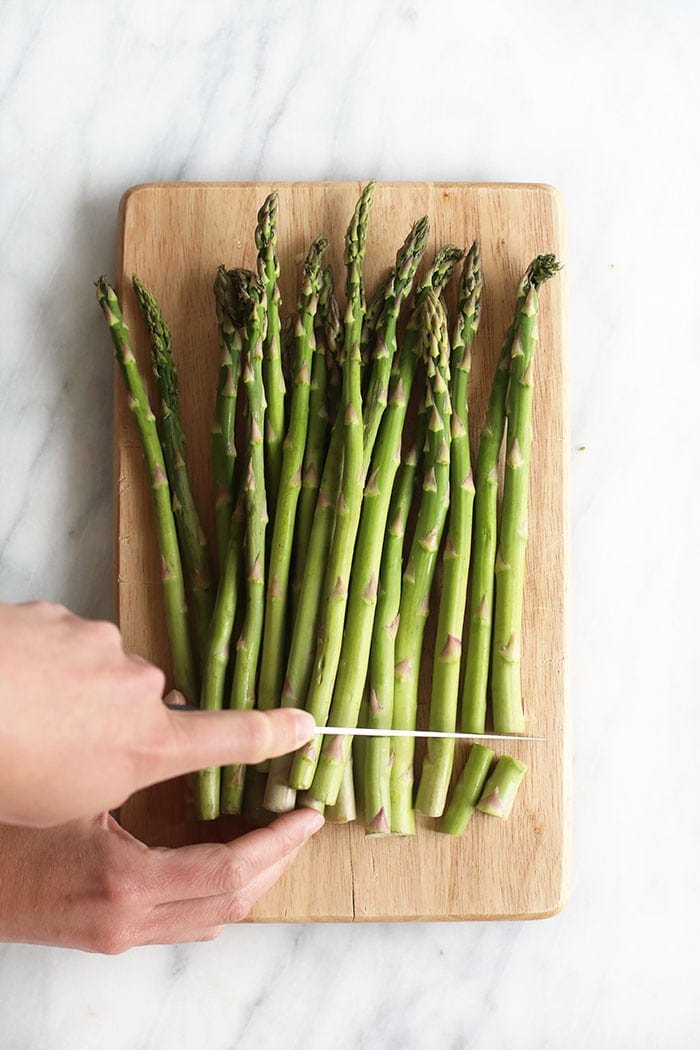 How to Make Asparagus on the Grill
Now that you've prepared your asparagus, it's time to grill it! Since we're using a foil-pack method, this part is actually super simple! You'll need asparagus, olive oil, salt, pepper, and tin foil.
Season Asparagus
Place about a pound of prepared asparagus spears on a large piece of tin foil.
Then, drizzle on a generous amount of olive oil, making sure everything is nicely coated. Season with salt and pepper and any other seasonings your heart desires.
Use your hands to toss the asparagus so that everything is coated.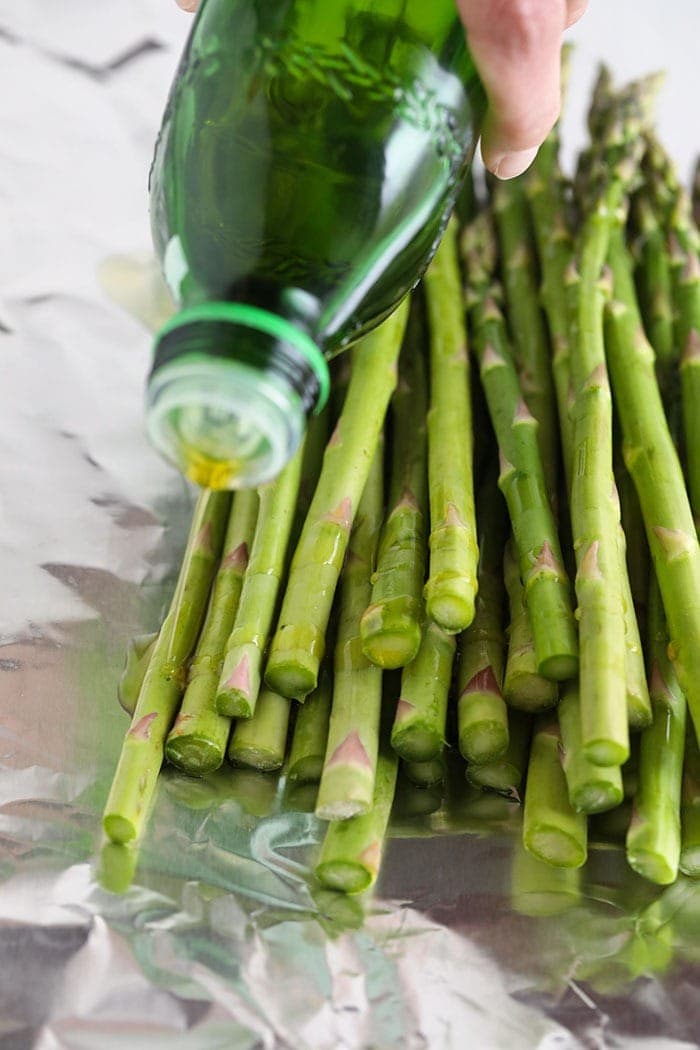 Seal Tin Foil Boat
Place another piece of tin foil on top of the asparagus and fold the sides in tightly creating a foil pack. This prevents air from coming in and out and will essentially grill and steam your asparagus at the same time!
How long to Grill Asparagus in foil
Preheat your grill to 400ºF and place your foil pack asparagus right on top of the flames and cook for around 15 minutes.
We prefer to grill out asparagus at a higher heat for a shorter amount of time. This is not only timely with most meats but also gives your asparagus a nice crunchy/char flavor.
Note: You can alternatively grill your asparagus on a top rack of your grill or over indirect heat for a longer amount of time if you're grilling other things at the same time.