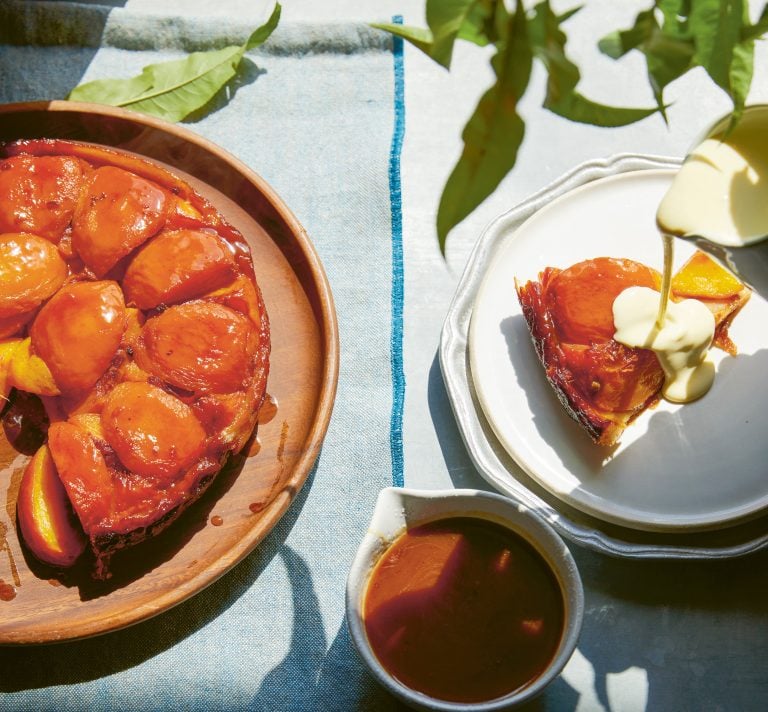 Everyone who knows me knows: I have an impressive sweet tooth. (Trust: it's well-documented.) Of course, this means that my list of bakeries to visit and cookbooks to bake from is never-ending. So when I was in the process of planning my recent trip to London, I made it my priority to eat everything I could from Claire Ptak's East London bakery, Violet.
To confirm: the many tasty sweets I encountered and devoured made it well worth the trip. Claire experiments with flavors drawn from her California upbringing and elevates them with a true metropolitan sensibility. Everything I tried—from the mango cupcake to her famous egg yolk chocolate chip cookie—has forever altered the way I think about sweets. As soon as I came back stateside, I cracked open Claire's newest book, Love is A Pink Cake, and got to baking. And because summer is upon us and I've set out to incorporate fresh peaches into every meal and treat, I'm starting with none than her peach tarte tatin.
And just in case you have any hesitation before diving in, take heart: Claire was the creative genius behind Harry and Meghan's wedding cake. Keep reading for the recipe, Claire's tip for peeling peaches, and why this peach tarte tatin is the ultimate party trick.
How would you describe your cooking and food philosophy?
My philosophy is that I bake for flavor first and foremost, and I like to keep flavors quite pure. Baking seasonally is something I've always done and I encourage everyone to make the most of what's at the peak of its season. In almost all of my recipes, you can substitute a seasonal fruit for whatever is called for in the recipe.
How did you develop this recipe?
Classically, a tarte tatin will be made with apples. But I tried one with peaches at a friend's restaurant and it's become my favorite type of tarte tatin. The peach leaf custard accompaniment is something that may be difficult to source but is well worth it if you can get your hands on some fresh peach leaves. Their almond flavor goes so well with the peaches. It's so refreshing and unusual!
What makes this recipe your go-to?
This is a time-consuming recipe, but really satisfying. It's also a crowd-pleaser because the big reveal of the upturned tart is very theatrical! It's the perfect summertime dessert. If you wanted, one way to simplify this would be to use a really good store-bought puff pastry.
Is there a kitchen tool you recommend we have to make this?
I would always recommend you buy a spider, which is a Chinese slotted spoon that is great for poaching peaches. It cups the peach perfectly and gently. It also works well for flavoring the custard with peach leaves.
Other must-haves: a heavy-bottomed baking dish, either cast iron or copper. A good heavy-bottomed saucepan for making custards and caramels. A heat-proof rubber spatula, a stand mixer, a good whisk, a sharp knife, and an offset spatula. With that, you can do anything!
What standout ingredients make this recipe special? 
Fresh ripe peaches in season, peach leaves if you can get them, and a good homemade or store-bought buttery puff pastry.
Can we make any ingredient swaps?
For dairy-free, you wouldn't be able to make the custard but would serve it with dairy-free ice cream. For the tart, you could use vegan butter and vegan puff pastry. That would work well and be delicious with vegan ice cream or a berry sorbet!
To peel a peach, you're just very lightly poaching it in the water. It's a great trick for a lot of recipes when you want a skinless peach. Just be sure you have an ice water bath so that the peels slip off easily and the peach doesn't cook.
What advice would you give to someone who's intimidated by baking?
Enjoy the process! It's time-consuming but worth the effort. Read the instructions twice before you get started. And make sure you have all your equipment and ingredients ready to go before you begin. Timing is everything in this recipe!
What do you hope people feel when they make one of your recipes?
I really want people to think more like a cook when they're baking. To think about balancing the flavors in my recipes because often desserts and baked goods are overly sweet. My role is to help people become more comfortable baking seasonally and to get them to trust their instincts as well as improve their skills. 
What other recipes from your book should we make first?
My Brown Sugar Victoria Sponge is a great introduction to baking layer cakes. And I really love all of the cookies in this book, such as the Blonde Peanut Butter Cookies and the Vegan Chocolate Chip Cookies.
What are your favorite, must-try treats at Violet?
The California Cake, and of course the cupcakes—especially the seasonal fruit cupcakes. And our famous egg yolk chococlate chip cookies! 
Description
A sweet summer peach tarte tatin served with peach leaf custard.
---
For the custard:
3

egg yolks

480

grams

of single cream (2 cups)

2 tablespoons

caster sugar

30

–

40

peach leaves, washed and dried (if you can't get the leaves, add a drop or

two

of almond extract to the custard instead)
Pinch of salt
For the tart:
8

–

10

large ripe but firm peaches

3 tablespoons

unsalted butter

135

grams

(1/2 cup + 3 tablespoons) caster sugar

500

grams

(1 pound, 2 ounces) puff pastry, rolled into a 12-inch circle and chilled
---
Make the custard. Separate your egg yolks into a small bowl, reserving the egg whites for another use (they freeze well!). Add the single cream and sugar to a heavy-based saucepan and place over medium heat until foaming and hot but not boiling. Take a handful of peach leaves and steep them in the steaming cream for about 30 seconds. Dunk them and stir them around as they steep, then remove and discard the used leaves before adding another fresh handful. Repeat until all leaves have been used and the cream is a pale shade of green. To achieve the bright, fresh, peach-leaf flavor, you must work swiftly. Leaving the leaves for too long in the custard changes the flavor and is undesirable.
Next, temper the egg yolks with a few tablespoons of the warm cream, whisking until smooth. Add the tempered yolks back into the remaining cream, moving a heatproof spatula or wooden spoon along the bottom of the pan continuously. As soon as the custard thickens on the bottom of the pan, turn off the heat, stir in the salt, and pour the custard through a strainer and into a jug. Chill completely in the fridge.
Next, blanch the peaches. Bring a large saucepan of water to the boil. Have ready a large bowl of iced water and have a slotted spoon or small sieve to fish out the blanched peaches. Gently lower the peaches into the boiling water (don't overcrowd the pan). The peaches will only need about 30 seconds in the water to loosen the skins. Lift one up out of the water and pinch the skin to see if it is ready to slide off. If the skin is still clinging to the flesh of the peach, slip it back into the water for a few more seconds. If it's peelable, gently add it to the bowl of iced water. Continue until all the peaches have been blanched, then lift them out of the water bath and slip off the skins. Cut the peaches in half, remove the stones, and cut them into quarters. Set aside on a plate. Don't worry about any oxidization that occurs as this will disappear when baked.
Preheat the oven to 425 F. Prepare a bowl of iced water large enough for a 10-inch cast-iron frying pan or copper tatin mold. (Or you could set this up in your kitchen sink).
4. Caramelize 2 tablespoons of the butter and 6 tablespoons of the sugar over high heat, swirling the pan now and then. Once the sugar has dissolved, use a wooden spoon or balloon whisk to bring it all together. Do not worry if it splits or crystallizes, as it will dissolve again during the baking process. You want a deep, dark caramel. Remove from the heat and immediately put the pan in the iced water to stop the caramel from coloring any further.
Arrange the peaches in the pan of caramel, bearing in mind they will be upside down when done, so make them look pretty. I place the curved side down into the caramel, core side up. Place a second layer of peaches on top, core side down, and press gently with your hands, coaxing them to fit together like a puzzle.
Cover with the chilled pastry circle, tucking the edges in between the peaches and the pan, then melt the remaining tablespoon of butter and brush the pastry with it. Sprinkle with the remaining 3 tablespoons of sugar, then pierce several times with a knife to allow steam to escape during baking.
Bake the tarte tatin for 45-55 minutes, or until the pastry is crisp and golden, the sugar has started to caramelize on top, and the peaches and caramel beneath are starting to bubble up at the edges.
Remove the tarte from the oven and allow to sit undisturbed for 10 minutes. Have ready a large plate that will completely cover the top of the tarte tatin. Using extreme caution, place the plate over the pan and, using an oven glove or tea towel wrapped around the outside, quickly flip the pan over and turn the tart out onto the plate in one smooth motion, being cautious of any hot liquid or steam that might escape. Serve with cold peach leaf custard.
Notes
The final step is quite fun to do at the table, so I love to get the custard made and the tart all prepped up to the last stage of tucking in the pastry, then chilling in the fridge until you sit down to dinner. Then you can pop it into the oven while you eat. This way you can flip it out onto a serving plate right in front of your guests.
Prep Time:

overnight

Cook Time:

1 hour

Category:

dessert
Keywords: peach, tart tatin
Excerpted from Love is a Pink Cake by Claire Ptak. Copyright 2023 Claire Ptak.