My favorite Mexican recipes are those that feature bright, punchy ingredients and a bold mix of herbs, garlic, and spices. It's a far cry from the usual Tex-Mex you find here in Austin—it's more akin to the type of food I devoured in Oaxaca, and what I imagine the street tacos are like in Mexico City (dying to visit.) These carne asada tacos are brimming with that bold freshness thanks to the lime-cilantro marinade that not only infuses the steak with tons of flavor, but also helps tenderize the meat. And since steak tacos happen to be one of my favorite recipes for summer gatherings, I knew I had to share these with you guys to kickoff backyard party season. Let's get into it.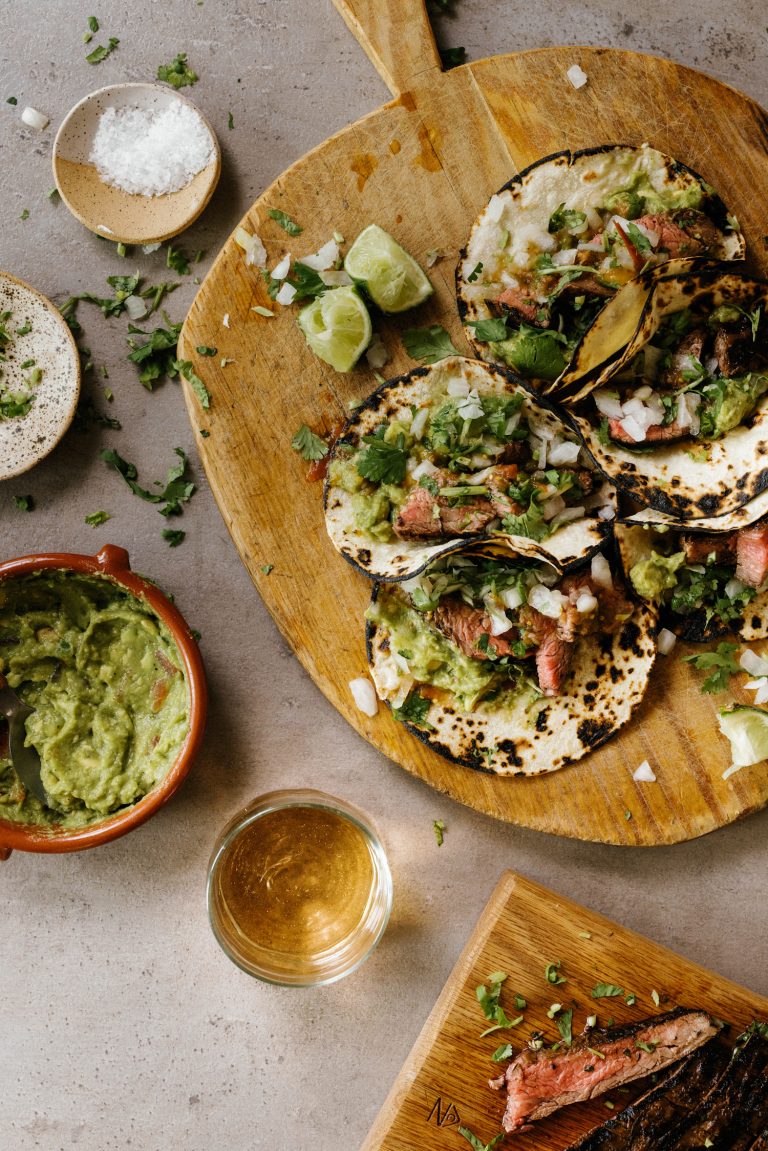 The best meat for carne asada tacos
So what exactly is carne asada? Traditionally, it's a Mexican dish featuring steak that's been marinated in a flavorful combination of ingredients. The steak is then thinly-sliced and served either as a main course or in tacos, as I do here. Carne asada can be made from flank steak, skirt steak, or sirloin—these thinner cuts of meat absorb more flavor from the marinade and grill up fast. I personally think that flank steak is the most tender and flavorful cut for steak tacos when it's properly marinated. It's also leaner and cooks quickly, making it a true star for summer entertaining.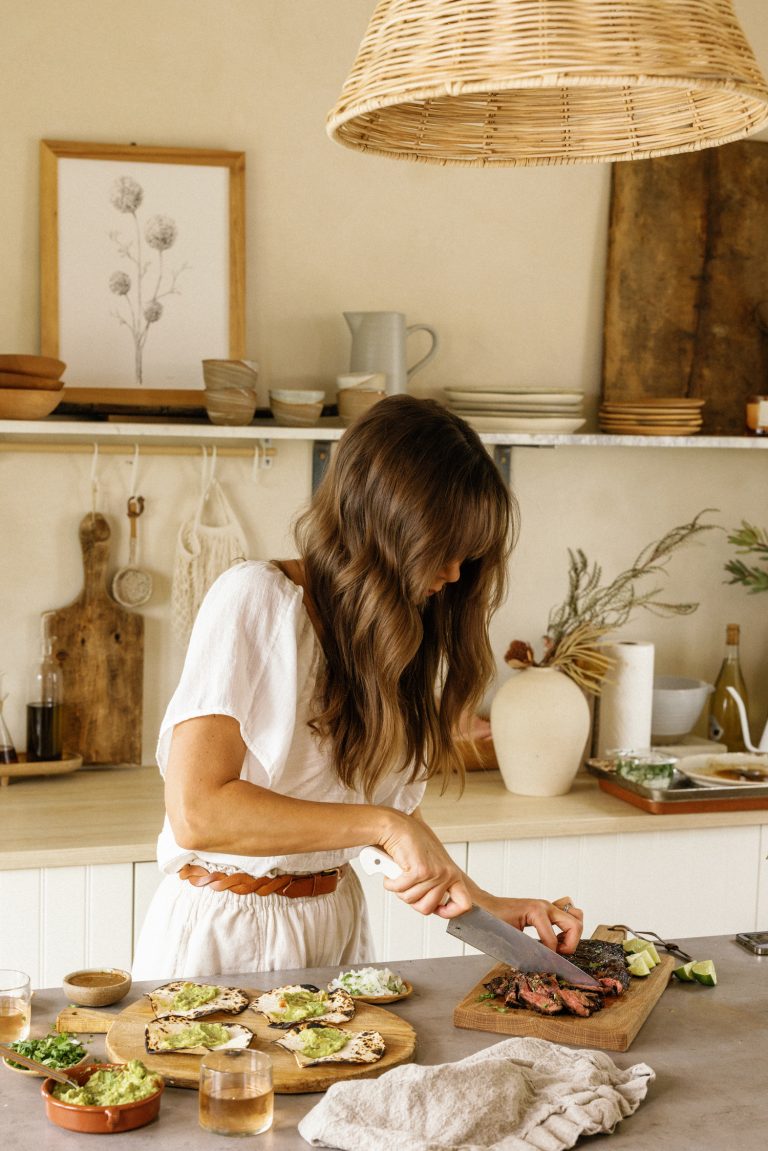 Authentic carne asada marinade
A traditional carne asada marinade includes lime juice, cilantro, garlic, and chili powder. My recipe includes all of those, plus adds a generous squeeze of honey for sweetness, and soy sauce that helps tenderize the meat.
Allow the steak to marinate for several hours (or even better—overnight!) before grilling, and it'll produce the most flavor-packed and deliciously tender steak that's ready to be sliced up for tacos.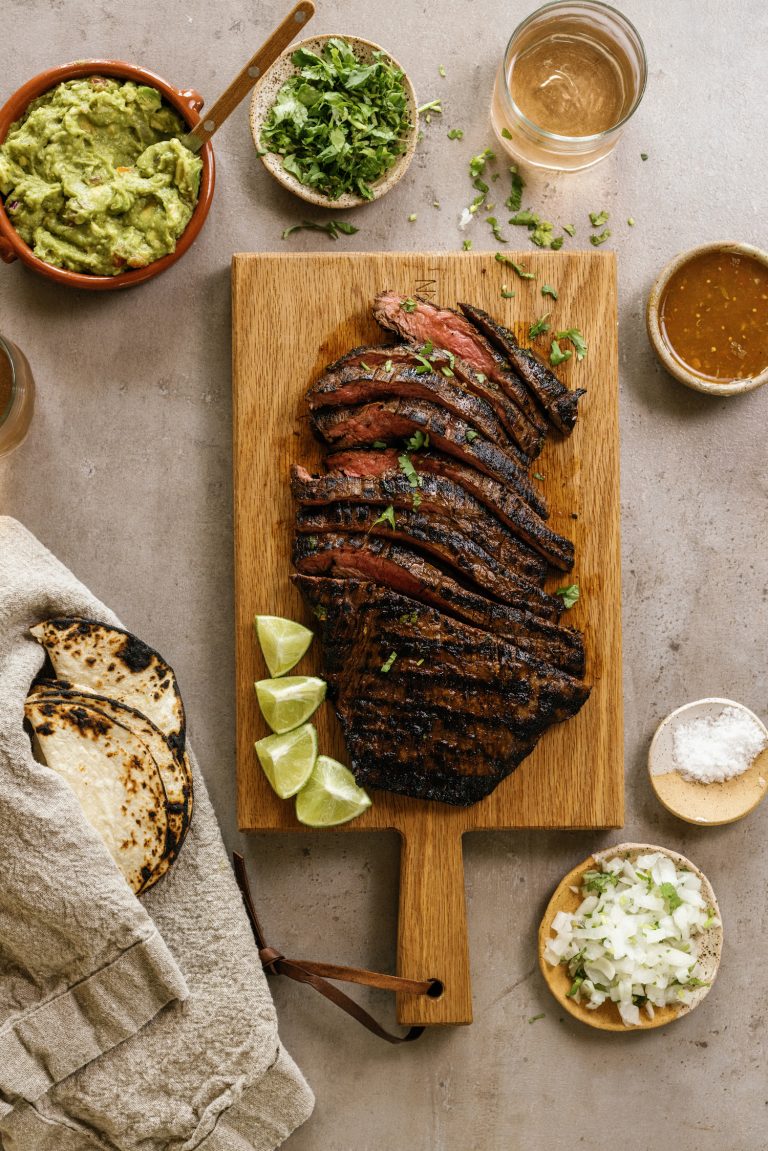 How to grill carne asada tacos
Grilling steak is simple once you understand a few basics. First, a very hot grill is essential for developing the char on the meat. Flank steak is a thin cut of meat, so you want to grill it hot and fast so that it's charred on the outside and still tender and medium-rare inside. Total grill time for flank steak is 8 – 10 minutes (flipping just once during cook time.)
You can also grill onions and peppers to serve alongside the tacos—and while you're at it, feel free to toss your corn tortillas on the grill for about 30 seconds per side, too!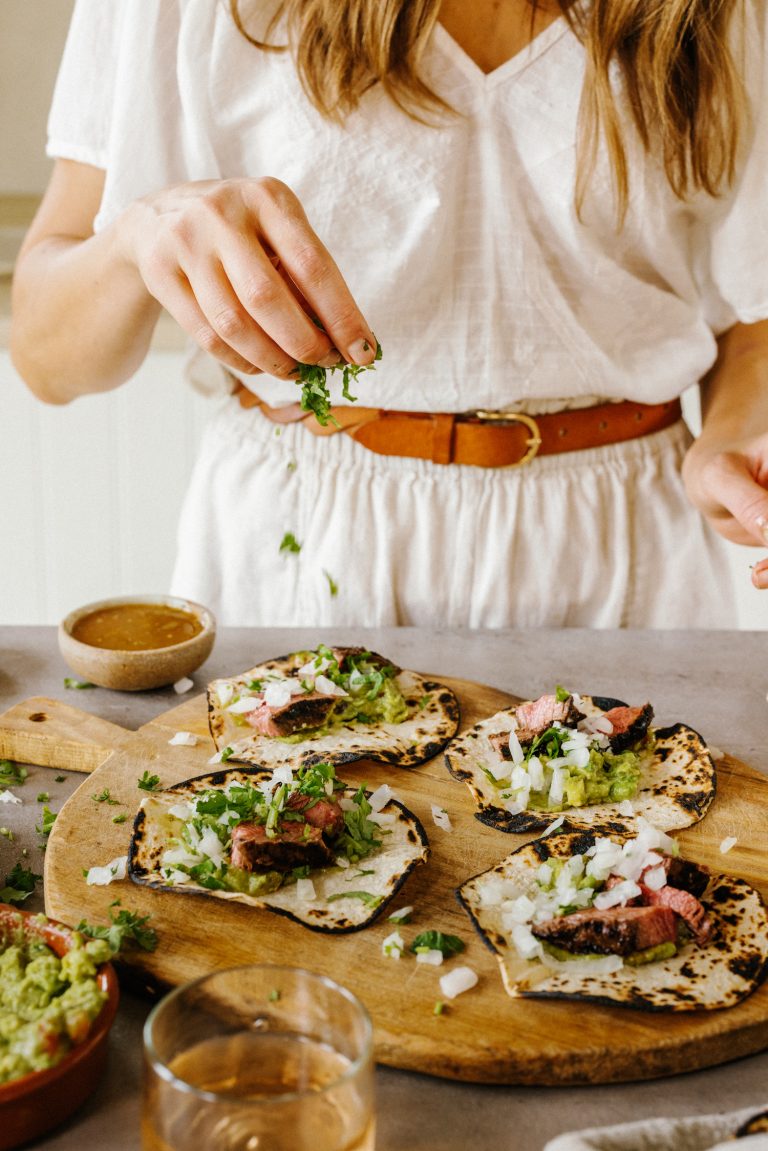 How to slice flank steak
Proper slicing is key for ensuring your flank steak is super tender. Here's are a few things to remember:
Flank steak and skirt steak should always be sliced against the grain. This means that you're going to look at the direction the meat fibers are running, and then slice the steak perpendicular to those fiber lines.
I prefer to cut the steak really thinly for these tacos. I'll also cut long strips of meat crosswise once or twice to ensure that the pieces are bite-sized and easy to chew. Use a sharp knife so that your cuts are clean and even.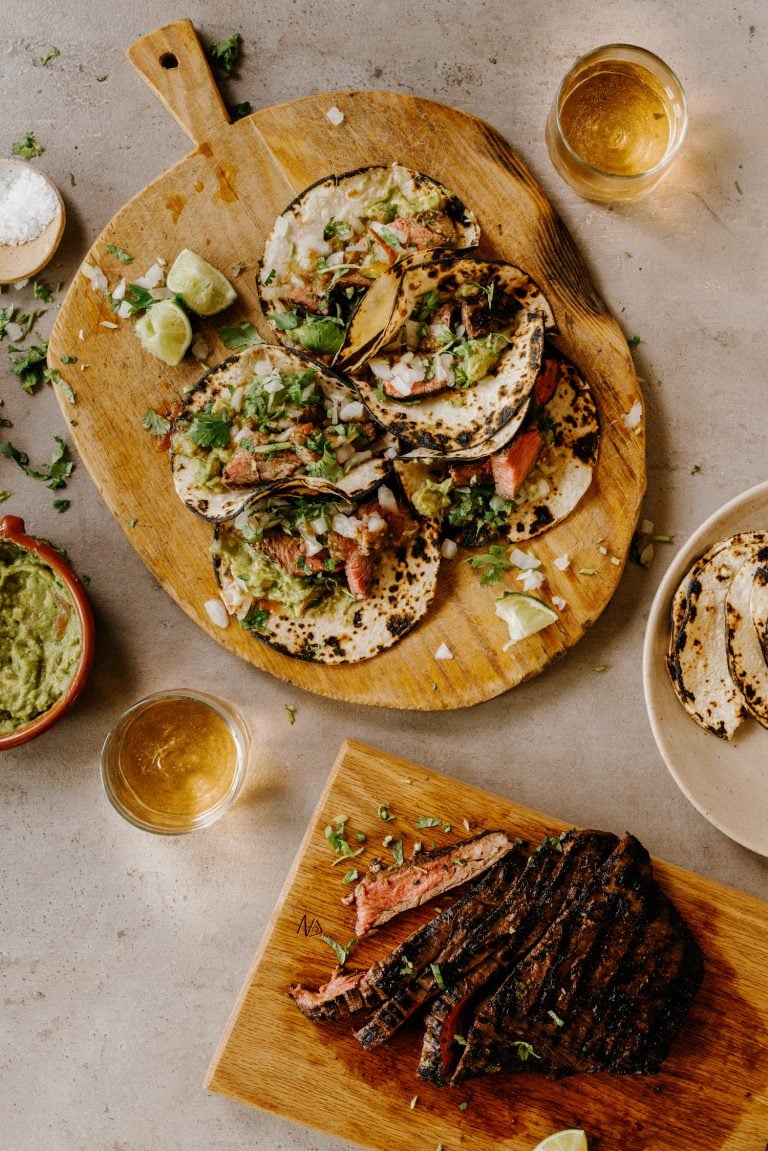 Mexican street taco toppings
Yes these carne asada tacos are all about the steak—but they're equally about the short list of high-quality, flavor-packed toppings. Here are the street taco-style toppings I add to these:
Warm corn tortillas: a little char is essential. I like to flip mine over a gas burner, but you can also toss them on the grill after you've cooked the steak.
Guacamole: or simple chunks of avocado work, too.
Chopped onions: red or white onion work well here. I prefer them raw for this recipe.
Cilantro: a few fresh leaves of cilantro adds such fresh flavor and color to these steak tacos.
Salsa: a traditional red salsa or a salsa verde both work beatuifully.
Other tacos to try this summer
I firmly believe that it's hard to beat tacos for for a summer party menu—here are a few others I know you'll love:
These chicken tacos with jicama and mint are a fresh take on Fresa's El Santo (aka my favorite taco in Austin.) Heaven in a warm corn tortilla.
I crave these chimichurri fish tacos when the weather turns warm. They're easy and healthy, featuring halibut for the perfect fish taco recipe.
These are packed with all kinds of good-for-you ingredients, and are a vegetarian weeknight staple at our house.
Description
These flank steak tacos are marinated in a punchy cilantro, lime, and garlic mixture that makes them tender and flavorful. Add guacamole, onions, and cilantro for a classic street taco experience.
---
for the marinade:
1/2

cup

soy sauce

1/4

olive oil

2

T honey
Zest and juice of 2 limes

6

garlic cloves, minced

1/2

cup

chopped cilantro

2 teaspoons

chili powder
for the tacos:
1

pound

flank steak

12

corn tortillas
guacamole
chopped red or white onions
fresh cilantro
your favorite salsa
---
First, make the marinade by combining all the ingredients in a jar and shaking it up. 
Add the flank steak to a shallow baking dish and pour the marinade over. Flip it around a couple times to make sure it's coated, then cover with foil and place in the fridge. Allow to marinate for at least 6 hours and up to overnight.
Preheat the grill to medium-high heat. Remove the flank steak from the marinade, and grill for 4 – 5 minutes per side. It should be well-charred on each side, and medium-rare to medium in the center. Allow to rest for 5 minutes before slicing. 
Meanwhile, warm the corn tortillas. When ready to serve, slice the steak thinly against the grain. 
Serve the steak and corn tortillas with the guacamole, onion, cilantro, and salsa alongside. Let everyone make their own tacos and devour!
Notes
For me, warm and slightly charred corn tortillas are a must for this recipe. I prefer to hold the tortilla over a gas burner with tongs for about 20 seconds per side, then transfer to a ziploc plastic baggie to stay warm and lightly steam until ready to serve. Alternately, you can throw the corn tortillas on the grill until lightly charred on both sides.
Prep Time:

20

Marinating time:

6 – 12 hours

Cook Time:

10

Category:

Tacos

Cuisine:

Mexican
Keywords: carne asada tacos, steak tacos