This blended peanut butter chocolate chia seed pudding tastes just like a peanut butter cup, but is oh so nutritious! 
The chia seeds are mixed in a delicious blend of cocoa powder, maple syrup, oat milk, and peanut butter and blended into a creamy pudding. It's the BEST healthy breakfast or dessert!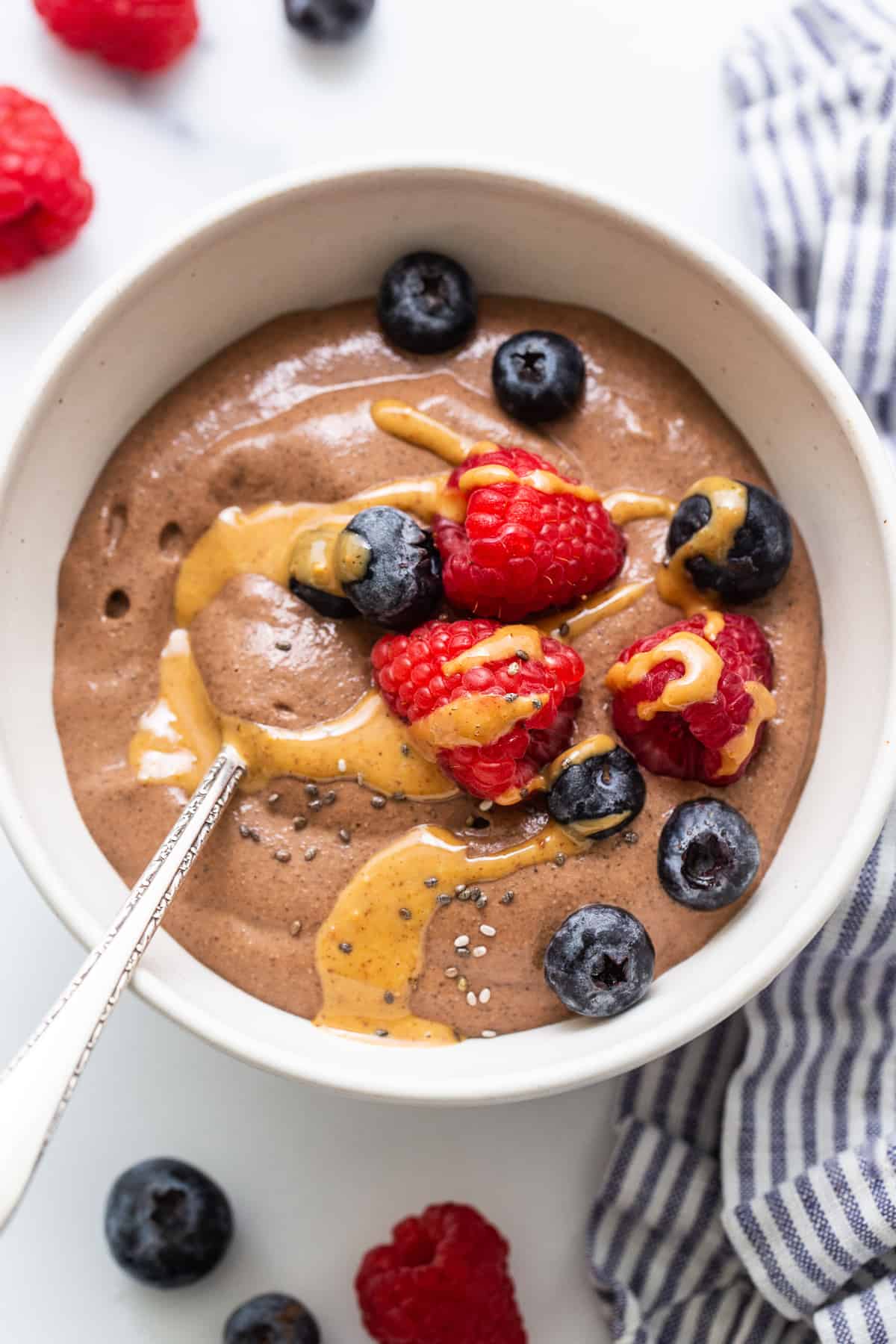 Delicious Chocolate Peanut Butter Chia Pudding
Are you sitting down, peanut butter and chocolate lovers? Because this peanut butter chocolate chia seed pudding is going to make you weak in the knees. Not only is it a nutritional powerhouse, but it tastes AMAZING to boot. 
This easy recipe uses wholesome ingredients and takes barely any effort to make. Just grab your ingredients, mix them together, let the pudding set, and blend. That's it! It's a beautiful thing.
What is chia seed pudding?
Chia seed pudding is a dish where you essentially soak chia seeds in liquid, and they expand into a gelatinous substance. When combined with cocoa powder, maple syrup, and oat milk, it tastes exactly like peanut butter chocolate pudding!
Why you'll love it!
Perfect for meal prep. Make a large batch to keep in the fridge for the week!
A fun twist on chia seed pudding! You'll love the texture of blended chia seed pudding, it's creamy and delish.
Packs all the nutrition of traditional chia seed pudding.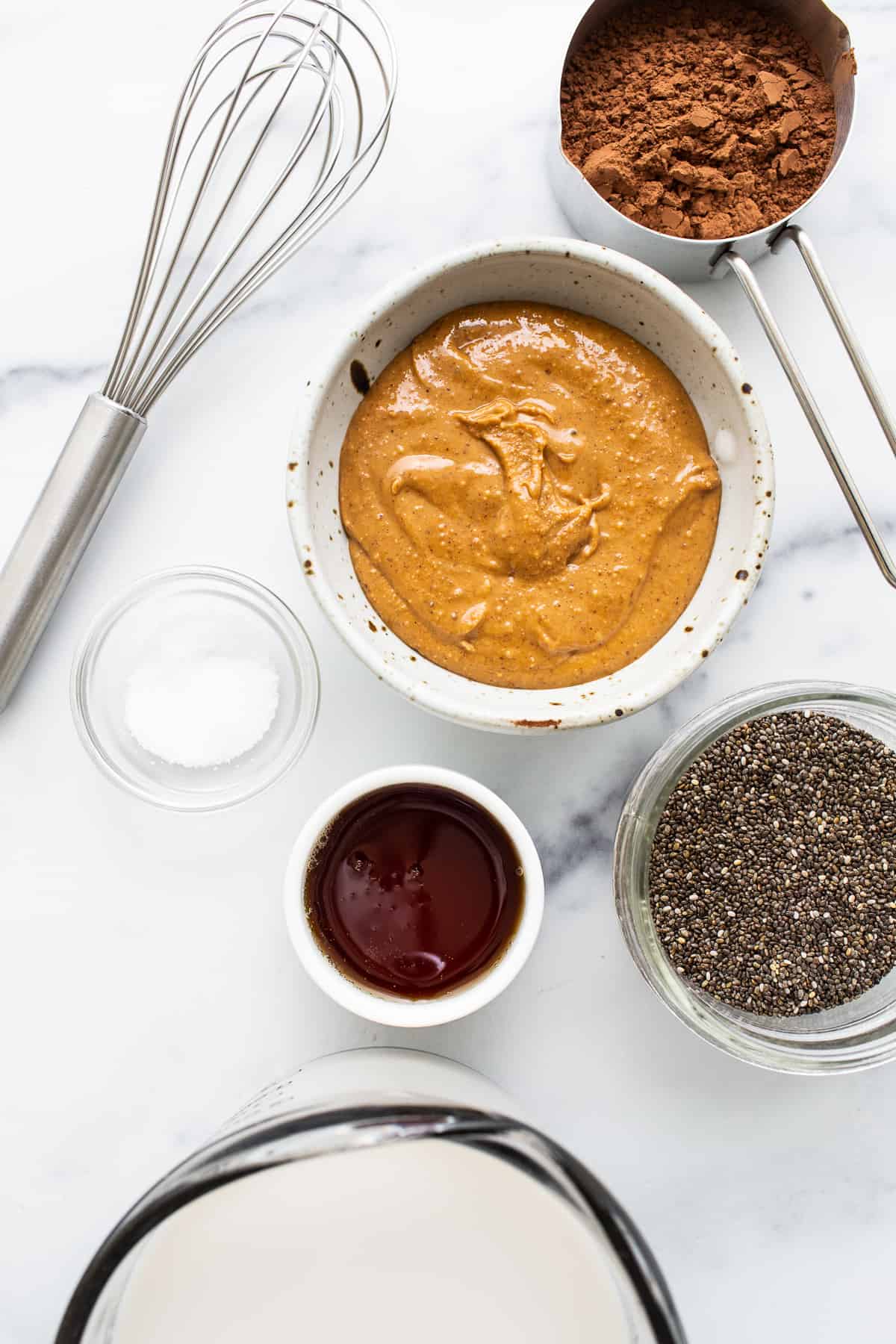 Health Benefits of Chia Seeds
Chia seeds are one of our favorite nutrient dense ingredients for everything from oatmeal to energy balls.
Facts about CHIA SEEds
Complete protein
Packed with healthy omega-3 fatty acids
High protein and fiber
Great source of calcium
Rich in antioxidants
Helps you poop!
CHIA SEEDS NUTRITION
Chia seeds are gluten-free, vegan, paleo, and dairy-free. Furthermore, their nutrition profile is pretty stellar, too! Per 2 tablespoons:
139 calories
4g protein
9g total fat
12g carbs
11g fiber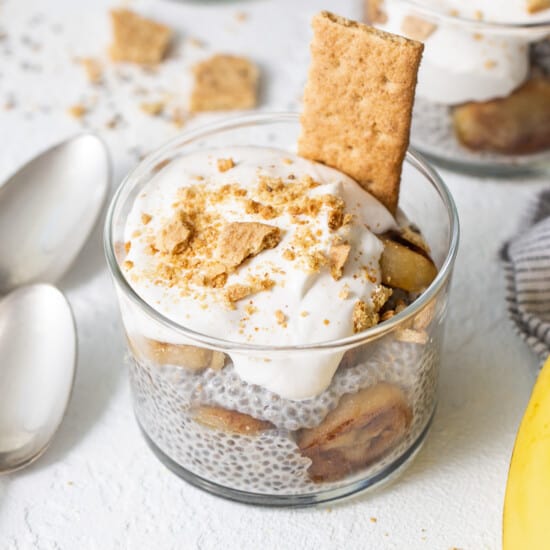 try it!
Banana Cream Pie Chia Seed Pudding
Try our banana cream pie chia seed pudding — you'll love this flavor combo!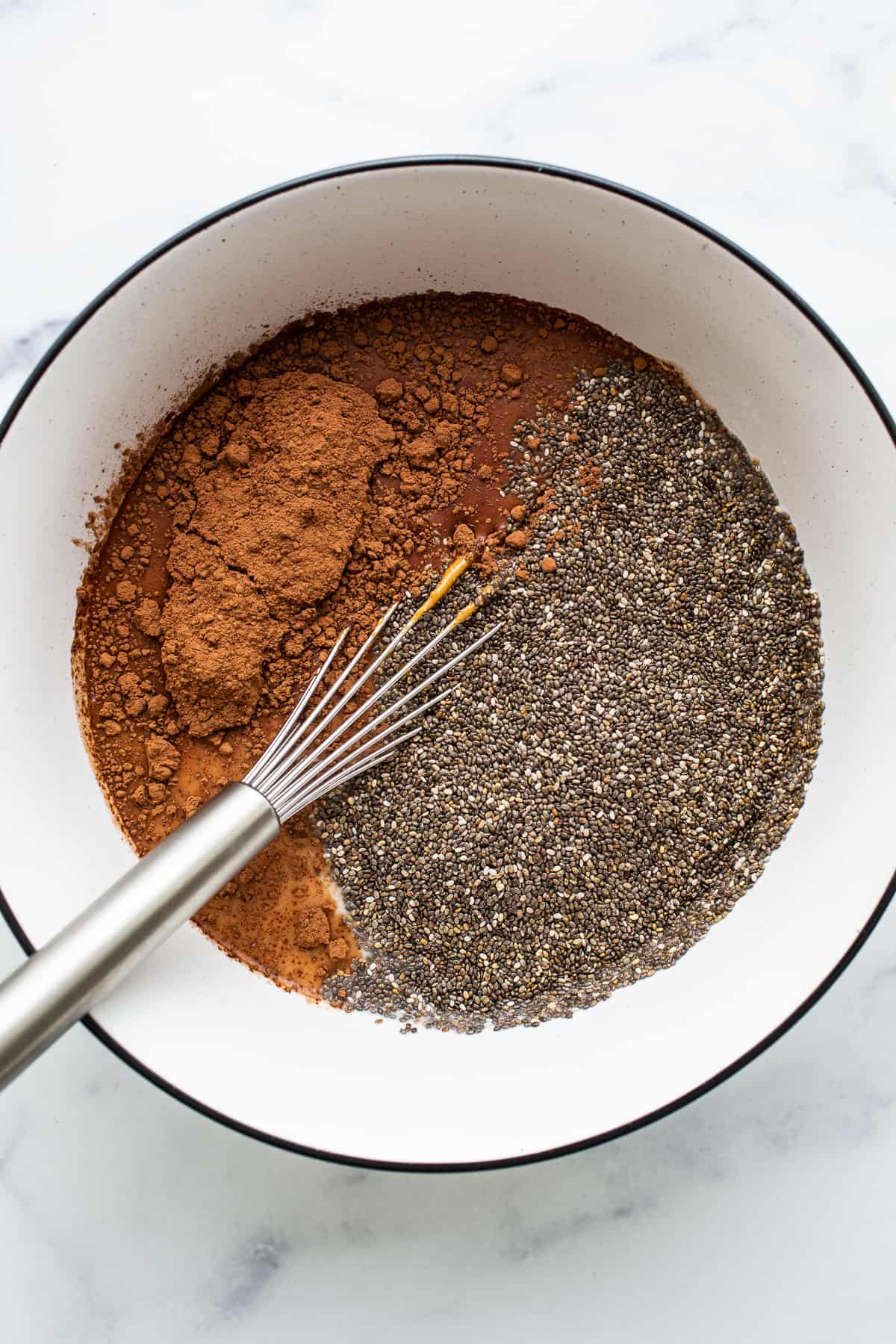 Peanut Butter Chocolate Chia Pudding Ingredients
Peanut butter: It goes without saying that peanut butter and chocolate make an incredible pair in many sweet treats. This chia seed pudding is no different!
Oat milk: we prefer unsweetened, plain oat milk for this delicious recipe, but you can use any kind of milk or liquid you want. Coconut milk, almond milk, soy milk, cow's milk, etc., work just as great.
Maple syrup: maple syrup compliments the cocoa powder in so many ways. I love how warm and nutty maple syrup is! Feel free to use honey or agave, or any other liquid sweetener.
Cocoa powder: This recipe calls for unsweetened cocoa powder. You can also use dark cocoa powder or cacao powder, but you may need to use more maple syrup to offset the bitterness.
Chia seeds: any kind of chia seeds work. The most common chia seeds you can find are black and white chia seeds. We've used both! Our #1 tip is to make sure your chia seeds are as fresh as possible and not expired, or they will not expand.
Salt: a pinch of salt makes all the sweet ingredients of this chia pudding even sweeter.
#1 chia seed pudding tip!
Our #1 tip is to make sure your chia seeds are as fresh as possible and NOT expired. If you use old/expired chia seeds, they will not expand properly. We're speaking from experience over here!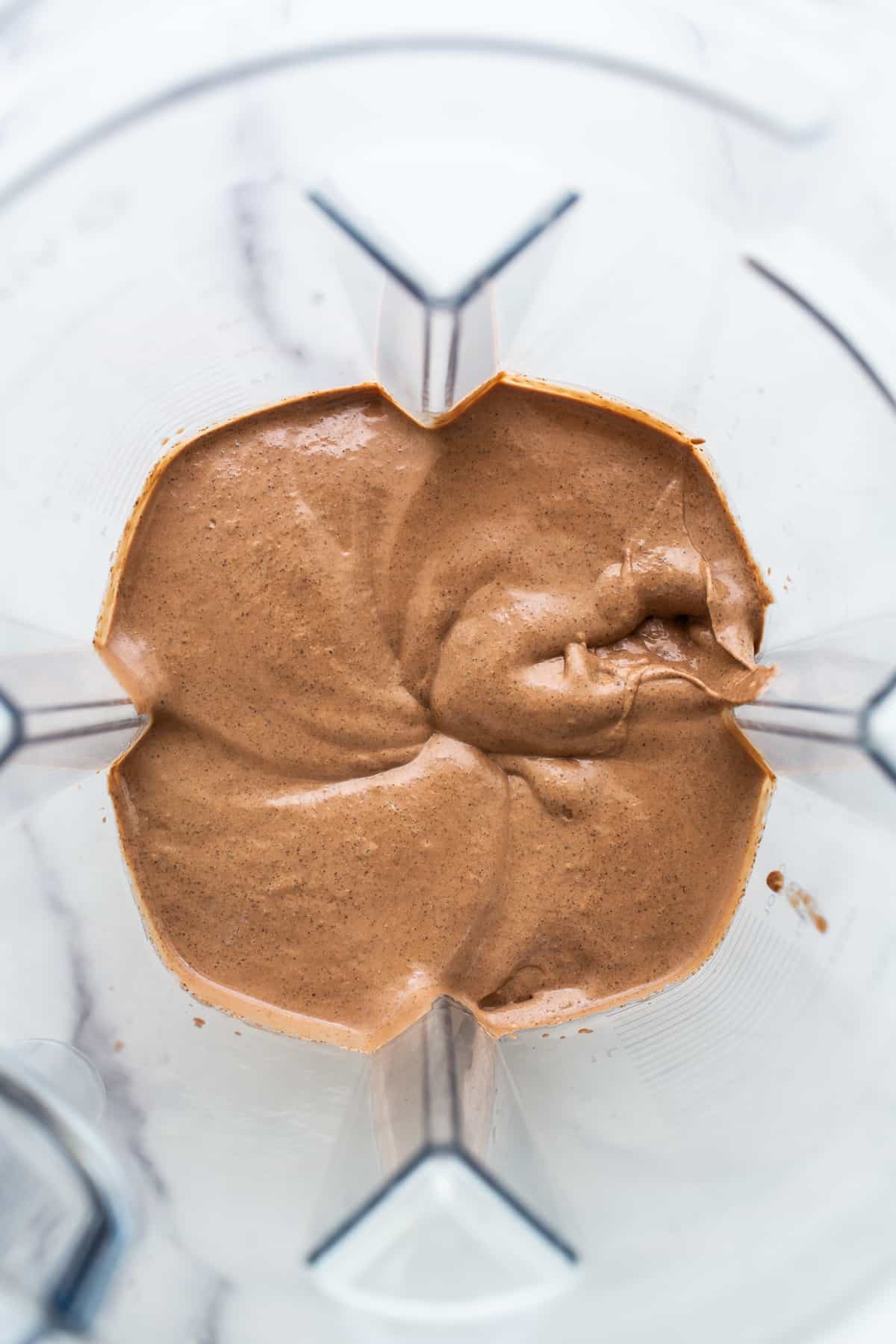 How to Make Blended Peanut Butter Chocolate Chia Seed Pudding
MIX INGREDIENTS
Add the peanut butter, oat milk, and maple syrup to a bowl and stir all of the ingredients together until the mixture is homogeneous. 
Then, add the cocoa powder, chia seeds, and salt to the mixture and stir until combined. 
COVER + SET
Next, cover the chia seed mixture and refrigerate it for at least 4 hours or overnight for the best results. 
BLEND 
Once the pudding has set and is a pudding-like texture, transfer the chia seed mixture to a high-speed blender and blend the mixture until it's a thick and creamy consistency. 
SERVE + ENJOY
Serve immediately with your favorite toppings, or store the chia seed pudding in the refrigerator until ready to serve. Enjoy your wonderful pudding!
Topping Ideas
Although this recipe tastes great on its own, why not enhance the flavor of your chocolate peanut butter chia seed pudding with some delicious toppings? We love:
Fresh fruit: berries, strawberries, banana slices, raspberries, apples
Nuts: almonds, walnuts, peanuts
Granola
Oats
Chocolate chips
Coconut cream
Greek yogurt
Not only can you top your chocolate chia seed pudding with any of the above, but you can also stir it right in.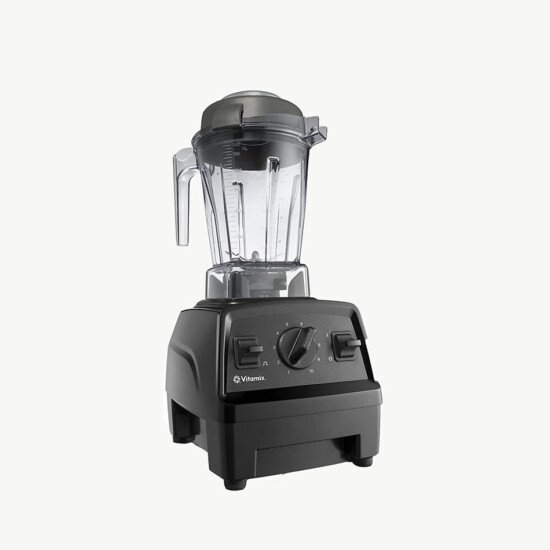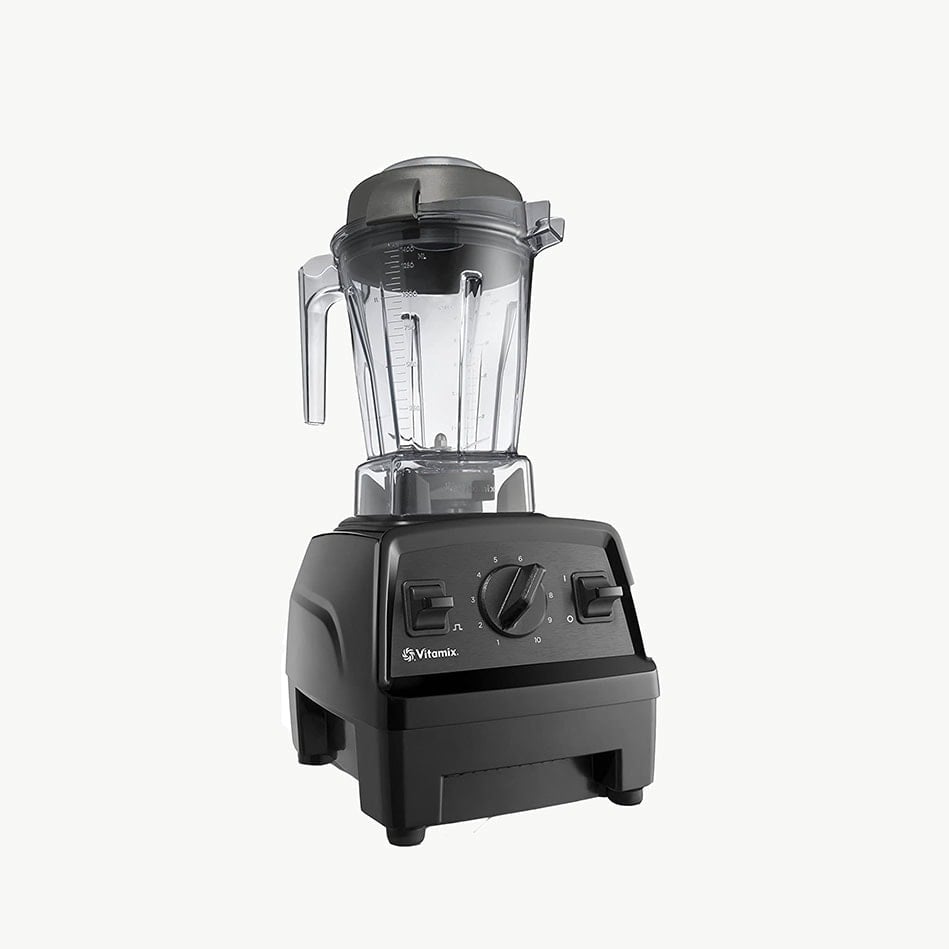 Our Favorite
Blender
Looking to upgrade your blender? Check out our favorite Vitamix Blender. It's our favorite high-speed blender perfect for making smoothies, soups, and nut butter.
Top Tips
Use a high speed blender: to get the super creamy texture you're looking for in this blended chia seed pudding, you'll want to make sure you use a high-speed blender.
Serve immediately or store for later: feel free to eat your blended chia seed pudding immediately, or store it in single serve containers for later. Such a great meal prep recipe!
Get creative with your toppings: chocolate and peanut butter pair well with SO many toppings. Don't have raspberries on hand? Strawberries are great!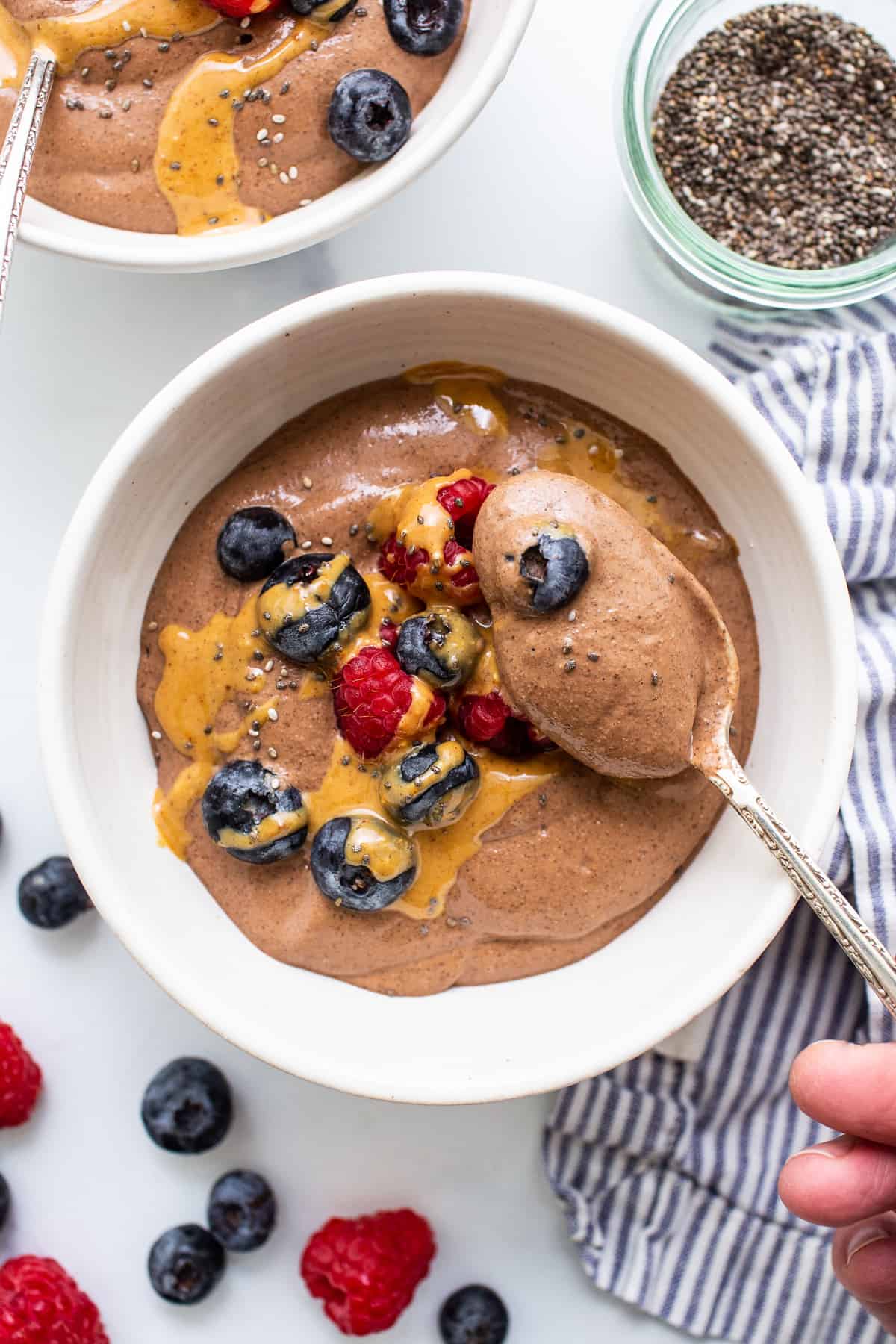 FAQs
Are peanut butter and chia seeds good for you?
Peanuts and chia seeds are both rich in nutrients. Chia seeds are high in protein and fiber and are a good source of calcium, vitamins, and minerals like iron, magnesium, and zinc while peanuts are high in protein and potassium and are a good source of iron, calcium, magnesium, and vitamin B6.
What does chia seed pudding taste like?
Chia seed pudding is creamy and has a slightly seedy, gelatinous texture. As a result, it's the perfect neutral base for adding various sweet flavors. In other words, the taste of your pudding will ultimately depend on what ingredients you add to it.
Why didn't my chia seeds turn into pudding?
Chia pudding that doesn't thicken is due to either stale chia seeds or poor mixing. Next time you make chia seed pudding, check the date on your chia seeds and thoroughly stir your ingredients together.
Storage
Store your chia seed pudding in an airtight container (like a mason jar) in the refrigerator for up to 5 days.
Chia seed pudding is a great dessert or snack to double or triple because it lasts for so long in the fridge.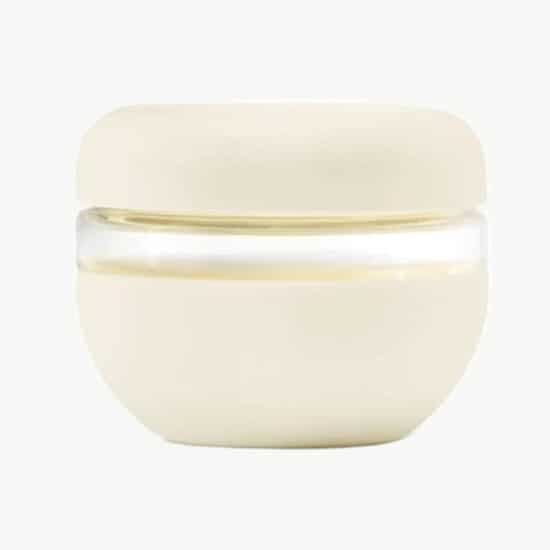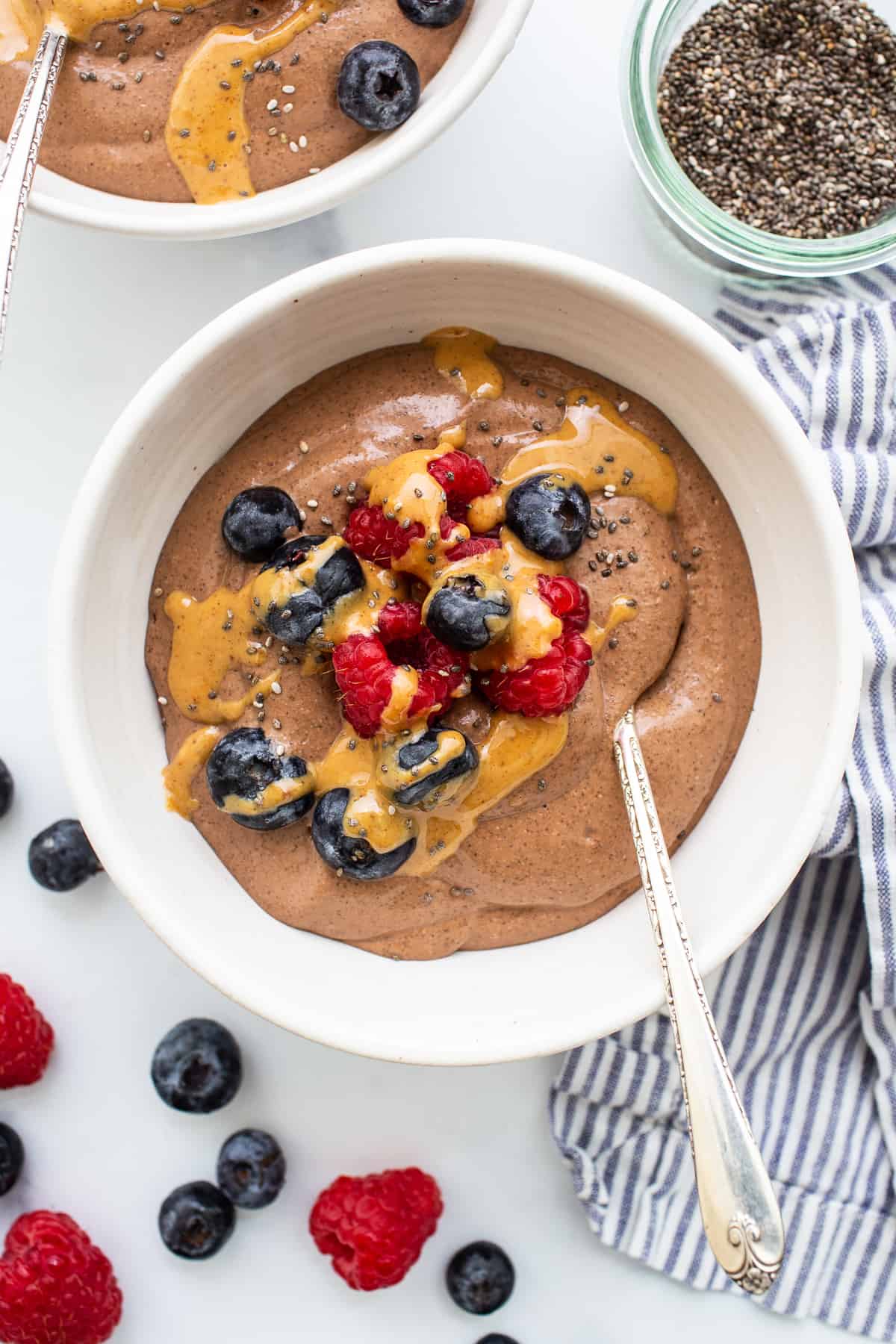 Photography: photos taken in this post are by Ashley McGlaughlin from The Edible Perspective.