Intel and AMD have launched their new generation of CPUs into the wild. With these releases, come a slew of new motherboard choices. There are many familiar faces from past generations, loaded up with the latest tech like DDR5 and PCIe Gen 5. 
For the last several months we've been painstakingly going over these motherboards with a fine-tooth comb: What features do they offer for everyday gamers? How good is the build quality and design? How good is the performance offered? These considerations come together to create the intrinsic value offered by each motherboard, and to answer the all-important question: "Is this motherboard worth it?" 
Each motherboard brings with it a nuanced experience: from opening the box, to holding it in your hands, to updating drivers, and to finally using it for gaming. 
We'll also make a big deal out of pricing, because it's a vital step in choosing a motherboard. We won't sugar coat it: Motherboard prices have gone up on average with the new generation, so we want to make sure you're getting value for your dollar. From expensive enthusiast motherboards, to a more affordable ones—we've got you covered. 
In this gaming motherboard roundup, we're going to cover premium options, midrange options, and more affordable options. (Truly "budget" motherboard options will be for a future roundup, as AMD is still releasing more affordable options to compete with Intel, and Intel has more coming as well.)
Best gaming motherboards for Intel
Pros
Great for both gamers and content creators 
Excellent I/O, M.2 drive options, and USB ports
Attractive design and robust build quality
Cons
10GbE networking would be welcomed
Gamer-only PC builds may be better off with the cheaper Strix models
If you're after a premium motherboard for your Intel 13th-generation CPU, the Asus ROG Z790 is one of the best choices on the market. The Intel i9 13900K makes an excellent pairing here, with twin 20+1 power stages offering overkill performance.
Packing DDR5, PCIe Gen 5, and loads of USB ports, it has plenty of I/O, too. M.2 drive slots are plenty—with three onboard, plus an included ROG M.2 PCIe card that lets you add two more. Other standout features include Thunderbolt 4, Wi-Fi 6E, 2.5Gb networking, and more "heatsinks" than you count.
Packaging is nicely done, with a premium box and accessory inclusion to match the $629.99 MSRP. The motherboard is also very well-built and feels substantial in the hands, with a weighty heft.
The ROG, or "Republic of Gamers," branding has been popular with enthusiast gamers. Part of the reason is the gamer-centric design, which this motherboard has in spades. Like RGB? You'll be at home here, with a beautiful I/O area display. The rest of the motherboard is adorned with high-quality finishes and plenty of thermal "armor" covers, too. The VRM heatsinks look downright imposing—and do their job tremendously well.
With performance to match the aesthetics, gamers will find loads of overclocking features here too. A great BIOS, Clear CMOS, and an onboard power button all make your overclocking life easier!
This motherboard is no doubt amongst the more expensive, but for the enthusiast who doesn't mind spending a bit more to get some extra features and nicely done details, it offers value—with few compromises on aesthetics or performance.
Read our full
Asus ROG Maximus Z790 Hero review
2. MSI Z790 Edge WiFi DDR4 – Best midrange Intel gaming motherboard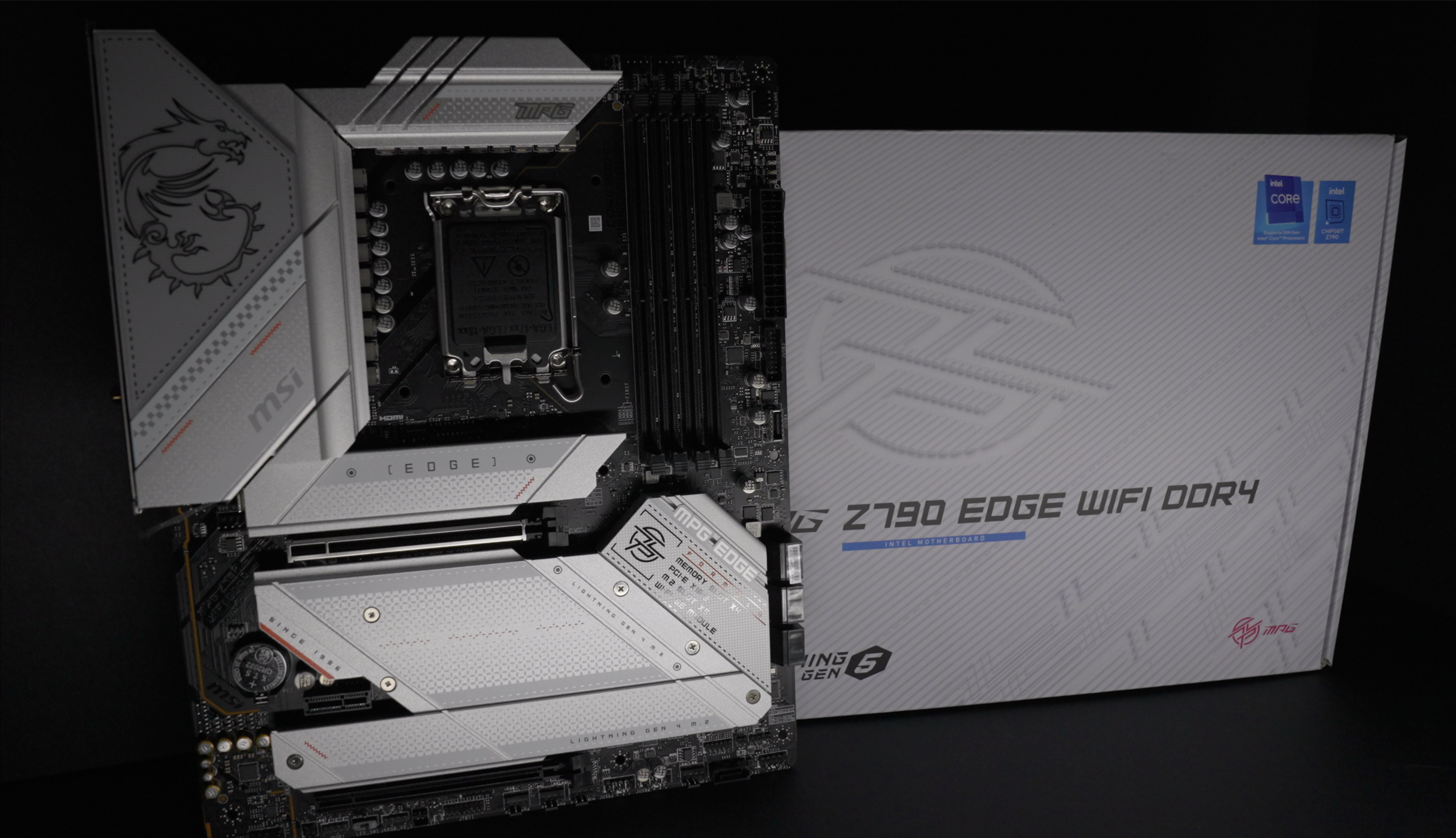 Pros
Good set of features for both gamers and content creators 
Plenty of I/O, five M.2 slots, and 10 USB ports with 20Gb/s USB
Beautiful silver design, plus integrated I/O shield
Cons
$369 MSRP isn't terrible, but DDR4 should be cheaper
No upgrade path after 13th-gen Intel, as Z790 is the last before a chipset change
You'll get some mighty bang for your buck in the midrange segment: enough features and aesthetics to impress, but at a price you can stomach. 
The MSI Edge WiFi Z790 is a prime example. Besides boasting a healthy feature set, the board comes in either DDR5 or DDR4 versions, giving you even more flexibility in your budget, should you choose to stick with memory you already have or to save on purchasing last-gen modules. (We'd go for the DDR5 version ourselves, as a means of future-proofing, but you can expect to pay about $30 extra for that support.)
Both versions support 12th-gen and 13th-gen Intel CPU—the 16+1+1 phase VRM can handle even the i9 13900K for gaming. However, a midrange CPU such as the 13600K or 13700K would make an excellent pairing here. You'll also get lots of I/O—with 10 USB ports, including fast 20Gb/s. Five M.2 slots and PCIe Gen 5 in the form of a 16x slot round out the offerings.
Aesthetics are king with this board—the white and silver design will be an elegant foundation for any build. The entire motherboard is covered with nice thermal armor and tasteful accents. The build quality is solid, to boot. 
With a price of $369, and the ability to pair with cheaper DDR4 and an older Intel 12th-gen CPU, there is great value here. While it doesn't have the fancy box or accouterments of more expensive motherboards, it's got the features you'll need at an excellent price range. 
3. MSI MAG Z790 Tomahawk WiFi DDR4 – Best bang-for-the-buck Intel gaming motherboard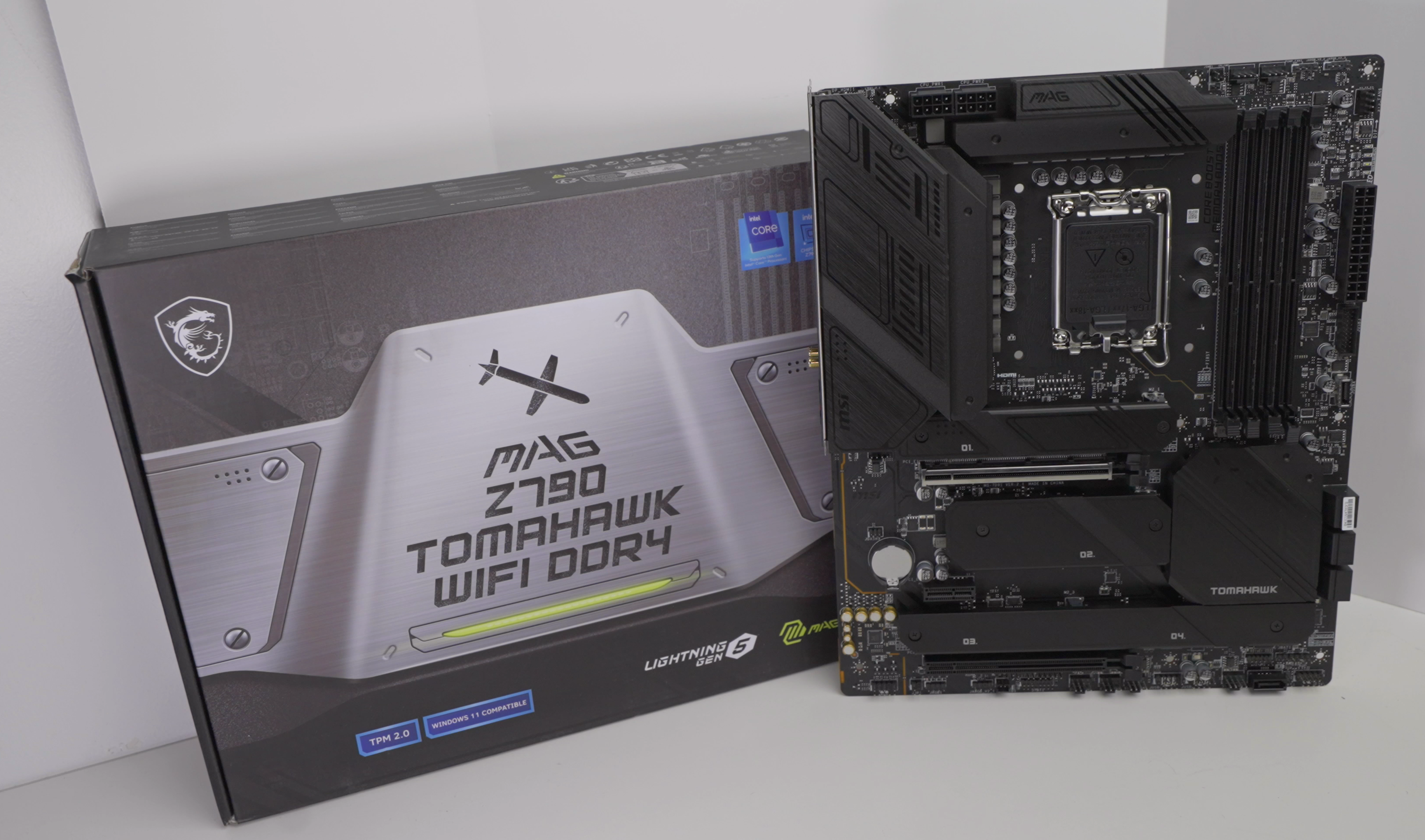 Pros
Great for both gamers and no-frills content creators 
Good offering of I/O, M.2 slots, and plenty of USB 
Edgy, but clean design
Cons
Gamers wanting more RGB flare will need to look elsewhere   
MSRP of $309 is fair, but we'd like to see this DDR4 version cheaper due to no DDR5 and more limited PCIe Gen 5
If you want to enjoy nearly the same next-generation performance in games as you would in much more expensive motherboards, the MSI MAG Z790 Tomahawk has you covered. Sure, it's not a premium $500-plus behemoth, but it has exactly the features you'll need to have a great experience. And sure, there are some cheaper options out there, but this board will give you loads of features for the price. 
As with the Edge WiFi Z790 above, opting for DDR4 helps cut the build costs considerably. Support for 12th- and 13th-gen Intel CPUs gives you lots of options and price flexibility You'll get the same 16x PCIe Gen 5 found on many more expensive motherboards, plus Wi-Fi 6E and 2.5Gb LAN. No skimping on M.2 slots here, either—you'll get a total of four PCIe Gen 4 slots! That's followed by 10 USB ports on the back, (20Gb/s) and even BIOS Flashback and Clear CMOS. All told, it should leave only the most demanding gamers needing more. 
Top it off with a clean, no-frills design, and you're most of the way there in terms of features compared to pricier options. The motherboard is basic in terms of RGB, but you do get RGB headers. You also get PWM fan headers and even great VRM performance, with a fancy-sounding 16+1+1 "Duet Rail Power System" that can handle even an i9 Intel CPU! 
In terms of value for what you're getting, it's a great package. You'll also have a significantly cheaper platform cost by combining the $309 MSRP, cheaper DDR4, and wide array of Intel CPUs to pair with. 
Read our full
MSI MAG Z790 Tomahawk WiFi DDR4 review
Best gaming motherboards for AMD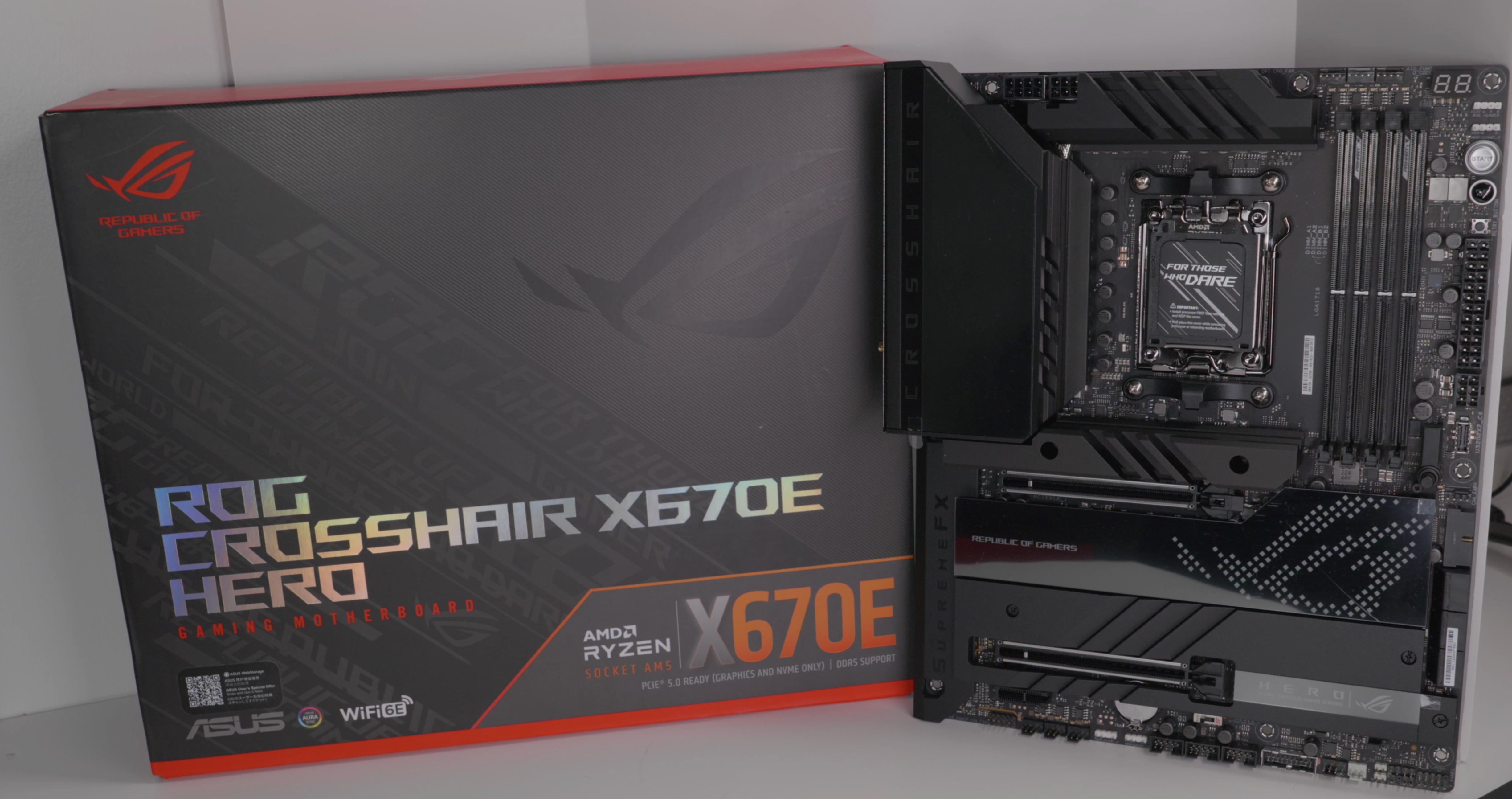 Pros
Well-rounded features for gamers and content creators
High build quality, premium feel 
Next-gen performance: VRMs, DDR5, PCIe Gen 5, USB4
Cons
Overall higher AM5 platform costs make this a premium experience
10GbE networking would be welcome at this level
AMD's new AM5 platform brings with it some mighty-fast CPUs such as the Ryzen 9 7950X. With this power, you'll need a premium motherboard to pair with it: Enter the Asus ROG X670E Hero. Repeating much of what makes the Hero an enthusiast favorite on Intel and past AMD X570, it's back with even more features. 
DDR5, PCIe Gen 5, all there—and these PCIe lanes are very expansive on the X670E chipset. Not only will you get two PCIe Gen 5 16x slots, but you'll also get four onboard M.2 NVMe slots. Two of them are PCIe Gen 5, and two are Gen 4—now that's storage performance! Wait, there's more! With the included accessory PCIe Gen 5 card, you can add an additional NVMe drive. 
Nestled amongst the 12 rear USB ports, you'll find USB4, which has similar 40Gb/s speeds to Thunderbolt 4. The usual Wi-Fi 6E and Intel 2.5Gb LAN are here too, plus a few nice usability features: Asus Q-Release and Q-Latch, for the PCIe slot and M.2 slots, respectively. These make swapping out components effortless. 
But you want a ROG Hero because of the aesthetics and RGB, right? With a resoundingly weighty build quality, the overall design is also gorgeous. There are glossy and matte finishes throughout, but your eye will quickly be drawn to the showy RGB instead. Nicely done—and best of all, it completely fits the design and makes for a premium experience. 
With new Ryzen CPUs such as the 7950X3D models coming out, those seeking maximum performance will do well with the ROG Hero, which has the 18+2 teamed power stages to handle blazingly fast CPUs.
The combination of excellent features and mouth watering eye-candy certainly justifies its $699 MSRP. This board is for enthusiast gamers wanting a premium experience. With DDR5 getting cheaper, and more Ryzen CPU models being released, there are more opportunities for overall lower platform costs, too. 
Read our full
Asus ROG Crosshair X670E Hero review
2. Gigabyte B650E Aorus Master – Best midrange AMD gaming motherboard
Pros
New tech is here—DDR5, PCIe Gen 5 
Plenty of M.2 slots, USB ports, and network connectivity
Great VRM performance for any Ryzen 7000 CPU
AM5 strong future upgradability
Great build quality and value overall
Cons
4 SATA ports may be a limit to some (a B650E limitation) 
Missing faster USB port is 3.2 Gen 2 20Gb/s
M.2 PCIe Gen 5 may limit GPU speed to 8x if all populated
AMD gives us various options with AM5—such as B650E, which has slightly reduced functionality compared to X670E. The price is also reduced—and in our opinion, you'll still get most of the goodies. It just has a few less PCIe Gen 5 lanes, USB ports, and SATA ports. Keep in mind that AM5 only gives you access to Ryzen 7000 CPUs, since it's a completely new platform. (Sorry, Ryzen 5000 fans, you'll have to stick to X570 Or B550)
The Gigabyte B650E Aorus Master brings its $349 MSRP to the Ryzen AM5 lineup. While it only has four PCIe Gen 5 lanes, it's more than you'll get with B650—thanks to the "E" designator. They're used optimally here, with four onboard M.2 NVMe slots. SATA ports top out at four—but given the generous NVMe storage, you'll likely never saturate these options for most gaming builds. 
The I/O doesn't stop there, with a whopping 13 USB ports on the back, up to 10Gb/s USB Gen 2. While you won't get USB4, you'd have to pay more for the privilege. Other great options include Wi-Fi 6E, 2.5Gb LAN, and HDMI-out for the integrate iGPU. 
The Gigabyte B650E Aorus Master still looks premium—even if it's cheaper than its X670E brethren. With a straightforward monochromatic design, it has the right nuanced touches just in the right places. 
A lot of those visual niceties also translate to performance—with the impressive VRM heatsinks having some real presence. You'll also have thermal pad "armor" covering the NVMe slots, for functional aesthetics. 16+2+2 Digital VRM not only looks great, but it can handle the glorious performance of even the Ryzen 9 CPUs. 
Certainly, gamers who chose the B650E Aorus Master won't feel like they're missing anything. It's a premium design with a fair price for next generation technology. 
Read our full
Gigabyte B650E Aorus Master review
3. MSI MAG B650 Tomahawk WiFi – Best bang-for-the-buck AMD gaming motherboard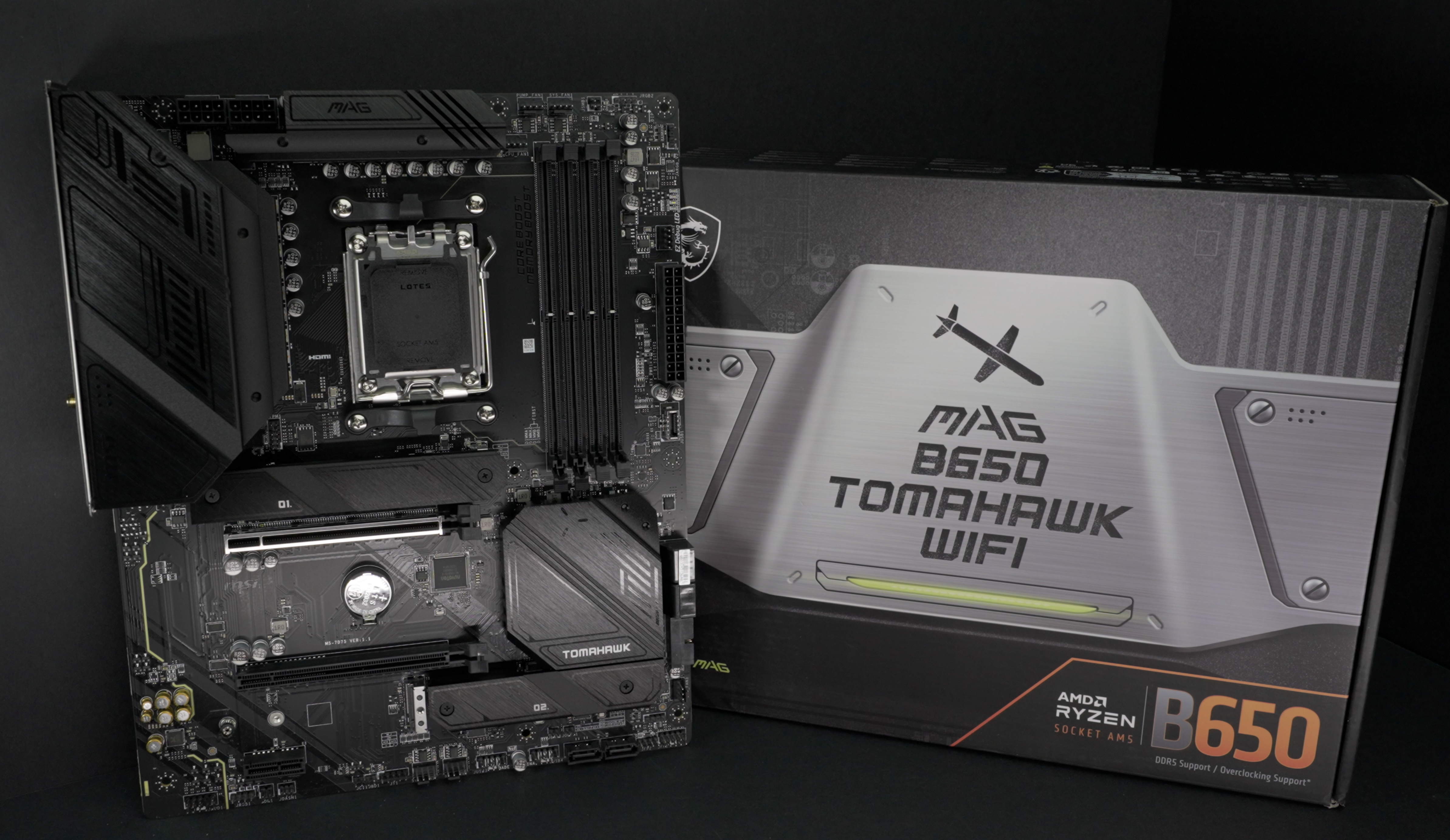 Pros
Great set of features for the $260 price 
Three M.2 slots, 20Gb/s USB, PCIe Gen 4 
Good networking and audio options
Stealth design looks great, plus Integrated I/O shield and screwless M.2 
Cons
Would be great to see M.2 slot covers on all areas
Price means some limitations (no PCIe Gen 5) don't take full advantage of AM5
While the launch of AM5 initially brought with it a bevy of pricier motherboards, we're starting to see more affordable options, too. We'll refrain from calling these "budget," but they do represent a great bang-for-buck value.
The MSI MAG B650 Tomahawk enters the fray at $239 MSRP and packing the B650 chipset. You're not paying for expensive overhead features here that you may never use, such as those found on X670E. Instead, you're getting just the right compliment of specs that will keep your gaming build humming along.
It's all DDR5 here—so while you can't save money by using DDR4, you're at least on the same level ground as the more expensive motherboards for capabilities. You'll also get the same Wi-Fi 6E and 2.5Gb LAN as on more expensive motherboards. Add to that three PCIe Gen 4 NVMe M.2 slots, but no PCIe Gen 5. That's okay—the tradeoff is worth it since nothing can saturate PCIe Gen 5 slots currently.
The board's USB is no slouch, with up to 20Gb/s Type C available. Performance continues with the 14+2+1 VRM power system, perfectly capable of taming the Ryzen CPUs— although the Ryzen 5 and 7 pair best with this value-oriented offering.
How about aesthetics? They're minimalist, in a good way. Attractive design with stealthy dark colors abounds. Granted, you don't get the RGB party or overkill armor plates on the PCIe area of more expensive motherboards, but that's fine. The VRM heatsinks are more than sufficient and look great. The understated look has the bonus of fitting almost any build's design aesthetic.
Overall, it's a great performer with just the right features—without skimping on important elements. Best of all, it keeps the price significantly lower than other options.
Read our full
MSI MAG B650 Tomahawk WiFi review
What to look for in a gaming motherboard
When you're choosing your motherboard for your gaming rig, there are many important things to consider. We've narrowed down the most vital and essential for your purchase. 
Choose your platform: Intel or AMD 
The first item on your list should be whether you're going with team Blue (Intel), or team Red (AMD). For example, do you want the most future-proof motherboard available as of today for CPU upgrades? Then AMD is your best bet, because AM5 just launched and should have more support than Intel's older 13th-gen platform. 
Or perhaps you'd prefer to save a few bucks and are okay with either 12th- or 13th-gen Intel CPUs for a while. 
Know the hardware you want to use in advance
Plan out the hardware you plan to use on your motherboard, to make sure it will be sufficient. For example, only Intel currently supports both DDR4 and DDR5 RAM, if you'd like to still use the former. 
Also be aware of certain PCIe lane and bandwidth limitations. For example, if you're planning to use three or more NVMe PCIe Gen 4 drives, you may want the higher-end AMD X670E platform or Intel Z790 platform. These typically will give you more PCIe lanes. If you're fine with just a couple, the cheaper B650 AMD motherboards may work just fine. 
You'll also want to look closely at CPU-cooler compatibility; some newer motherboards may need adapters to work with older brackets. The same holds true for motherboard size —ATX being the standard for most. If you have a small form factor case, you'll likely need Mini-ITX or Micro-ATX to fit. 
Know the basic specs and what you're likely to use 
While gamers may not be as demanding as content creators who may require features like Thunderbolt and 10Gbe networking, there are still essential basic features you should be aware of. 
If you plan to use Wi-Fi, make sure your motherboard comes equipped with it—not all of them do. If you plan to set up a beefy flight- or racing-simulation rig, you'll want to make sure to have plenty of USB ports, for example. 
Price to performance matters—pay attention to the details
Motherboards can have so many variations that it's often confusing to the consumer, so pay attention to the details and features. If your particular use case doesn't require fancy features like USB4 or 10Gb networking, you can often save large amounts of money foregoing them—and get most of the performance otherwise. 
How we evaluate gaming motherboards
We take a systematic approach in every motherboard evaluation, with a careful eye on the following:
Specs and features
The nuts and bolts of each motherboard: For the price, does it have the requisite features that a gamer would need and appreciate, and how are those features implemented in the user experience? 
Design
Are the visual aesthetics appealing, and do they represent the board's intended purpose? Is it well laid-out, and does it incorporate PC build-friendly design considerations? 
Performance
How well does it handle the latest CPUs and tech like DDR5? Does it have fast USB, PCIe lanes, and other I/O? Do BIOS updates address important issues in a timely manner?
Value
Given everything the motherboard offers for its asking price, does it provide good value for the gamer and an overall good experience?