At a glance
Expert's Rating
Pros
Attractive, durable build quality
Compact stand with 20 degree of tilt
Extremely simple to use
Cons
Only one USB-C input
Image-quality menu is difficult to use
Mediocre image quality
Our Verdict
The AOC I1601FWUX won't wow you with its image quality, but it feels more premium than the price tag suggests.
The AOC I1601FWUX is a portable 15.6-inch monitor at a rock-bottom price. It's slim enough to fit in a backpack and is powered by a single USB-C cable, so it's a good match with a USB-C laptop. Just be mindful: This is a budget display better suited to basic productivity than entertainment or content creation.
Note: See our roundup of the best monitors to learn about competing products, what to look for in a monitor, and buying recommendations.
AOC I1601FWUX: The specs
AOC's I1601FWUX is similar to most in the budget portable-monitor category. It has a 15.6-inch IPS display with 1080p resolution and a 60Hz refresh rate. 
Display size: 15.6-inch
Native resolution: 1920×1080
Panel type: IPS monitor
Refresh rate: 60Hz
Adaptive sync: None
HDR: None
Ports: 1x USB-C with DisplayPort Alternate Mode
Stand adjustment: Tent, rotation
VESA mount: None
Speakers: None
Price: $139.99
Both power and video come over a single USB-C cable with DisplayPort Alternate Mode. The monitor lacks USB-A, HDMI, or DisplayPort input, so it's best paired with a laptop or desktop that has USB-C out. 
AOC I1601FWUX: Design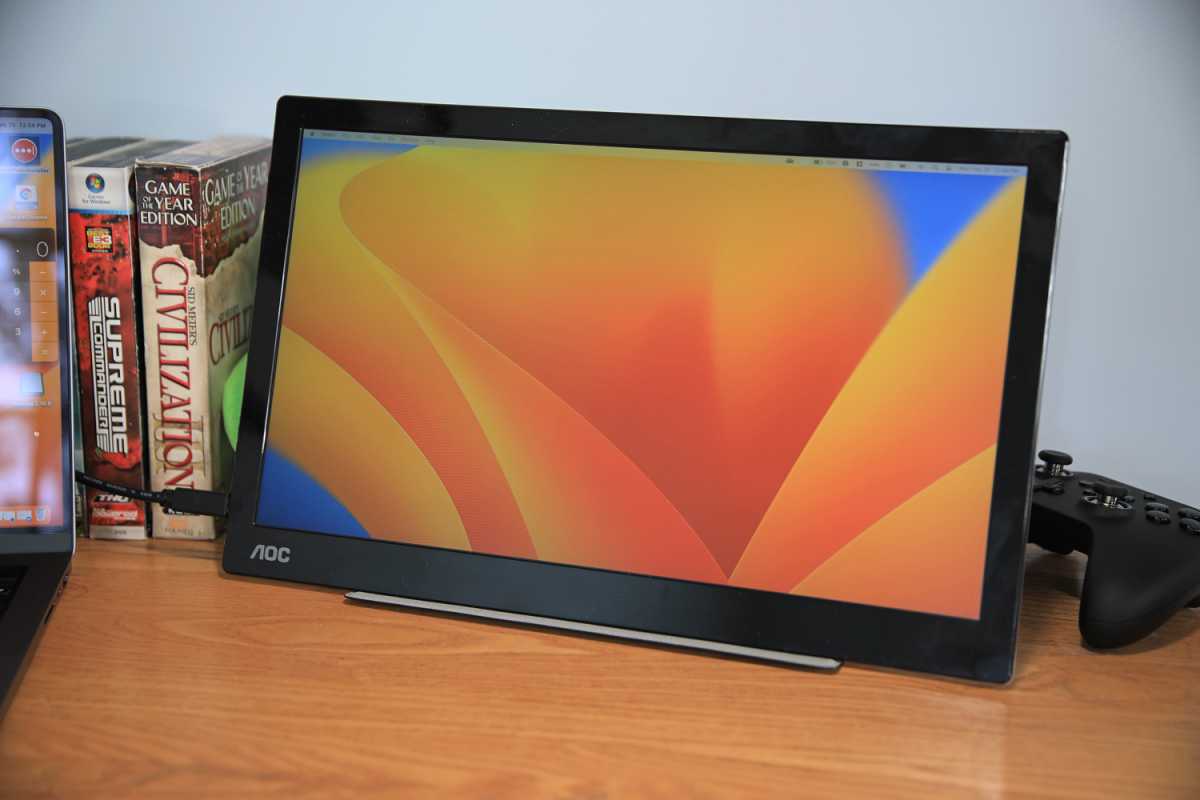 Matt Smith
The AOC I1601FWUX's rear panel has a silver metal finish that looks attractive, delivering a more premium look than expected for the price. However, the front bezels are made of black plastic, which detracts from the look of the device. 
Build quality is solid. The rear panel doesn't easily flex and only allows for a few degrees of movement. There's minimal flex in the display panel, too, which provides hope that dropping an item on it wouldn't cause too much damage. I'd still recommend buying a sleeve for the display, as any display is prone to scratches when left unprotected.
A detachable kickstand is included with the monitor and works magnetically to support the device in either a landscape or portrait orientation. The stand is very stable in portrait orientation, though using it this way means the USB-C power cable awkwardly juts out the "top" of the display.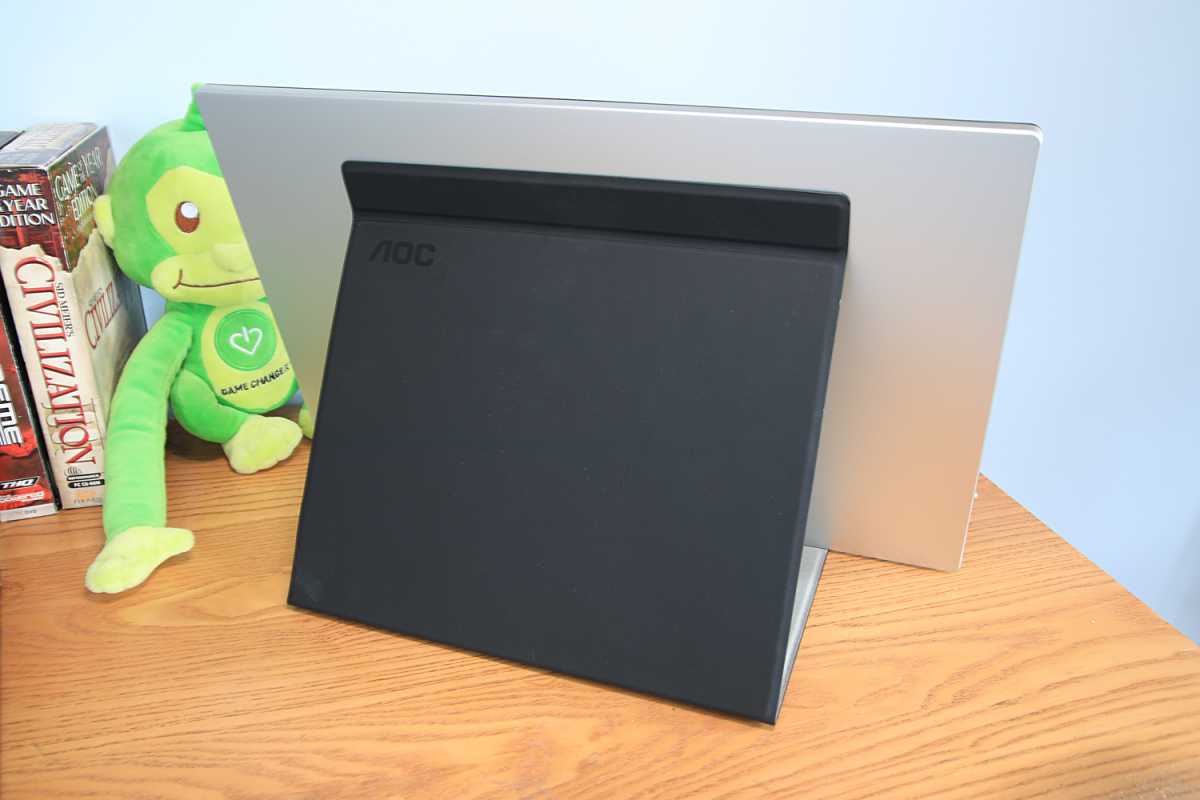 Matt Smith
The stand offers about 20 degrees of adjustment for tilt, which isn't much, but a perk in this price range. Some competitors don't adjust for tilt or, if they do, allow just a couple fixed positions. The AOC's stand is designed to allow tilt adjustment across the entire range of tilt supported.
The stand doesn't adjust for height, and a VESA mount is not an option. This is true for most portable monitors, however—Viewsonic's ColorPro VP16 OLED is an exception, but also more than twice the price. 
The AOC I1601FWUX has a single USB-C input that supports DisplayPort Alternate mode. This bundles USB-C, DisplayPort connectivity, and USB Power Delivery, offering a one-cable connection. That's a useful advantage over older portable monitors, which often have separate video and power inputs.
This is a blessing and a curse, as the monitor doesn't come with any other ports, such as HDMI or DisplayPort. It's USB-C or bust. The single port also means the monitor doesn't work as a USB-C hub and can't connect to multiple inputs for easy switching between devices. Most of AOC's competitors offer additional input options besides USB-C. 
Matt Smith
The monitor has just one button: power. That's it. Despite this, the monitor offers a few basic image quality adjustments (such as brightness and contrast). The menu is opened with a quick press of the power button when the power is on, and additional quick presses move through the options. It's a bit awkward, but not unusual for a monitor in this price range—and, given the lack of options available, there's rarely a need to access the menu.
AOC I1601FWUX: SDR Image Quality
Let's be clear: The AOC I1601FWUX is a budget monitor, and that impacts its performance. Unlike the Viewsonic VP16-OLED, which is several times more expensive, the AOC I1601FWUX is built to provide basic productivity at a cut-rate price.
The monitor reached a maximum brightness of 228 nits, which is a hair above the promised peak brightness of 220 nits. That's a modest level of brightness for a modern monitor, though typical at this price point.
Fortunately, the I1601FWUX has a matte display coat that reduces glare and makes the most of the brightness available. The monitor is usable, though not brilliant, in most rooms with artificial lighting. Sunlit windows can overwhelm it, though, so it's an iffy choice for travelers looking to use it outdoors or in offices with big windows lacking blinds or shades.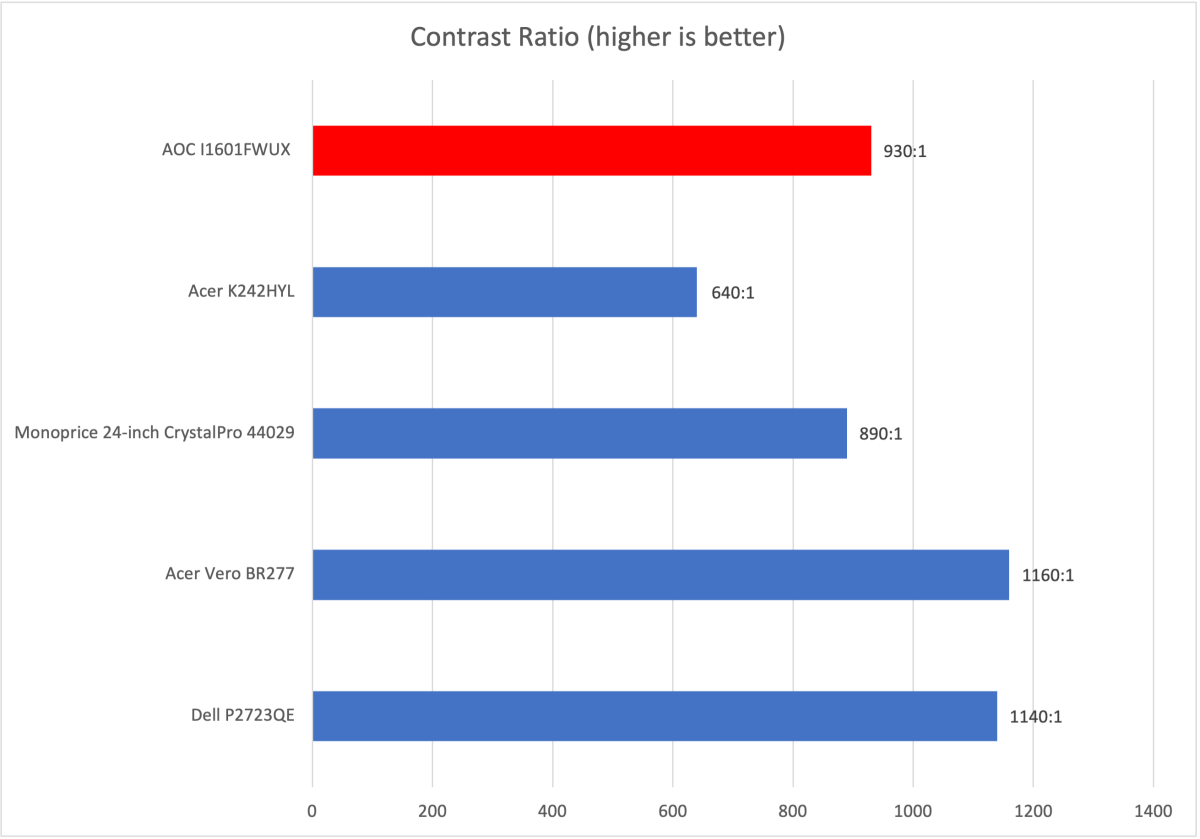 Matt Smith
The contrast ratio comes in at a respectable 930:1. Contrast is far from exceptional, but also much better than the worst: in short, it's average. That's a solid result for a budget monitor, and it provides a reasonable sense of depth and dimensionality. My review unit's uniformity was good, too, without large blotches or variances in brightness that might cause the contrast to appear lower across portions of the display.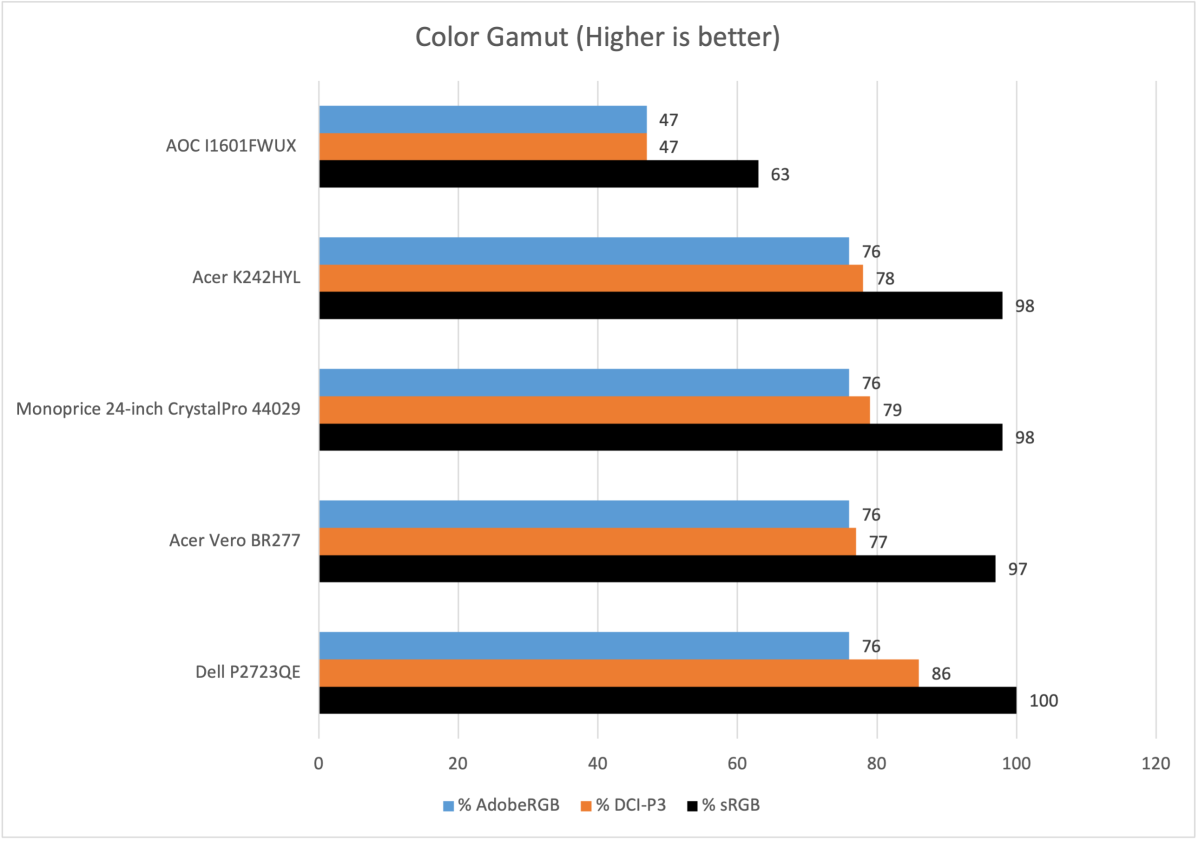 Matt Smith
Color gamut is where the I1601FWUX's budget focus is most obvious, as it covers just 63 percent of sRGB and 47 percent of DCI-P3. This level of color performance is relegated to only to the least expensive monitors and appears noticeably duller and more muted than most displays. It's fine for document editing or browsing the web but won't hold up in content creation and entertainment.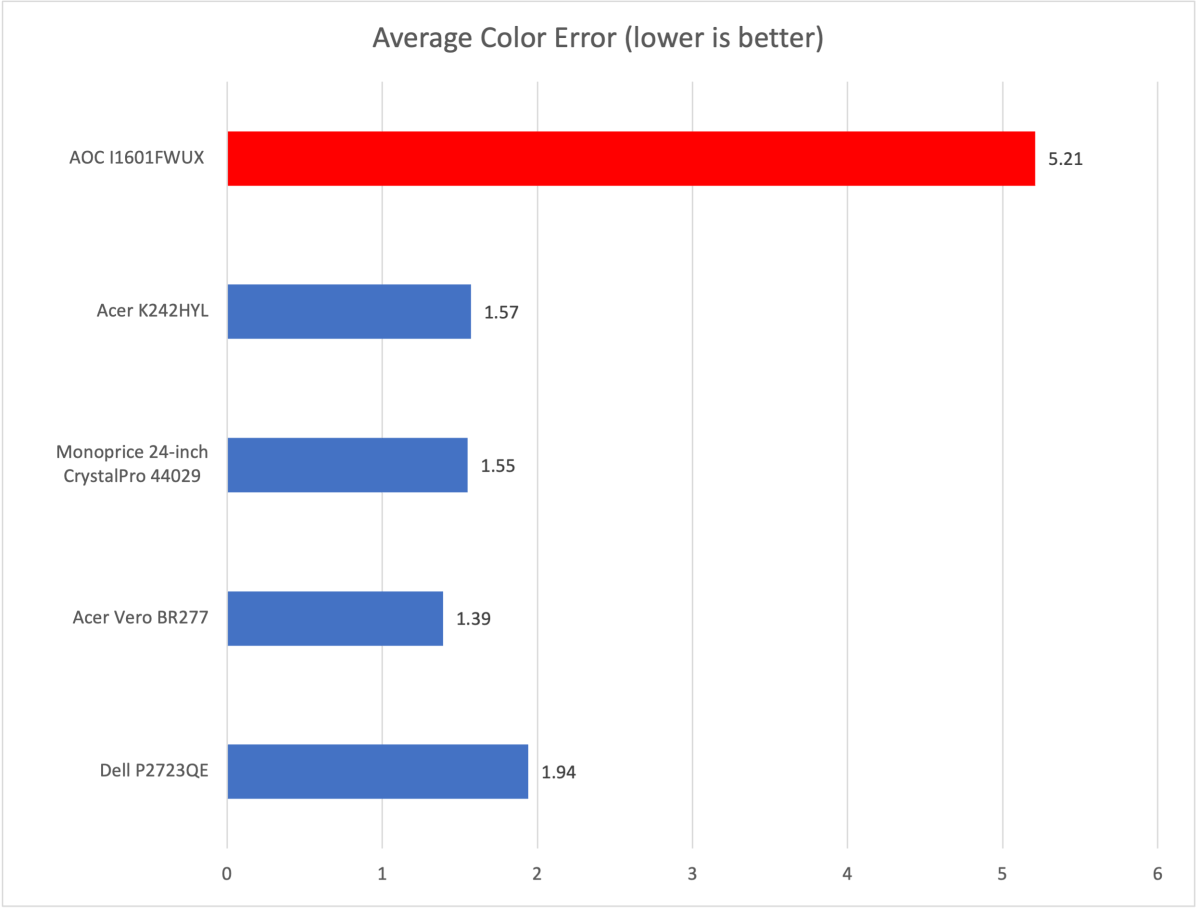 Matt Smith
The I1601FWUX disappoints in color accuracy, too, with a much higher color error than most monitors we've recently tested. I noticed that colors which should appear punchy and impactful instead shifted towards a more pastel look.
I noticed similar inaccuracies in the gamma performance, which came in at a gamma curve of 2.5. This is off the target of 2.2 and indicates that content will appear a bit darker than it should. I noticed this most in scenes where people wore dark clothing, which lacked texture that should be visible. Color temperature came in at 7400K, which is cooler than the target of 6500K. I noticed this most in skin tones, where warmer tones melted away to a flatter, more sterile appearance. 
While the I1601FWUX's color performance is unremarkable, it does look sharp. The 15.6-inch 1080p panel packs 141 pixels per inch. For comparison, that's much higher than a 27-inch 1440p monitor (109 ppi) and close to a 27-inch 4K monitor (163 ppi). Videos and games look crystal-clear and small fonts appear crisp.
It may seem like I don't have many kind words for the monitor's image quality, but the price must be remembered. Portable monitors sold below $150 can't afford to ensure precise factory quality control, so the I1601FWUX's performance is about what I expected. The good news is this: The monitor avoids any obvious, unexpected image woes, and its high sharpness makes it well-suited to the basic productivity tasks owners are likely to demand of it.
AOC I1601FWUX: HDR Image Quality
The AOC I1601FWUX doesn't support HDR. That's good news. A few monitors in the same price range claim HDR support, but don't be fooled—they offer little more than the ability to accept an HDR signal and don't offer a passable HDR experience. AOC's decision to keep HDR off the feature list is an honest, accurate representation of the monitor's capabilities. 
AOC I1601FWUX: Motion Performance
Gaming isn't a priority for the AOC I1601FWUX. It offers a standard 60Hz refresh rate and doesn't support adaptive sync. Still, it works well enough in a pinch.
Motion performance is fine for casual gaming. Ghosting is kept to a minimum and scenes are reasonably clear during fast camera pans or when scrolling across a map. Small details, like character names or floating hitpoint bars, seem blurry and obscured. This is typical for any 60Hz IPS monitor. 
AOC offers three Overdrive modes: Weak, Medium, and Strong. The Weak mode offers some improvement in clarity without significant problems, but the Medium and Strong settings introduce a lot of noise into moving images. I'd recommend sticking to Weak.
Should you buy the AOC I1601FWUX?
The AOC I1601FWUX's build quality and design stand out, offering a more robust and premium feel than typical in this price range, and the stand works better than similarly priced competitors. The versatile USB-C input is another perk, but the lack of additional ports limits the monitor's versatility. Image quality doesn't stand out and will be a drawback for content creators. On the whole, it's a sensible choice if you want a basic USB-C portable monitor that feels more robust than the alternatives.