The AMD 7900 XTX has proved to be an impressive GPU, but the story didn't start there. The 6900 XT that preceded it opened up the competitive high-end GPU landscape against Nvidia in a dazzling way. So much so that the 6900 XT remains relevant today. 
That's the cool thing about last-generation GPUs. The new AMD cream of the crop has not obsoleted the older gen, not by a long shot. GPUs such as the 6900 XT remain potent, and in many cases, can prove to be excellent price-to-performance warriors. The refreshed AMD 6950 XT added a few percentage points to the mix, too. With AMD putting the 6000-series GPUs on sale, is it enough to draw you away from the breakneck performance of the 7000 series to save a few bucks? 
We're going to retroactively look at the big guy from last generation—the 6900 XT—and the 7900 XTX of this generation. They were both the fastest and top AMD GPUs on release. Keeping in mind the 7900 XT and 6950 XT also exist, we'll keep the attention on the OG "original" top dogs. 
We'll go over the current market prices, gaming performance, and important things to be aware of. As with most GPUs, it's not always a rosy situation that leads you down the correct path. The GPU market is often murky, challenging, and full of twists and turns. 
AMD 6900 XT vs. AMD 7900 XTX: Price and availability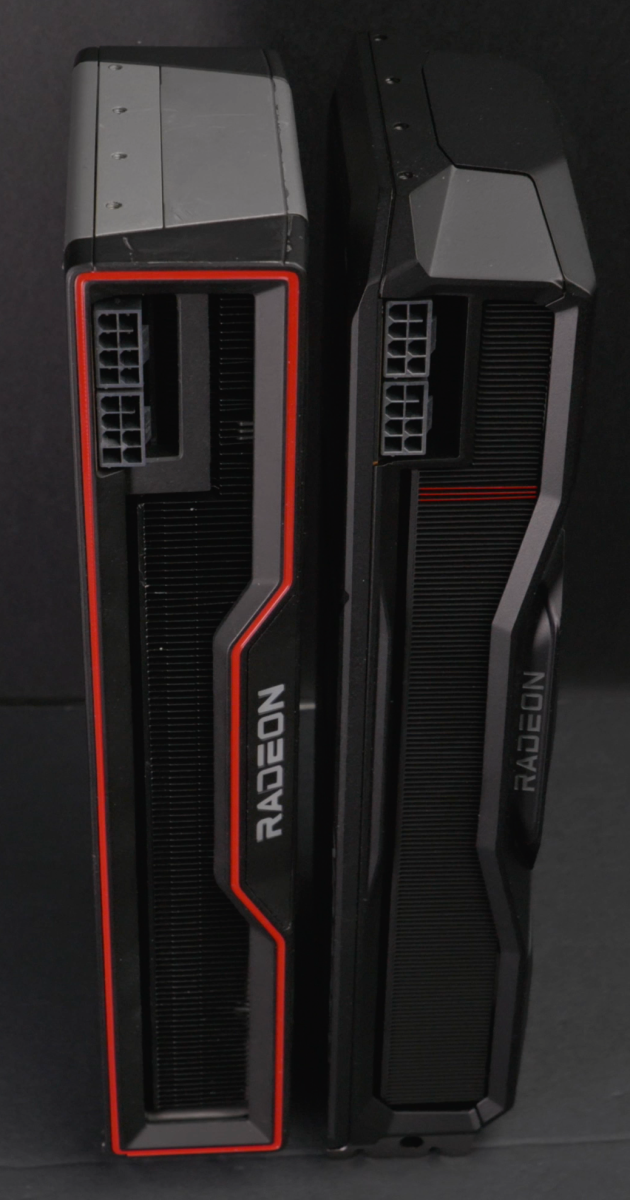 Thiago Trevisan
Both GPUs debuted at a $999 MSRP. This makes them impressive—since comparable Nvidia GPUs are priced higher, such as the RTX 3090 and RTX 4080. 
Recently, AMD has dropped the price of the older 6900 XT to as low as $629 to make way for the 7900 XTX. (You can even pick up the 6950 XT for under $700, too.)  
They have another shared attribute, this time concerning availability. The 6900 XT came during a very turbulent time of the GPU shortages, making it rarely available at MSRP. Thanks to an ease in the GPU market, it's easily found in stock now.
While the 7900 XTX has launched during a downturn in GPU purchases, it too has availability issues. Its less-performant 7900 XT sibling has remained in stock at $899, but the $999 XTX proves to be too appealing with its price-to-performance advantage to stay on the shelves. 
Neither the 6900 XT nor the 7900 XTX have had ideal launch and availability conditions for most of their existence. If you were to purchase today, you'd more easily find the older 6900 XT for cheaper in stock. 
As we'll find out, the 7900 XTX has an impressive performance uplift if you consider both GPUs at their original $999. That MSRP has stayed the same, unlike the RTX 4080, which has crept up. If we compare the current $629 6900 XT price, however, you're certainly paying more for each frame by a similar dollar amount as of today. 
Considering the above, we'd say the 7900 XTX is one of the better performance values you can get today, for those seeking the most frames. If you can do with a bit less performance, the 6900 XT is still a good value. 
AMD 6900 XT vs. AMD 7900 XTX: Performance
Thiago Trevisan
Performance is the dueling ground where the real questions will be answered concerning these two contenders. 
What are you missing with the older generation? Nvidia has made DLSS 3 with frame generation an exclusive advantage to only its RTX 4000 series of GPUs.  AMD technology such as FSR (FidelityX Super Resolution) is currently similar on both generations, so you'll enjoy parity there. The advantage comes down to better brute performance instead. That's good news, meaning 6900 XT buyers can still enjoy a relatively modern GPU experience. 
Keep another important performance issue in mind: CPU choice. With the 7900 XTX reaching such high frame rates, your CPU choice will become even more of a factor in some games. Just as the RTX 4090 can have CPU bottlenecks at even 4K, the 7900 XTX will be much more demanding. Meaning you're likely able to skate by with a fast—but not "fastest" CPU—such as the 6900 XT without as much bottlenecking.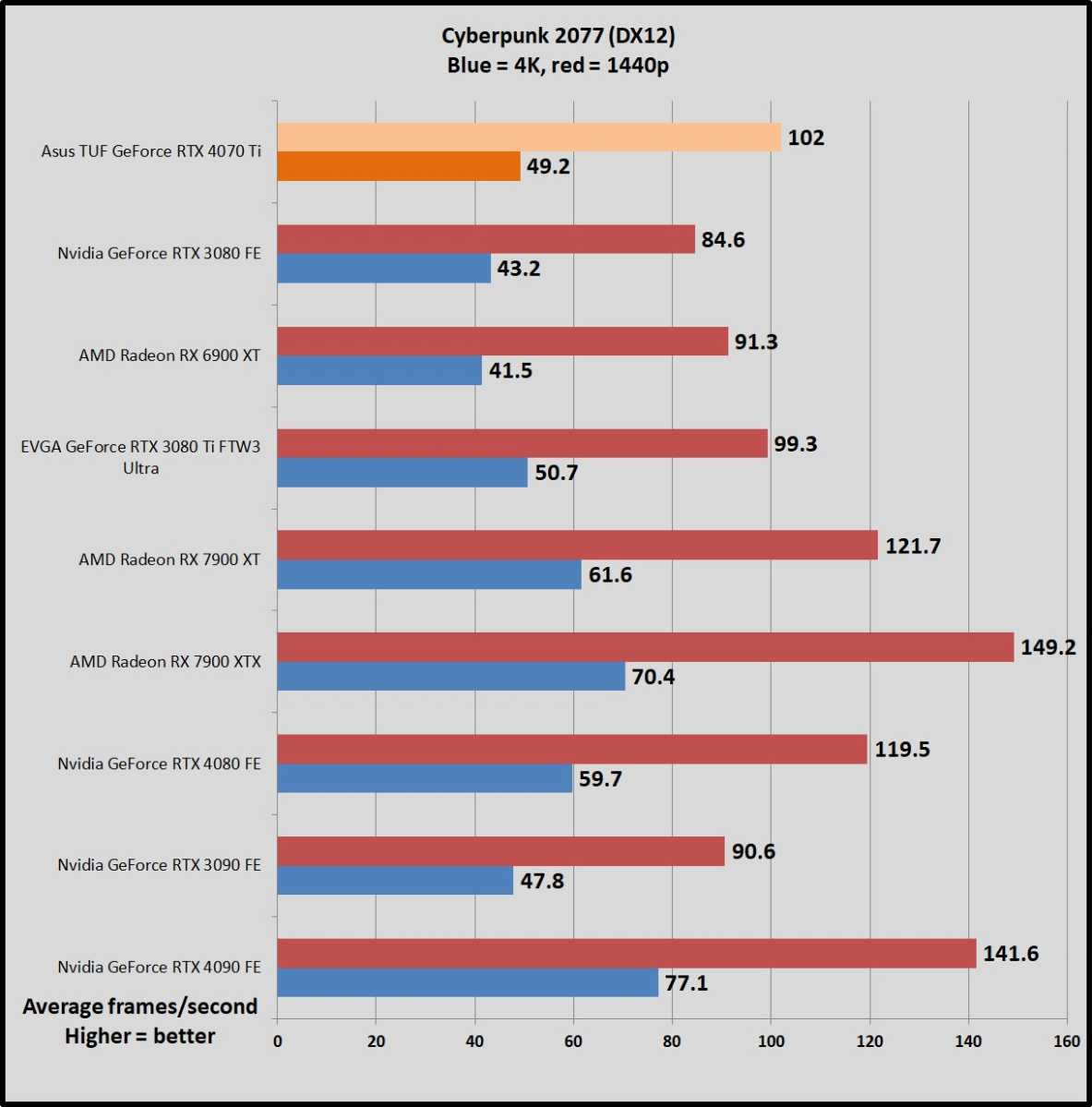 Brad Chacos
With Cyberpunk 2077 (ray tracing and DLSS/FSR off), the 7900 XTX is one of the most impressive GPU's we've seen. It even puts up a domineering effort against the Nvidia RTX 4090, which is quite the feat! 
We also see the 6900 XT with very close performance to the RTX 3090, but far from the 7900 XTX. If this was your game of choice, the latter's performance is around 63 percent better on paper. Oddly enough, the price difference between $629 and $999 for both GPUs currently stands around 58 percent. While you're getting tremendous performance increases, the price is similarly higher. You'll have to ask yourself if you're fine with the acceptable 91 FPS at 1440p for Cyberpunk, or if you need more (such as 4K, and ray tracing, where the answer favors the 7900 XTX). 
There is no doubt that when comparing their original $999 MSRP, instead of the cheaper current price of the 6900 XT, the performance gains make the 7900 XTX a better choice. But at current prices, it's a bit more of a toss-up.
In looking at the lower-priced 7900 XT, the price-to-performance difference falls in favor of the 6900 XT, as the $899 7900 XT lacks the same oomph as its bigger XTX brother (but doesn't lack the high pricing). 
Brad Chacos
With Call of Duty: Modern Warfare 2, we find a game that likes AMD hardware in general. The 6900 XT is putting up impressive numbers still—even at 4K it's able to go above the magical 4K 60 FPS barrier. At 1440p, once again we see the 7900 XTX with nearly a 60 percent gain over the 6900 XT. 
That is incredible—but once again you must ask yourself if the 123 FPS of the 6900 XT at 1440p is insufficient. Chances are, it will do you just fine, and you're paying much less.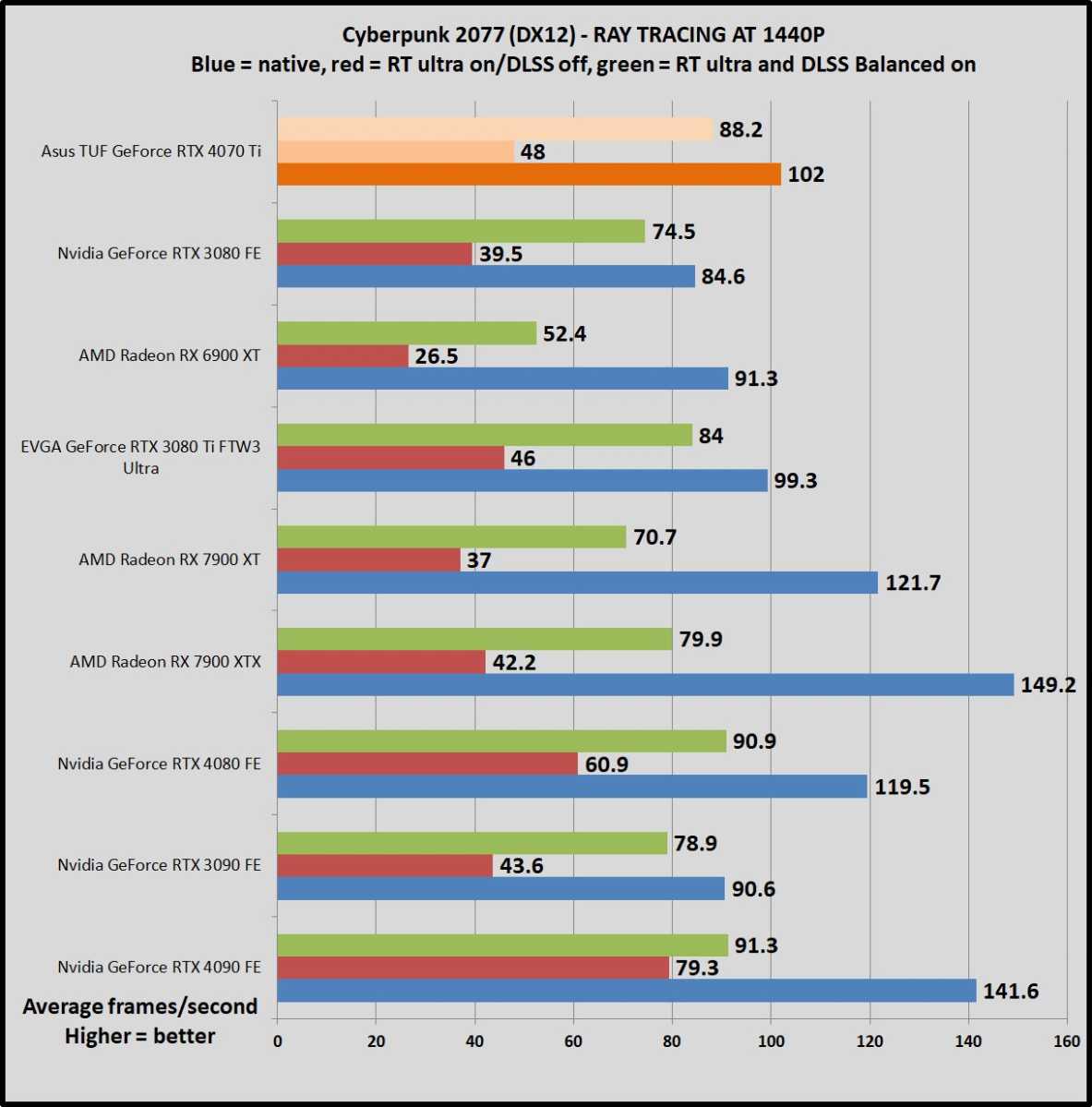 Brad Chacos
Returning to Cyberpunk 2077, we now see how ray tracing fares. AMD has made some impressive improvements to its ray-tracing performance in the 7900 XTX, although it's still behind Nvidia. 
In most cases, ray tracing is where you'll likely also want to pair FSR to ensure you're getting playable frame rates. With FSR balanced, you're getting over 50 percent better ray-tracing performance with the 7900 XTX over the 6900 XT. With FSR off, that number climbs slightly closer to 60 percent, where the brute force of the 7900 XTX plays a bigger role. You will get less FPS with it off, and sometimes low enough to be unplayable with ray tracing. 
The story with ray tracing is oddly like regular rasterized performance differences between both GPUs. In both cases, the 7900 XTX performs more than 50 percent higher. 
If your primary goal is ray tracing, chances are you'll be better served on the Nvidia side. Otherwise, you're likely paying similarly for that performance increase on the 7900 XTX versus the 6900 XT. 
AMD's FSR technology is a great performance feature on both GPUs, and they'll be further augmented by the eventual release of FSR 3. 
In the performance conclusion, if you're okay with the $999 price, the clear choice is the much faster 7900 XTX. It's one of the few decent "bang-for-buck" GPUs nowadays, even at its current price. If you're okay with some compromises in frames, the $629 6900 XT has more than enough chops to handle demanding games. 
AMD 6900 XT vs. AMD 7900 XTX: Power and other things to know
As we're talking about the leading performers from AMD, efficiency isn't always the first talking point. While AMD has heavily pushed its relative efficiency in the past, Nvidia has certainly showcased some impressive numbers, too.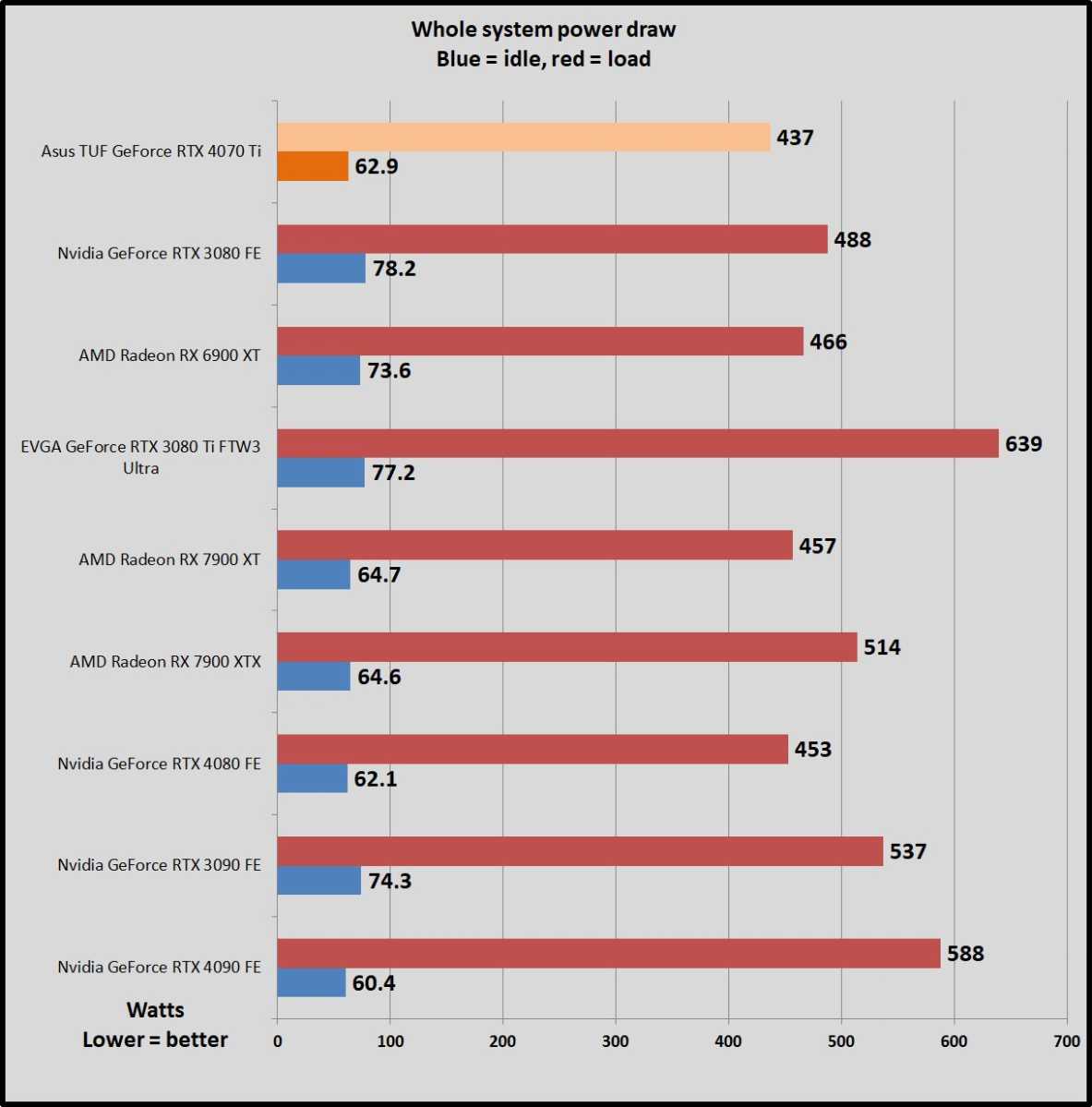 Brad Chacos
With a 355W TDP on the 7900 XTX and a tamer 300W on the 6900 XT, they're both reasonable. Remember, the RTX 4090 has a whopping 450W TDP, albeit with more performance. 
This means that typically you'll have an easier time cooling and fitting these AMD GPUs in your system. AMD made a point initially that these are "normal-sized" and use the regular PCIe 8-pin adapters compared to Nvidia's 12VHPWR solution. While that is true, some AIB third-party coolers such as the PowerColor Red Devil can be just as massive! 
Thiago Trevisan
Another important point to touch on is in driver support. While AMD has been much better in recent generations with driver updates, there have been some issues. For example, updated drivers for the 6900 XT were noticeably late after 7900 XTX drivers had already been released for some new game releases. That's one thing to remember about buying the older GPU—you may have less frequent driver updates over time compared to the shiny new thing. 
AMD 6900 XT vs. AMD 7900 XTX: The verdict 
There is no doubt that, pound for pound, the 7900 XTX is impressive. If we consider that the $999 MSRP technically stayed the same versus the 6900 XT, it's even more so. (We're looking at you, RTX 4080!) 
We can find the 6900 XT at $629 today, however. And while it doesn't have the door-busting performance of the 7900 XTX, it's still competent in modern games. It's also much easier to find in stock. You will be missing out on the top frame rates, and likely have insufficient ray-tracing performance. If you combine FSR and the upcoming FSR 3 with the 6900 XT, it will prolong the life of this GPU even more. 
Having said that, if you find a $999 7900 XTX, the performance gains are clearly worth it for many. You'll enjoy 50 percent more frames in many games, including ray tracing, at the same original MSRP of the 6900 XT. 
How about phrasing it like this: If you were considering the 6900 XT, is the $370 difference worth it to jump to the 7900 XTX? If we consider future depreciation of both, it's a close call. You'll be able to enjoy the 7900 XTX for much longer than the 6900 XT, as it's more future-proof with its increased performance. In the long term, you may be able to enjoy more performance now, and a longer life—therefore negating some of the 6900 XT's price advantage. Either way, you'll still have great performance with both! 
Verdict: The 7900 XTX, albeit more expensive, is likely worth it over the 6900 XT currently, as it will give you longer usability and comes with tremendous performance gains.