At a glance
Expert's Rating
Pros
The best motion clarity available today
Bright, vivid image quality
Compact ergonomic stand
Cons
Limited video input selection
Mediocre image quality
High pricing for a 24-inch monitor
Our Verdict
The expensive Alienware AW2524H delivers a 500Hz refresh rate that lives up to its promise of nearly perfect motion clarity.
A decade has passed since the first high-refresh LCD gaming monitors hit store shelves. The desire for ever-faster refresh rates has only increased in the years since and now, with the Alienware AW2524H, we've hit a new pinnacle: 500Hz, over eight times better than the 60Hz refresh rate that was once a gamer's only option. That's a whole lot of hertz, but Alienware charges a whole lot of money. Is it a worthy investment?
Note: See our roundup of the best gaming monitors to learn about competing products, what to look for in a gaming monitor, and buying recommendations.
Alienware AW2524H: Specs and features
The Alienware AW2524H is a 24.5-inch IPS LCD gaming monitor with 1080p resolution. Its the first monitor available with a blistering 500Hz refresh rate, and it also provides Nvidia G-Sync support with Nvidia Reflex Analyzer.
Display size: 24.5-inch
Native resolution: 1,920×1,080
Panel type: IPS LCD
Refresh rate: Up to 500Hz
Adaptive-Sync: Nvidia G-Sync
HDR: Yes, VESA DIsplayHDR 400 Certified
Ports: 2x HDMI 2.1, 1x DisplayPort 1.4, 4x USB-A 3.2 Gen 1, 1x headphone-out 3.5mm jack, 1x audio-out 3.5mm jack
Stand adjustment: Height, swivel, tilt, pivot
VESA mount: Yes, 100x100mm
Speakers: No
Price: $829.99 MSRP
Priced at $829.99 MSRP, Alienware is charging a premium for early adopters. That will stop many gamers from pressing the buy button. If you're into top-tier competitive play, however, the price won't be hard to justify.
Alienware AW2524H: Design
Alienware's Legend 2.0 design language is evident in the AW2524H's charcoal "Dark Side of the Moon" chassis, which has a swooping, sci-fi look. Several AlienFX LED lighting elements provide a bit of spice and can be customized either through the monitor or Alienware software. It looks unique and aggressive but stops short of gaudy.
Build quality is excellent, with great material quality and a durable feel. Alienware's plastics feel thick, well-textured, and are free of glossy surfaces that will readily show wear over time. The only weak spot is the built-in headphone hanger on the upper left-hand flank. It's spring loaded, bursting out when pressed, but wobbles slightly when handling a heavy headset.
Matthew Smith / Foundry
The AW2524H opts for a compact stand that's perfect for gamers with limited desk space and those who prefer a clean and uncluttered desktop. Most gaming monitors have a larger stand that takes up unnecessary space (though I should mention that the Asus ROG Swift Pro PG248QP, the only competing 500Hz monitor revealed so far, will also have a compact stand).
The Alienware's stand supports height, tilt, and swivel adjustments. It can also pivot 90 degrees into portrait orientation. A 100x100mm VESA mount is available for gamers who prefer a third-party monitor stand or arm.
The Alienware AW2425H offers a mixed bag of connectivity and features. While the inclusion of two HDMI 2.1 ports is a plus, they are limited to a maximum refresh rate of 240Hz. The monitor's full 500Hz can only be reached over the lone DisplayPort 1.4 input. This isn't a shocker, given the limitations of HDMI, but still important to know if you plan to use the monitor with more than one PC.
USB hub functionality is provided with support for four USB-A ports, but the lack of USB-C input feels outdated compared to other premium gaming monitors such as the AOC Agon Pro AG274QZM. The USB-A ports are instead driven by a USB-B upstream port.
Alienware skimps on color modes and adjustments, such as color temperature and gamma. Six-axis color adjustment is available but limited to a few specific preset modes. That's disappointing. The monitor is focused on gaming and makes zero concessions for content creators or basic home office productivity.
It also has a few gaming-specific features including a dark stabilizer (which increases the brightness of shadows to make foes visible), timer, and frame rate counter. Alienware doesn't include a built-in crosshair.
Speakers are missing, as well. This is typical of Alienware monitors: The company expects gamers will rely on a headset, which is probably true for most gamers interested in the AW2524H. The monitor has two audio line-out ports, so it can pass through audio to both a headset and external speakers.
Alienware AW2524H SDR: Image quality
The Alienware AW2524H is HDR capable, but focused on SDR image quality. This makes a lot of sense: Most games that have a professional competitive scene don't even provide HDR support, and competitive players generally choose to play with HDR off because it provides fewer opportunities for image customization. So, how does the AW2524H's SDR image hold up?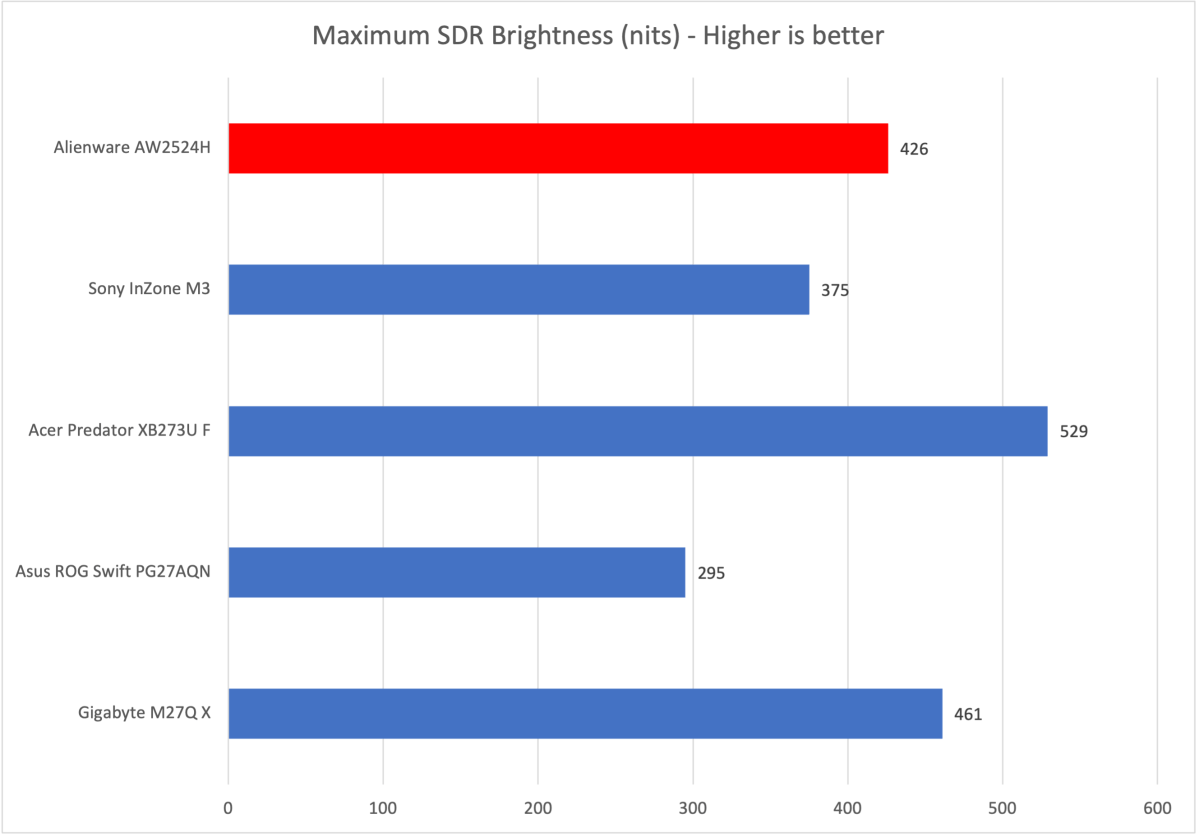 Matthew Smith / Foundry
SDR brightness comes in at a strong 426 nits, which, while not record-setting, is bright enough for use in nearly any situation. The monitor also has a low-gloss finish that minimizes direct glare. A hardcore gaming monitor such as the AW2524H is likely to be used in a room with plenty of light control, so I think most owners will end up using a mere fraction of its maximum brightness.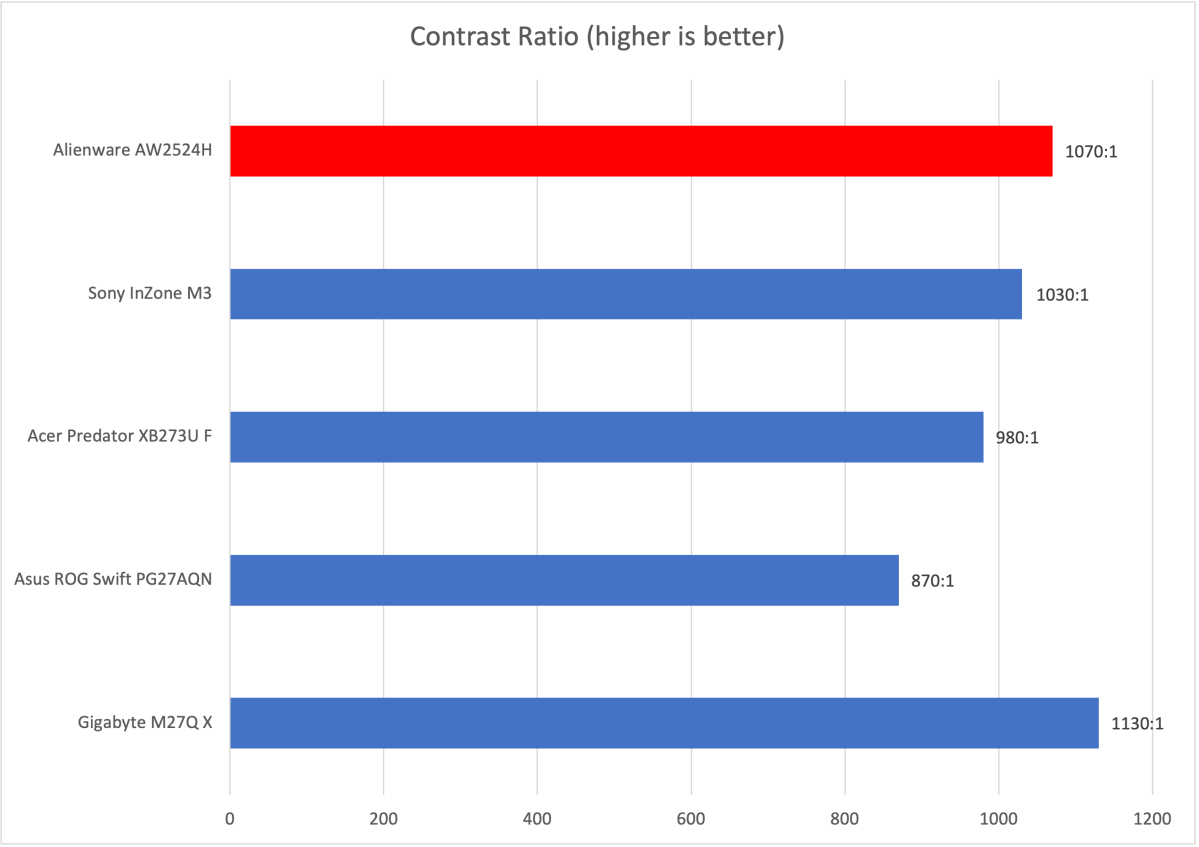 Matthew Smith / Foundry
Contrast comes in at a ratio of 1130:1, which is towards the high end of competing monitors. The Alienware has a small but significant advantage over some recent high-refresh monitors, most notably the Acer XB273U F and Asus PG27AQN, a pair of 27-inch 1440p monitors with a 360Hz refresh rate.
Of course, monitors with newer display technology such as OLED and Mini-LED will smash all the monitors in this competitive set. Monitors with those technologies are currently limited to lower fresh rates, however, and not a great choice for highly competitive gamers.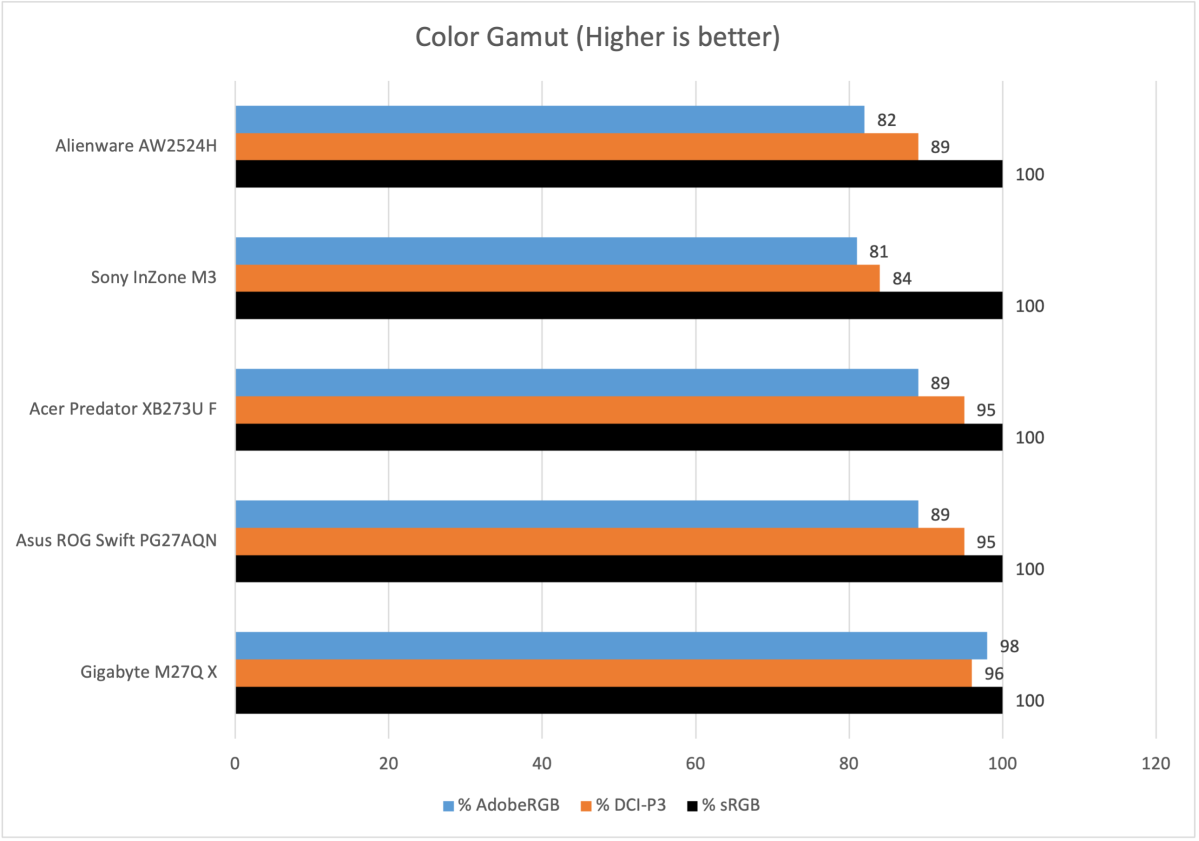 Matthew Smith / Foundry
The Alienware serves up a color gamut that spans 100 percent of sRGB and 89 percent of DCI-P3. This isn't enough to be considered "wide gamut," in my opinion, but also an improvement over older gaming monitors. The Alienware AW2521H, for example, could only display 74 percent of the DCI-P3 color gamut.
Gamers will likely find the Alienware attractive and vivid in real-world use. It doesn't have the hyper-saturated look of some alternatives, like the Gigabyte M27Q X, but remains attractive in real-world gaming.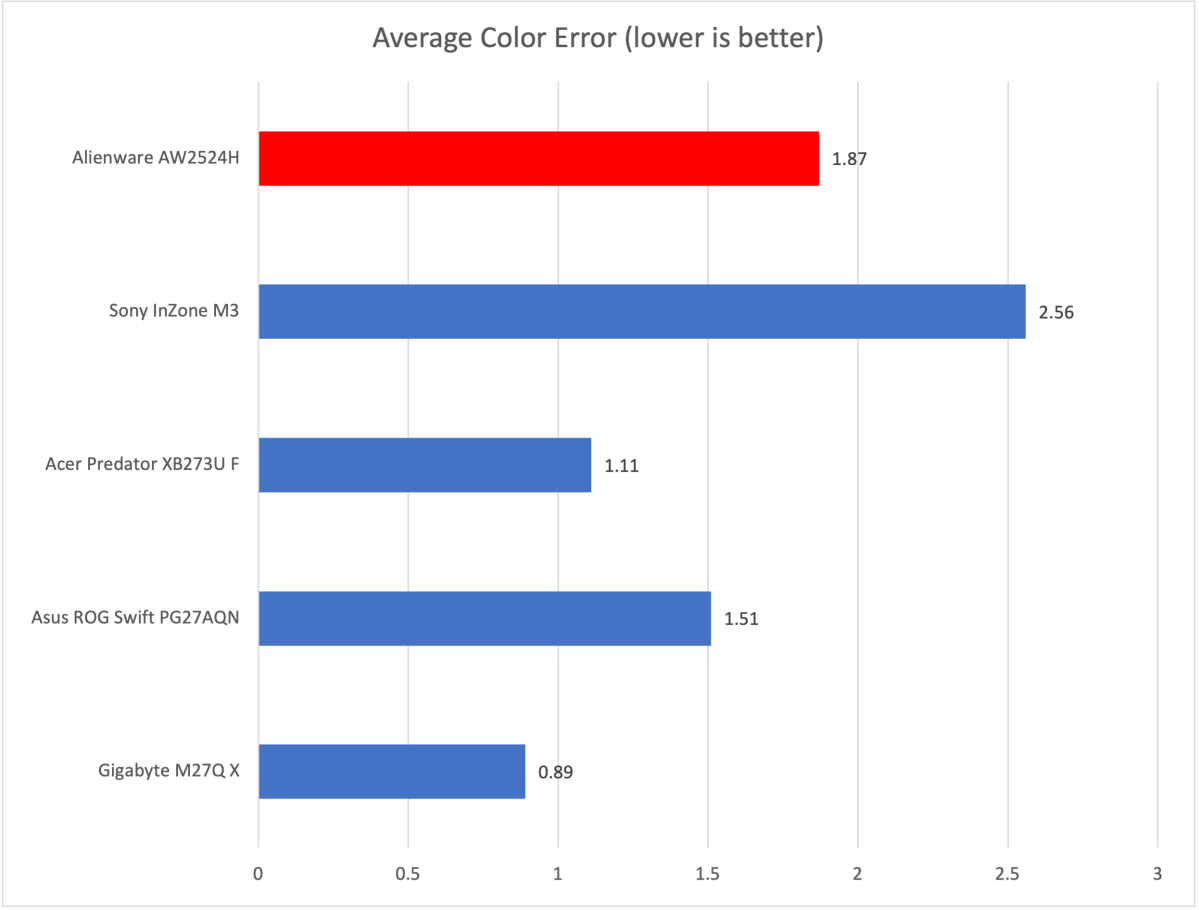 Matthew Smith / Foundry
Color accuracy came in towards the high end of the competitive set. This level of color accuracy is fine for gaming, and I doubt any gamer will see reason to complain. The monitor's image appeared realistic and lifelike.
The Alienware AW2524H delivered a default gamma curve of 2.3. This is slightly off the target of 2.2, and indicates an image that looks a tad darker than it should, but the variance is tight enough that it's difficult to notice. Color temperature came in at 6800K, which is slightly cooler and more blue than the target of 6500K. I found this to be noticeable, but only in very bright scenes.
This is a 24.5-inch, 1080p monitor with a pixel density of 90 pixels per inch. That's not impressive, and it leads to noticeable aliasing and pixelation around fine fonts. Sharp edges and small objects in 3D games are displayed with significant shimmer and stair-stepping in motion, so the use of effective anti-aliasing in 3D games is important.
Ultimately, your opinion of the AW2524H's image quality will depend on your perspective. The AW2524H falls short of the AOC Agon Pro AG274QZM, which is just a tad more expensive. It doesn't even hold up to the Gigabyte M27Q X, which is sold for roughly half the price.
When compared to other extreme high-refresh monitors, however, the AW2524H competes well. It's bright, has a good contrast ratio, and provides vivid color. Gamers looking to hit 500Hz are giving up some image quality for the experience, but it's a modest compromise I think most competitive players will accept.
Alienware AW2524H HDR: Image quality
The Alienware AW2524H is VESA DisplayHDR 400 Certified and, in my testing, was able to sustain a maximum HDR brightness of 465 nits (about 40 nits higher than its SDR brightness). That's not terrible, but it's also not great, and won't provide the luminance needed to lift detail in bright areas of a scene. The monitor also has shortcomings in its contrast ratio and color gamut that hold it back. A dynamic backlight mode is included, but the monitor is edge-lit, so it can't light small areas of the display independent of others.
This adds up to an underwhelming HDR experience. HDR games look a bit brighter than in SDR but lack an added sense of dimensionality and depth, and colors seem no more vivid or vibrant than before.
It's not all bad news. The Windows 11 desktop experience is fairly good in HDR and the monitor provides good luminance uniformity in HDR scenes. The monitor doesn't need time to ramp or adjust brightness in transitions from dark to bright or vice-versa.
Still, I expect most owners won't gain much from the monitor's HDR mode. Using HDR doesn't provide a major leap in image quality and locks down brightness control, so I expect most people will prefer to stick with SDR.
Alienware AW2524H: Motion performance
Now we get to the meat of the Alienware AW2524H: the refresh rate.
The AW2524H has a native refresh rate of 480Hz, and can be overclocked to 500Hz. The difference between the standard and overclocked mode is trivial, and I'm not sure turning on the overclock is worth the trouble. This isn't a criticism of the monitor. As refresh rates increase, the gains provided by a higher refresh rate get smaller with each rate increase. The step up from 60Hz to 80Hz is a 33 percent improvement, but stepping up from 480Hz to 500Hz is a gain of just 4 percent.
Whichever mode you choose, the monitor's refresh rate delivers on its promise of extreme motion clarity. I've witnessed some very, very clear monitors in recent months, and the Alienware AW2524H thumps them all.
Motion clarity is close to flawless. Scrolling across the map in League of Legends reveals that nearly all details are preserved. Character names are easy to read, heath bars are crystal-clear, and character silhouettes are easy to identify. Compared to a 360Hz monitor, such as the Acer Predator XB273U F, the Alienware AW2524H is superior in text clarity and in preserving very fine details, like the tick marks in a character's health bar.
Clarity is also excellent in 3D games. Zipping around Borderlands 2, one of the few games that can reliably hit 500 frames per second, I noticed almost zero motion blur while flipping between enemies.
Motion is so clear that I want to call it perfect. Technically, I know this isn't true—but I've never seen a monitor with a 1,000Hz refresh rate (because it doesn't exist!), so I have no way to compare the experience. What I can say is that when I lean back and just play, my eyes and brain fail to interpret any motion blur at all.
Alienware adds in three response times modes: Fast (the default), Super Fast, and Extreme. The Super Fast and Extreme modes maybe make the image look a hair sharper, but the motion clarity is already excellent and makes an improvement rather difficult to pinpoint. I did notice some slight overshoot in Extreme, which appeared as an over-sharpened, shimmering look around high-contrast edges.
While I have plenty of praise for the AW2524H's refresh rate, I must pair it with a note of caution. You'll only see the full effect in games that can actually hit 500 frames per second—and many can't, either because of performance (the game is too demanding to hit 500 frames per second even on the best hardware available today) or because of hard-coded caps (the game engine does not allow a frame rate of up to 500 frames per second). Competitive players should double-check the maximum supported frame rate of their favorite games before buying.
The Alienware AW2524H is a motion clarity monster. It's so good, in fact, that it's hard to imagine future monitors somehow improving on this. To be clear, I'm not declaring this the end of the refresh rate wars. If you had asked me in 2018 if I thought the difference between 144Hz and 240Hz was meaningful, I likely would have said no—a take that time has proven incorrect. Still, the AW2524H's clarity is a step beyond anything available before it and worth the price of entry for gamers who want the absolute best clarity available.
Should you buy the Alienware AW2524H?
The Alienware AW2524H is a cutting-edge monitor that pushes motion clarity to new heights, though its high price and modest image quality will be barriers for all but the most dedicated competitive gamers. If motion clarity is your number one priority, however, the AW2524H delivers—and it's likely to retain its lead for some time, as competing 500Hz monitors aren't slated to arrive until fall of this year.